The UW–Madison community showed up big in support of UW's students from historically marginalized and underrepresented backgrounds and identities on the Day of the Badger.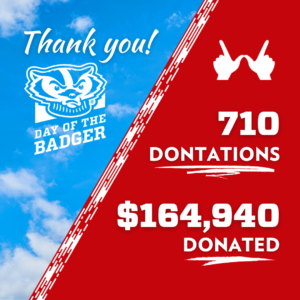 Over the course of 1,848 minutes from April 5 to 6, UW–Madison alumni, students, employees, and community members gave more than $164,000 — much of which will be matched — to support programs designed to foster greater diversity, equity, inclusion, and belonging for all members of the UW community.
"We are incredibly grateful for all of the alumni, students, and friends who made this another successful Day of the Badger," said Joshua Woolfolk, director of development for the Division of Diversity, Equity & Educational Achievement and Wisconsin Foundation and Alumni Association. "The impact their generosity will have on the equity and diversity work happening across the campus is tremendous."
The donations will go to funds like the Raimey-Noland Diversity, Equity, and Inclusion Fund, named in honor of Mabel Watson Raimey (1918) and William Smith Noland (1875), UW's first known Black graduates. Badgers gave more than $6,000 to the fund, which invests in programs that increase the diversity of the student body, recruit and retain a more diverse faculty, promote academic success, increase graduation rates, build an inclusive campus community, and invest in research that addresses social and racial justice.
"The phenomenal support of alumni and friends literally changes the lives of our students," said Dr. LaVar J. Charleston, chief diversity officer at UW–Madison. "I've seen firsthand the impact of many of our high-impact, scholarship, and support programs. They not only benefit the learning outcomes of our students, but also assist them in being ready for the global workforce. We are so grateful to partner with everyone in the Badger nation who stepped up to help us fulfill the educational and occupational dreams of our students."
One of those high-impact programs is Posse, a scholarship program that recruits outstanding young leaders from diverse backgrounds. Posse alumni and supporters gave $4,981 to the Posse Fund, all of which will be matched thanks to a gift from Greg & Marcie Sinaiko and Julie & Peter Weil. [Edit 4/11/22: The amount donated to Posse has been updated.]
"I am continuously overwhelmed with joy and gratefulness by the support alumni provide to the Posse program, particularly on Day of the Badger," said Emilie Hofacker, director of the Posse program at UW. "These funds will help provide professional development opportunities and financial support for our amazing Posse scholars. A huge thank you to all who have contributed!"
More Day of the Badger highlights
Badgers gave more than $81,000 — $50,000 of which will be matched — to a fund that provides tuition assistance for low-income and first-generation students through programs like Bucky's Tuition Promise and Badger Promise.
The Odyssey Project — which makes a UW education accessible to a wider and more diverse student population and addresses racial and economic inequities through its unique jumpstart humanities program — received more than $33,000, of which $10,000 will be matched.
Supporters of the performing arts gave more than $11,000 to the André De Shields Fund, named in honor of the multi-talented Tony, Grammy, Obie, and Emmy-winning UW alumnus, which aims to fund artistic projects and opportunities for underrepresented artists on campus.