Our goals: To promote shared values of diversity and inclusion, to engage campus leadership in this endeavor, and to improve institutional access and success through effective retention policies. Explore the new and expanded commitments for equity and inclusion. Below we highlight some notable efforts in the past year.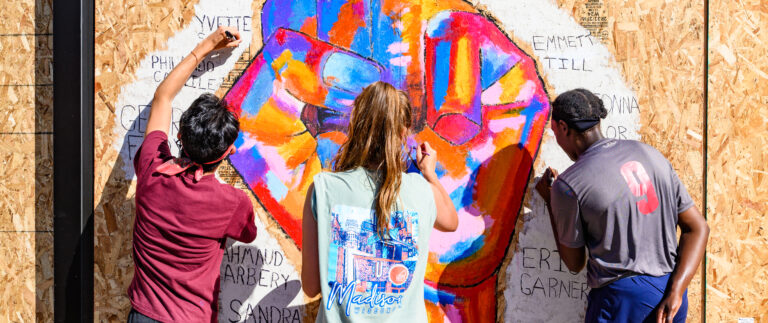 Commitment to the Campus Community
19.8%
Increase in underrepresented domestic students of color in the 2020 freshman class since one year ago
5%
Increase of BIPOC in faculty body since 2010
95.9%
Retention rate for underrepresented domestic students of color
Ongoing Campuswide Commitments
New Chief Diversity Officer Named
LaVar Charleston is UW–Madison's new chief diversity officer, also holding the titles of deputy vice chancellor for diversity and inclusion, vice provost, and Elzie Higginbottom Director of the Division of Diversity, Equity and Educational Achievement (DDEEA). In his new position, Charleston will provide overall leadership for the university's efforts to create a diverse, inclusive, and successful learning and work environment for all students, faculty, staff, alumni, and others who partner with the university. At the School of Education, Charleston provided leadership to faculty, staff, and students in developing and implementing strategic initiatives that promoted university's mission. His research focuses on diversity, access and inclusion within the science, technology, engineering, and mathematics (STEM) disciplines. He will partner with schools, colleges and other administrative units across campus while overseeing the units that comprise the DDEEA.
New DEI Professional Development Unit
DDEEA is launching a Diversity, Equity, and Inclusion Education and Professional Development unit for UW–Madison faculty, staff, and graduate student employees. The new unit will work with campus stakeholders to offer diversity programming on issues such as recognizing and reducing implicit bias, preventing microaggressions, and engaging across difference. The search for a director is underway with an anticipated fall start date, and the unit will also include an Education Specialist who will develop professional development opportunities for graduate students.
Raimey-Noland Campaign raises more than $48M
In spring 2021, the university and the Wisconsin Foundation and Alumni Association announced a historic addition to the All Ways Forward campaign. The Raimey-Noland Campaign will provide resources to diversity, equity, and inclusion efforts across campus. The campaign is named for the first known African American woman and man to graduate from UW–Madison, Mabel Watson Raimey (graduated 1918) and William Smith Noland (graduated 1875). Generous donors have committed more than $48 million so far with the goals of:
Increasing the diversity of the student body
Increasing faculty and staff diversity
Enhancing students' academic success and career readiness
Supporting an inclusive, welcoming campus community
Investing in research addressing social and racial injustice
Our Wisconsin Program
Our Wisconsin, an online education program that encourages students to contribute to an inclusive campus community and celebrate each other's backgrounds and identities, was revamped as a fully virtual experience in fall 2020. Established in 2016, Our Wisconsin joined AlcoholEdu (alcohol awareness and prevention) and U Got This! (sexual assault and dating violence prevention) as a package of online education programs required for all first-year and transfer students. Student Affairs and its Our Wisconsin program team are engaging with schools, colleges and other campus units to provide our entire campus community with a shared inclusion education experience. In fall 2021, 8,150 students have completed the program.