You can support UW–Madison's efforts to foster greater diversity, equity, inclusion, and belonging for all members of the UW community during the Day of the Badger.
The Day of the Badger is a day for all alumni, students, and friends throughout Badger nation to make a far-reaching impact in a short amount of time. It's a chance to give to a passion, show UW spirit, and connect with the Badger community.
The day of action begins on Tuesday, April 5, at 10:12 a.m. CDT and concludes on Wednesday, April 6, at 5 p.m. CDT.
---
The Raimey-Noland Campaign: Honor the Past. Empower the Future.
The Raimey-Noland Campaign honors two of the UW's first known Black graduates: Mabel Watson Raimey (1918) and William Smith Noland (1875). Launched in March 2021, the campaign will increase funding for programs and research that promote diversity and equity at every level and within every program at UW–Madison. This is a broad effort; the campaign will touch numerous areas of every school, college, and campus unit, all working toward the goal of creating a community where every Badger feels they belong.
The Raimey-Noland Diversity, Equity, and Inclusion Fund invests in programs across the campaign that increase the diversity of the student body, recruit and retain a more diverse faculty, promote academic success, increase graduation rates, build an inclusive campus community, and invest in research that addresses social and racial justice.
Join us in creating a campus community that is welcoming to all talented minds. Help open doors at UW–Madison so that the university can attract the bold leaders who will extend the legacy of Raimey and Noland.
---
Your gift goes farther when you give to Posse
All gifts to the Posse program during Day of the Badger this year will be doubled thanks to a generous matching gift pledge from longtime supporters!
The matching gift is being provided by Greg & Marcie Sinaiko and Julie & Peter Weil. Together, they have pledged to match up to $10,000 in gifts made to the Posse Fund during Day of the Badger. Our thanks to them for their generous and ongoing support of Posse and our students.
Your contributions will help to cover a wide variety of provisions for our remarkable scholars. These include textbooks, summer courses, study-abroad experiences, professional-development events and conferences, and emergency funds for unforeseen life circumstances. Your gift will not only allow our scholars to focus on academic success but also to pursue new, meaningful endeavors during their college experience — endeavors that would not be possible without your generosity!
The Posse program identifies public high school students with extraordinary academic and leadership potential who may be overlooked by traditional college selection processes. Posse gives these students the opportunity to pursue personal and academic excellence by placing them in supportive, diverse teams — Posses — of 10 students.
UW was the first public institution to partner with The Posse Foundation in 2002, and today UW is the largest Posse partner university with more than 160 Posse scholars on campus from Chicago, Los Angeles, Washington D.C., and New York. Posse scholars persist and graduate at a rate of 90% and make a visible difference on campus and throughout their careers.
---
Jacqueline DeWalt Memorial Scholarship Fund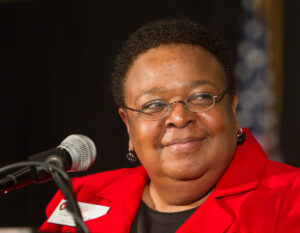 Our beloved Jacqueline "Jackie" DeWalt served as executive director of UW's PEOPLE program for more than a decade, increasing its service scope and depth with statewide campus, tribal and community partnerships while shepherding PEOPLE scholars and their families from middle school to college graduation. She passed away in 2017 after a fearless fight with cancer. Her legacy lives on today in the hundreds of underrepresented students in Wisconsin who she helped prepare to succeed in higher education and beyond.
To celebrate her life and service, UW established a scholarship fund in 2018 to support underrepresented students on the UW–Madison campus.
---
More ways to have an impact
Mercile J. Lee Scholars Program
Established in 1984, the Chancellor's Scholarship was designed to increase educational opportunities for academically talented, underrepresented students, helping create a more diverse and inclusive learning environment at the UW. It originated from the visionary mind of Mercile J. Lee, and as it developed, it became a part of the Mercile J. Lee Scholars Program recently named in her honor. As the founding director, Lee believed the Wisconsin Idea could create opportunities that would attract enthusiastic learners who reflect the diversity of talents, backgrounds, and experiences within and among minority groups.
PEOPLE program
The Precollege Enrichment Opportunity Program for Learning Excellence (PEOPLE) seeks to increase college enrollment and graduation rates of Wisconsin students of color, students from economically disadvantaged backgrounds and first-generation students. The program focuses on promoting students' pursuit of higher education, particularly at UW–Madison. PEOPLE was created in direct response to the achievement gaps among Wisconsin students of different ethnic backgrounds and to meet the growing demand for an educated and diverse workforce.
First Wave Hip Hop and Urban Arts Learning Community
First Wave is a full-tuition, four-year scholarship program for students that are seniors in high school or freshmen in college that are applying to the University of Wisconsin-Madison for the Fall 2021. Please go to the First Wave Application page for additional information on the application process. The First Wave Scholarship application will be available on August 24, 2020.
Center for Educational Opportunity
The Center for Educational Opportunity (CeO) provides services for students that are first generation, meet certain federal family income guidelines, and students with documented disabilities. CeO advisors and staff embrace a personal approach and provide support in every aspect of the student's path to achievement and success.
Learning Communities for Institutional Change and Excellence
The Learning Communities for Institutional Change and Excellence (LCICE) program creates a forum for active participation in dialogue focused on creating working, learning, and teaching environments where everyone is heard, valued and included. Through dialogue, one learns how to engage in transformative changes of behaviors, policies, and procedures that collectively impact the campus climate for all community members.