This cartoonist already has a good tale to tell
"The dream," Lambright says, "is to become a freelance artist and do projects I want to do, as well as commissions."
He mentions writing a graphic novel, having his own animation studio and making an animated film. The sense is, it would be unwise to try to get between this young man and where he wants to go.
Lambright's journey started in Illinois—he was born in Waukegan—and his family moved to Racine, Wisconsin, when he was 7. He was drawing all the time as a young boy and liked "Calvin and Hobbes" and "The Boondocks," even if the nuances of those strips were beyond him.
"I didn't get half the jokes," he says. "It took me a while to catch on."
Lambright drew his own comic strip when he was 12 or 13. "I look back now and think they're terrible," he says. And even then, Lambright sensed he wasn't ready. He set the strip aside and didn't get serious about art until his senior year at Case High School in Racine.
By then, Lambright was already three years into an extraordinary opportunity provided by a program at UW–Madison called PEOPLE—Pre-College Enrichment Opportunity Program for Learning Excellence. The program assists low-income students and students of color with hands-on college prep, including weeks-long campus visits during the summer months. Students who complete the program and keep a high GPA can earn scholarships to UW–Madison.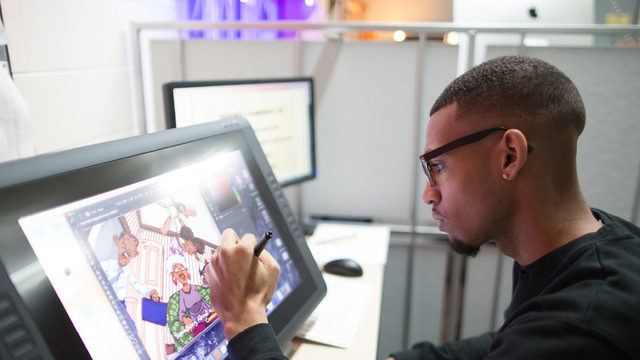 "A wonderful opportunity," Lambright says. And he took full advantage, entering UW–Madison as an art major in fall 2013. He has since added a second major in communication arts.
After spending his freshman year on campus adjusting and finding his footing, Lambright hooked up with The Daily Cardinal student newspaper as a sophomore, the same year he began tinkering with a few characters and a storyline he thought might make an interesting comic strip.
At the Cardinal, he did graphics for spot news and the occasional political cartoon.
For the fall 2016 election season, Lambright provided a cartoon showing Russ Feingold and Ron Johnson squaring off; later he drew Feingold and Hillary Clinton for an endorsement by the Cardinal editorial board.
Lambright's most provocative political cartoon appeared in March 2016, after a spitting incident in a campus residence hall that, by some accounts, was motivated by race and class.
Racist graffiti had appeared on campus around the same time, and Lambright, unimpressed by the administration's response, drew a cartoon showing Bucky Badger appearing to drape a rug or blanket over those attempting to engage on the issue, with Bucky thinking, "Oh no people are starting to stare."
"I did it spontaneously for myself at first," Lambright says, but then he sent it to the Cardinal, and it appeared both in the paper and on the Cardinal website.
Lambright was gratified by the positive response generated by the cartoon; he heard it had been discussed in classes.
"They've given me a voice," he says of the political cartoons, "in the only way I know how."
It was encouragement from his parents— Rodney and Dionne Lambright—and his girlfriend, Mischa Cole, that persuaded Lambright to go public, in May 2016, with the comic strip he'd been working on privately for many months.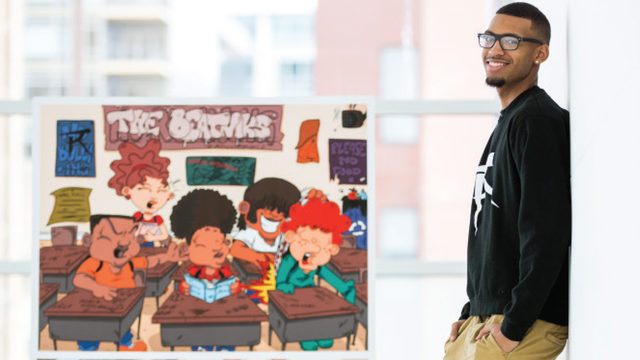 It's called "The Beatniks," and it tells the story of three best friends—one white, two African American—and their journey through the sixth grade.
When he unveiled "The Beatniks" last May, Lambright did it with a website and across social media platforms, including Tumblr and Twitter.
"I wanted a comic that was funny," he says, "that talked about social issues and people who aren't often seen in comics. Most comics I've read are either whitewashed or about animals."
In one strip, Vinny, an African American from the tough side of town, ends up in the principal's office on Columbus Day after remarking, "So you're saying this dude discovered a place where people were already at?"
Lambright thinks "The Beatniks" helped him land an internship last summer at Wisconsin Public Television, where he still works part-time on projects that include helping illustrate stories for the acclaimed WPT/Wisconsin Public Radio "Wisconsin Life" collaboration.
Lambright knows there is still much to learn. His front-row seat in helping professionals tell one "Wisconsin Life" story—an African American Madison woman, Cynthia Woodland, celebrating her grandmother's hard but noble life—was a revelation: sound, art, dialogue and animation all in service to the story.
"To see it come together was amazing,"  he says.
On Jan. 23, Lambright launched a new comic strip, "Something About a Flower," that appears biweekly on the "Wisconsin Life" website. Lambright says he drew "large inspiration from my own family" for the new strip.
Doug Moe is a Madison writer and a former editor of Madison Magazine. Reposted with permission from Madison Magazine.