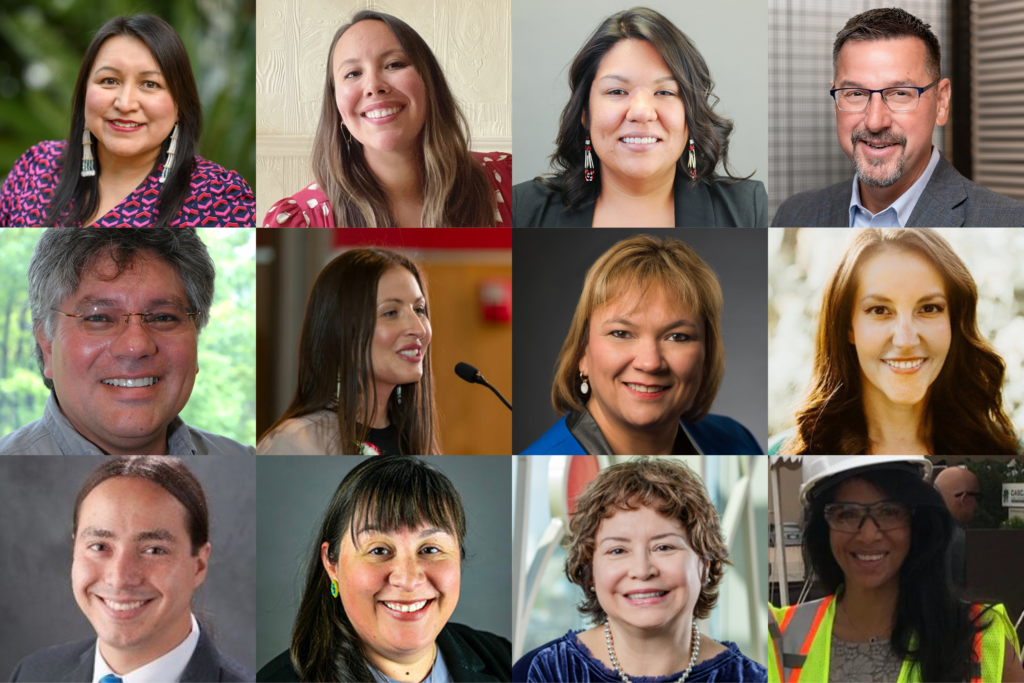 Twelve University of Wisconsin–Madison community members were recognized in Madison365's annual list of "Wisconsin's Most Influential Native American Leaders" for 2023.
Madison365, a nonprofit online news publication, has published annual power lists recognizing Wisconsin leaders from different racial and ethnic groups since 2015. The purpose of the lists is to "highlight the beauty of the diversity across our state," according to Henry Sanders, Jr., the co-founder, publisher, and chief executive officer of Madison365.
Congratulations to the following current and former UW–Madison students and employees who received this well-deserved recognition. You can read parts one, two, three, four, and five of the complete list on the Madison365 website.
Carla Vigue was appointed in January as director of tribal relations at the UW–Madison. A member of the Oneida Nation, she most recently served as director of communications, events, and community engagement for the National Council of Urban Indian Health in Washington, D.C. Prior to that, she served for more than a decade as communications director for the Wisconsin Department of Veterans Affairs, where she developed and implemented a statewide strategy for engaging tribal veterans. Vigue also has held positions with the National Indian Gaming Association, the Wisconsin Department of Administration, and the office of Governor Jim Doyle. She earned a bachelor's degree in political science from Illinois Wesleyan University in 1996 and a master's degree in political science from Loyola University Chicago in 1998.
Josie G. Lee is the director of the Ho-Chunk Nation Museum and Cultural Center, a museum she helped open in 2020. An enrolled member of the Ho-Chunk Nation of Wisconsin, she is an independent curator, artist, and museum consultant with more than 10 years of experience. Her work has been featured at the Field Museum, La Crosse County Historical Society, Overture Center for the Arts and more. Lee holds a Master of Arts in Museology from University of Washington and is currently a doctoral special student in civil society and community studies within the School of Human Ecology at UW–Madison.
Nicole Soulier is the director of college access and experience programs at Madison College, where she combines relationship building and project management to improve and increase the college's engagement with historically underserved communities. An enrolled member of the Bad River Band of Lake Superior Chippewa from the Bad River Indian Reservation, she attended the UW–Madison to earn her undergraduate degree in human development & family studies and American Indian studies. She later returned to the university to earn a masters and a doctorate in educational leadership and policy analysis with an emphasis on higher education and leadership in two-year schools. Soulier has worked in higher education for almost 15 years in enrollment services, curriculum management, and community engagement.
Kip Ritchie is the chief operations officer of the Potawatomi Business Development Corporation. Prior to being promoted to COO, Kip served as president of Greenfire Management Services, a subsidiary of the PBCDC, since 2014. Ritchie joined PBDC full-time in 2006 as senior vice president and served on its founding board of directors from 2002-2007. During his tenure as president, the company has received dozens of awards including Fastest Growing Firm, Diversity in Business, Top Construction Company, Newsmaker of the Year, Largest Minority-Owned Company, and a Cream of the Cream City Award, among others. Throughout his career with the Forest County Potawatomi, Ritchie promotes the importance of investing in the tribe's future by diversifying resources beyond gaming. Ritchie's career in Indian Country began in 1997 when he joined Potawatomi Hotel & Casino as the director of marketing. He was promoted to assistant general manager in 2002. Ritchie is a graduate of UW­­–Madison with a bachelor's degree in communications.
Richard Monette is a professor of law and director of the Great Lakes Indian Law Center at UW­–Madison, where he's been since 1992. He took leave from UW to serve as chairman and CEO of the Turtle Mountain Band of Chippewa in North Dakota from 2000-2003. He worked as a staff attorney with the US Senate Committee on Indian Affairs in the late 1980s. Monette also served as president of the National Native American Bar Association and sat on the Environmental Protection Agency's National Environmental Justice Advisory Council's Indigenous Peoples' Subcommittee. He has served as Chief Judge for the Pascua Yaqui Tribe, Special Judge for Ho-Chunk Nation, and Special Judge for the Trial Court of the Turtle Mountain Band of Chippewa. He is a 1988 graduate of the University of Oregon Law School.
Melissa Metoxen serves as assistant director of the Native American Center for Health Professions at the University of Wisconsin-Madison. She has been working with NACHP since 2013. Though she has moved around due to her father's 20 years of service in the United States Air Force, Metoxen calls the Oneida/Green Bay area home, and is a member of the Oneida Nation. Metoxen earned a Bachelor of Arts degree in Sociology from UW–Madison. She also holds a Master of Science degree in Educational Leadership & Policy Analysis from UW­–Madison. She has worked on campus since 2010, supporting Native American students, providing pre-college outreach across the state in tribal communities, building partnerships with tribes, and ensuring students who are first-generation and Native American have access to higher education.
Annie Jones, Ph.D., an enrolled member of the Menominee Nation, is a professor as well as an organization development and Tribal Nations specialist with UW­–Madison's Division of Extension. She is also an affiliate faculty member with the Departments of American Indian Studies and Community and Environmental Sociology. Dr. Jones has worked with the Division of Extension for nearly 25 years serving in a variety of capacities including associate dean, special assistant to the dean for strategic directions, and as a community development educator based in Kenosha County. Dr. Jones specializes in participatory and community-based action research and co-leads UW–Madison's Native Nations UW effort. Jones holds a Ph.D. in human and organizational systems; a Master of Arts in Human Development and a graduate certificate in dialogue, deliberation, and public engagement from Fielding Graduate University; a Master of Science in Curriculum and Instruction from UW–Whitewater; and a Bachelor of Arts in Geography and Social Science with an emphasis in history from Carthage College.
Martina Gast is founder of Pipestone Law, specializing in tribal employment law. Gast has spent nearly all her legal career specializing in labor and employment matters. Prior to forming the firm, Gast served as an in-house employment attorney for the Forest County Potawatomi Community in Wisconsin. In that role, she was responsible for coordinating all employment and HR matters involving the tribe and its entities. Additionally, she advised a team of human resource professionals on concerns regarding the tribe's 4,000 employees. Before going in-house, Gast was an attorney with the Rothstein Law Firm in Arizona, where she worked exclusively with tribal clients. Gast began her legal career as a labor and employment attorney at large state and international firms in Wisconsin and Arizona. She serves on the board of the State Bar of Wisconsin's Indian Law Section. Gast is a member of the Red Rock Indian Band, an Ojibwe First Nation. She earned an undergraduate degree in anthropology and American Indian studies and a law degree from UW–Madison.
Tim Annis is a global brand manager for all of SC Johnson's disinfection products. Originally from Sheboygan, he earned his undergraduate degree from UW­–Madison in political science, social welfare, and American Indian studies. Annis went on to work with the university's PEOPLE program, helping first-generation, low-income students achieve their college dreams. After earning a Master of Business Administration from the UW–Madison in 2016, he went on to work in brand management at Kraft Heinz before joining SC Johnson as global brand manager for Glade in 2019.
Amanda White Eagle is the senior counsel to the Ho-Chunk Nation Department of Justice, a role she took on in 2019 after serving four years as the Ho-Chunk Nation's attorney general. With more than 15 years of experience in tribal law, White Eagle has served as the clinical fellow for the NYU-Yale American Indian Sovereignty Project. White Eagle previously served as a judicial officer, interim chief judge, and associate judge, as well as the tribe's attorney general and executive director for the Ho-Chunk Nation Department of Justice. She is admitted to the Ho-Chunk Bar Association, the State Bar of Wisconsin, the United States Supreme Court Bar, and the Federal Bar Association. Additionally, she serves as a tribal court judge or justice to tribal governments throughout the United States, including the Wampanoag Judiciary, Prairie Island Indian Community Court of Appeals, and Santee Sioux Nation Judiciary. Her previous experience includes serving as a State of Wisconsin County Court Commissioner, as well as an adjunct law professor at the University of Wisconsin Law School. White Eagle graduated from the UW–Madison with a Bachelor of Arts in Anthropology and French and a certificate in American Indian studies as well as a law degree from the UW–Madison School of Law.
Carolee Dodge Francis, Ph.D. is the chair of the Civil Society and Community Studies Department at the UW–Madison School of Human Ecology. A member of the Oneida Nation, she is the first Native American woman to chair a department at the University of Wisconsin-Madison. As a researcher, Dr. Dodge Francis has been a principal investigator for several National Institutes of Health funded grants. She is a member of a global evaluation committee, EvalIndigenous, which focuses on ensuring that policies and evaluation practices for Indigenous peoples are based on equity, fairness, and justice. Prior to joining the UW­–Madison in 2019, Dodge Francis was an associate professor at the University of Nevada, Las Vegas in the School of Public Health. Before her higher education career, she held several public health, health promotion, and health educator roles in Native communities. In the 1980s, during the height of the AIDS epidemic, she served as the founding executive director of the Minnesota American Indian AIDS Task Force (now called Indigenous Peoples Task Force), which led to a role as a public health external evaluator for the Centers for Disease Control and Prevention (CDC) within tribal communities. She earned her doctoral degree from the University of St. Thomas in Minnesota in 2005.
Denise Blackdeer Wagner is the cofounder and board chair at Greywolf Partners, a commercial real estate firm with offices in Cottage Grove and Milwaukee and a branch in Appleton. The firm was recognized in 2022 by the Indigenous Business Group as Business of the Year. Wagner holds a master's degree in clinical social work from UW–Madison.