(UPDATED on 1/25 with more events!)
Sunday, January 22, marks the arrival of the Lunar New Year spring festival in many Asian and Pacific cultures.
Also known as Chinese New Year, Chūnjié (Chinese), Shōgatsu (Japanese), Sol (Korean), Tết Nguyên Đán (Vietnamese), and more, the spring festival is one of the most important holidays in cultures across East Asia, Southeast Asia, South Asia, and the global Pan-Asian diaspora. The holiday marks the beginning of the Year of the Rabbit in the Chinese zodiac and the Year of the Cat in the Vietnamese zodiac.
Happy new year to everyone celebrating at UW–Madison and across Wisconsin! Below are public events in the campus area that are open to all who are interested in celebrating.
Are we missing your event? Email us the details so we can add your event to the roundup.
---
Jan. 29: Lion Dance Performances
The Zhong Yi Kung Fu Association will host lion dance performances at events in the Madison area throughout the next two weeks.
---
Feb. 4: CHASA Lunar New Year
UW–Madison's Chinese American Student Association invites the campus community to join in their annual Lunar New Year celebration!
Date: Saturday, February 4
Time: 6–10 p.m.
Location: Varsity Hall in Union South, 1308 W. Dayton St., Madison
---
Feb. 4: VSA UW Tết Celebration 2023
Come to celebrate the Vietnamese New Year with the UW–Madison Vietnamese Student Association (VSA). The VSA will have games, prizes, performances, and food for all! All are welcome to join the celebration for a joyful day! Please RSVP using the link below.
Date: Saturday, February 4
Time: 8–11 p.m. (doors open at 7:30 p.m.)
Location: Great Hall in the Memorial Union
---
Feb. 5: Downtown Madison Lunar New Year Celebration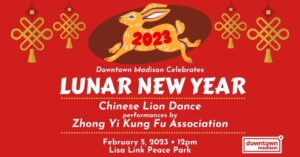 Downtown Madison will host a special Chinese Lion Dance performance by the Zhong Yi Kung Fu Association. Stick around after to see the lions bless select storefronts on State Street to bring them luck and prosperity in the Year of the Rabbit.
Date: Sunday, February 5
Time: 12–1 p.m.
Location: Lisa Link Peace Park, 452 State Street