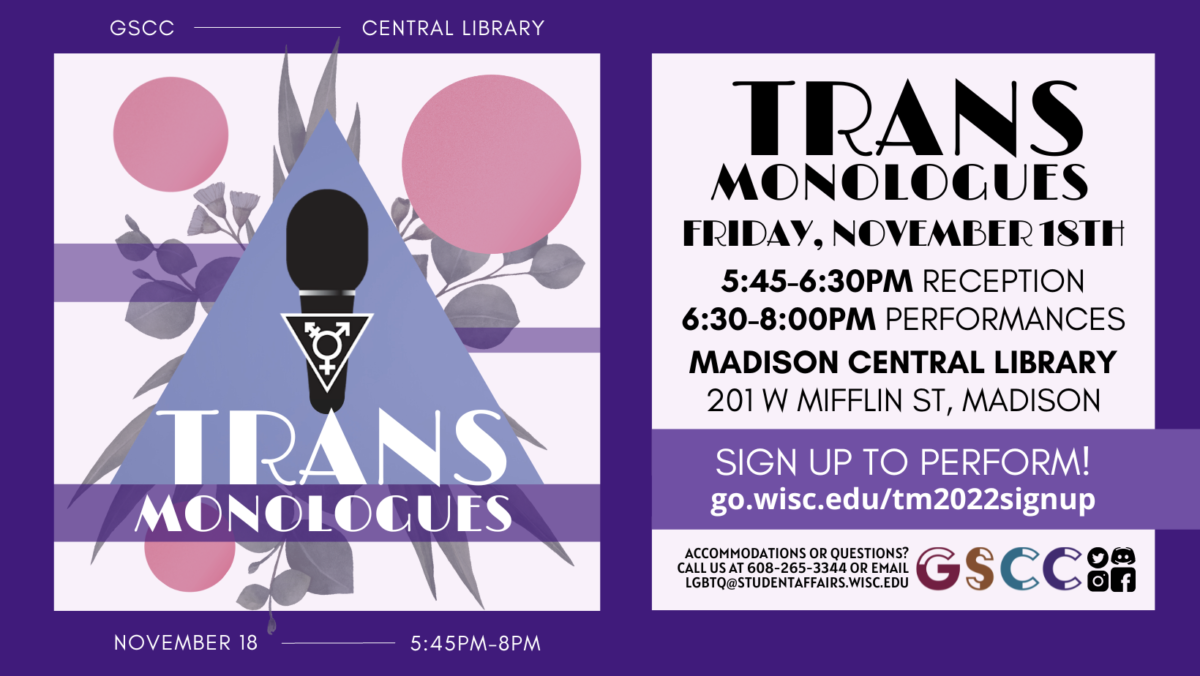 Save the date for the Trans Monologues and Talent Showcase on Nov. 18 at Madison's Central Library. The annual event, co-hosted by the UW–Madison Gender and Sexuality Campus Center and the Madison Central Library, honors Transgender Day of Remembrance with open mic performances and stories about the lives, experiences, relationships and communities that exist "beyond the cis-tem."
Event Details
Date: Friday, Nov. 18, 2022
Time: 5:45 – 8 p.m. Central Time
Location: Madison Central Library, 201 W. Mifflin St., Madison
Your voice is needed! Event hosts are looking for performers representing all walks and intersections of life, especially those who are often silenced or rendered invisible. The event is intended to be full of joy and celebration and a place where you can show up in all the ways you might express yourself while being welcomed and supported. The event is an open mic opportunity to share your story with your community, free from judgment or critique. Submissions are due by Nov. 11.
About Transgender Day of Remembrance
Held every year at the culmination of Transgender Awareness Week on Nov. 20, the Transgender Day of Remembrance (TDOR) observance honors the memory of the transgender people whose lives were lost in acts of anti-transgender violence in the past year. TDOR was started in 1999 by transgender advocate Gwendolyn Ann Smith as a vigil to honor the memory of Rita Hester, a transgender woman killed in 1998. Learn more at glaad.org/tdor.