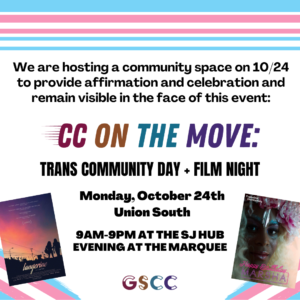 The UW–Madison Gender and Sexuality Campus Center (GSCC) will host Trans Community Day + Film Night — a free all-day event to affirm and celebrate trans lives — on Monday, Oct. 24.
Join the GSCC members at Union South for a reboot of the "CC on the Move" field trip program series for crafts, games, food and a day of sharing space in community. Catch drop-ins with campus partners throughout the day. Then don't miss moving film screenings to cap off the evening. The event is free and open to all LGBTQ+ community members and allies.
Event Details
Date: October 24, 2022
Time: 9 a.m. – 9 p.m.
Location: Social Justice Hub, Union South, 1308 W. Dayton St.
Film Screenings at the Marquee Theater
6:30 p.m.: Happy Birthday, Marsha!
7:00 p.m.: Tangerine
8:30 p.m.: Happy Birthday, Marsha!