The Division of Diversity, Equity & Educational Achievement (DDEEA) has selected Dr. Raul Leon to be assistant vice provost for student engagement & scholarship programs and executive director for the Mercile J. Lee Scholars Program. His first day with the DDEEA will be June 1.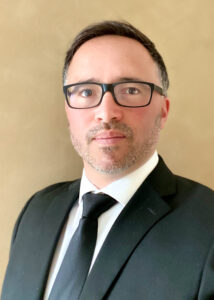 An active and passionate researcher and practitioner who earned his doctoral and master's degrees from UW–Madison, Dr. Leon's work has been influential in effectively guiding institutions toward creating equitable and inclusive working and learning environments. Most recently, he served as interim department chair and professor of higher education and student affairs at Eastern Michigan University.
"I'm looking forward to giving back to a community at UW–Madison that shaped me as a person, a student, a practitioner and a scholar," Dr. Leon said. "I want to use my skills and passion to guide UW–Madison's commitment to student engagement in ways that continue to enhance the Wisconsin Idea."
As assistant vice provost for student engagement and scholarship programs, Dr. Leon will oversee undergraduate scholarship and service programs administered by the DDEEA, including the First Wave Hip Hop & Urban Arts Scholarship program, the Posse program, the Precollege Enrichment Opportunity Program for Learning Excellence (PEOPLE), and the Mercile J. Lee Scholars Program (MJLSP). As executive director of MJLSP, Dr. Leon will lead and manage strategic outreach, academic support, and student engagement initiatives. He will also support the chief diversity officer in setting and reaching key development goals in collaboration with the DDEEA's director of development.
"We are excited to have Dr. Leon's leadership and expertise as he directs and enhances our highly regarded scholarship programs," said Dr. LaVar J. Charleston, who heads the DDEEA as UW's deputy vice chancellor for diversity & inclusion, vice provost and chief diversity officer. "In his various roles, he has consistently shown the ability to increase engagement and success through a variety of innovative efforts for all students, with particular positive impact on historically marginalized groups."
Dr. Leon is a graduate of UW's Educational Leadership and Policy Analysis doctoral program as well as the La Follette School of Public Affairs, where he received his master's in international public affairs. He received the UW School of Education's Outstanding Alumni Award in 2015 and the Forward Under 40 Award from the Wisconsin Alumni Association in 2018.
As a first-generation educator, Dr. Leon has a strong commitment to equity and has served in leadership roles enhancing practices that build student success, while focusing on access and retention efforts. Fostering partnerships across the institution, Dr. Leon was instrumental in broadening and strengthening access pipeline efforts for Latinx students at Eastern Michigan University. His leadership as a faculty associate for the provost office was instrumental in developing a retention and degree completion program with a living learning community focused on the academic, personal, and professional growth of students of color.