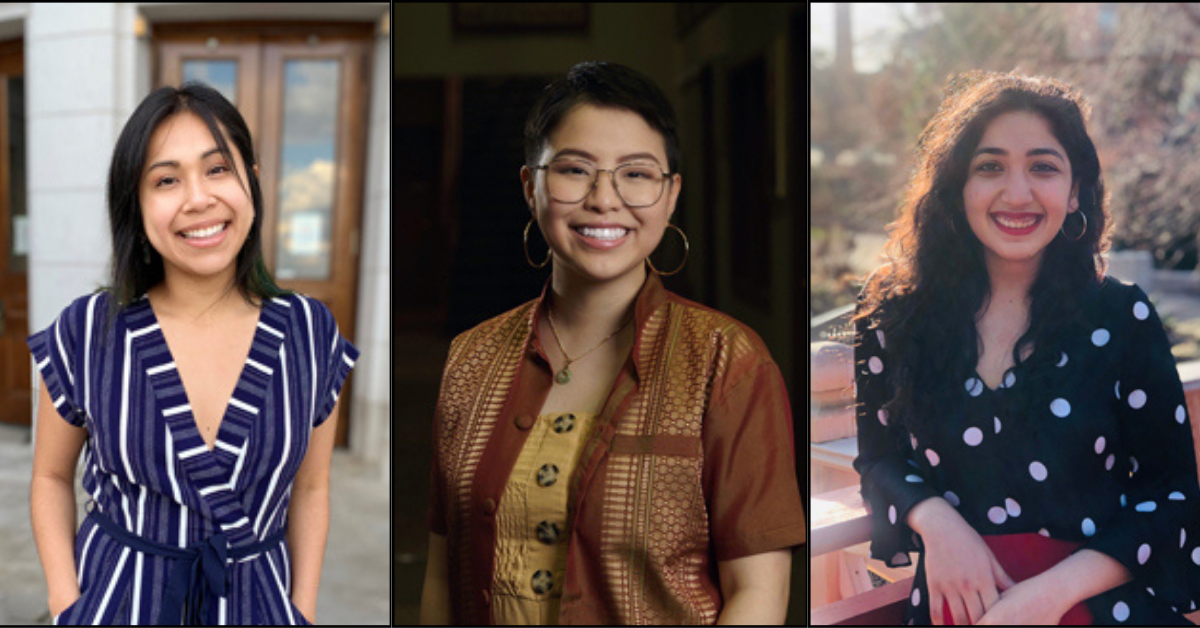 Three graduating seniors from programs within the Division of Diversity, Equity & Educational Achievement (DDEEA) were among eight recipients of the 2021 Troxell-Glicksman Scholarship Awards, which recognize outstanding women at UW–Madison.
The 2020-21 awardees were nominated by faculty or academic staff, and have each demonstrated excellent intellectual ability and curiosity, engaged citizenry, appreciation of the broader world and participation in its affairs. These women are of high academic caliber, very active on campus and/or in community activities and typically aspire to continue their education in graduate or professional schools.
Congratulations to DDEEA scholars Cristhabel Martinez (PEOPLE) and Thida Chong (Mercile J. Lee Scholars), who received the Louise Troxell Scholarship Award, and to Sheherose Charania (Posse), who received the Edna Kernwood Glicksman Scholarship Award. Below they discuss some of the most impactful moments from their time at UW–Madison.
Learn more about all eight recipients of the 2020-21 Troxell-Glicksman awards
---
Cristhabel Martinez, PEOPLE scholar

May 2021 graduate with a Bachelor of Social Work and certificates in Criminal Justice, Educational Policy and Global Health from the College of Letters & Science
Cristhabel Martinez ('21)

One of the most rewarding experiences during my undergraduate career has been my involvement with DREAMers of UW–Madison, a student-run organization dedicated to providing equitable opportunities for undocumented students on campus. As president, my role at the forefront of the organization has provided me with invaluable skills that have solidified my understanding of commitment and dedication.

During my time as president, the goal of the organization was to expand our efforts to other institutions of higher education across the state, in addition to increasing fundraising initiatives to providing more scholarship opportunities to undocumented immigrant students. Although DREAMers of UW–Madison had been doing incredible work, my peers and I came to realize that our work was limited as a student organization and that these resources needed to be accessible to more undocumented students in Wisconsin—thus, Dreamers of Wisconsin, the first nonprofit organization in the state of Wisconsin whose primary mission is to support and advocate for undocumented students pursuing higher education. As the founder and CEO, being able to be part of an organization that is committed to undocumented justice has been one of my greatest sources of pride.
Learn about the Precollege Enrichment Opportunity Program for Learning Excellence
---
Thida Chong, Mercile J. Lee scholar
May 2021 graduate with a Bachelor of Business Administration and certificates in Developmental Economics, Spanish Studies and Business Studies from the Wisconsin School of Business
Thida Chong ('21)

I had the honor of serving as both the president and treasurer of the Lao and Cambodian Student Association.

Once only open to Lao and Cambodian American students, I rebranded this program, created a new slogan for it, "SEA NO Obstacles," and opened it to all Southeast Asian American students. Further, as treasurer, I raised $675 through grants, partnerships, and sponsorships to fund this college informational event. During the most recent SEANO event, we even afforded to pay for an attendee's application to the University of Wisconsin–Madison through a raffle.

As a first-generation college student and Cambodian American, I wish I had this guidance as a high schooler, so I feel honored to be able to share these opportunities with those in my community.
Learn about the Mercile J. Lee Scholars Program
---
Shehrose Charania, Posse scholar
May 2021 graduate with a Bachelor of Science in Health Promotion and Health Equity and a certificates in Global Health and Public Policy from the School of Education
Shehrose Charania ('21)

Growing up in a patriarchal household, my Pakistani mother would tell me to keep my head low and only keep "peace" in the house because I was a girl. The tension of this intersection of our barriers of femininity and power was exemplified even further due to the language barrier between my mother and I. Furthermore, I was told that the best leaders are men as they think from their mind and not their heart. Through my role at the Wisconsin Alliance for Women's Health (WAWH), I have learned to wholeheartedly reject the patriarchy.

Through my participation at the WAWH, I have unlearned what my identity as an American Muslim woman means. I have learned women are powerful leaders who can think from both the mind and heart. I have learned that I do not need to keep "peace" because I am a girl. Most importantly, I have learned to use empathy, inclusivity and positivity to empower and mobilize youth in Wisconsin so they can gain access to crucial health information that I was unable to obtain growing up. That is a significant honor that I am grateful to be part of.