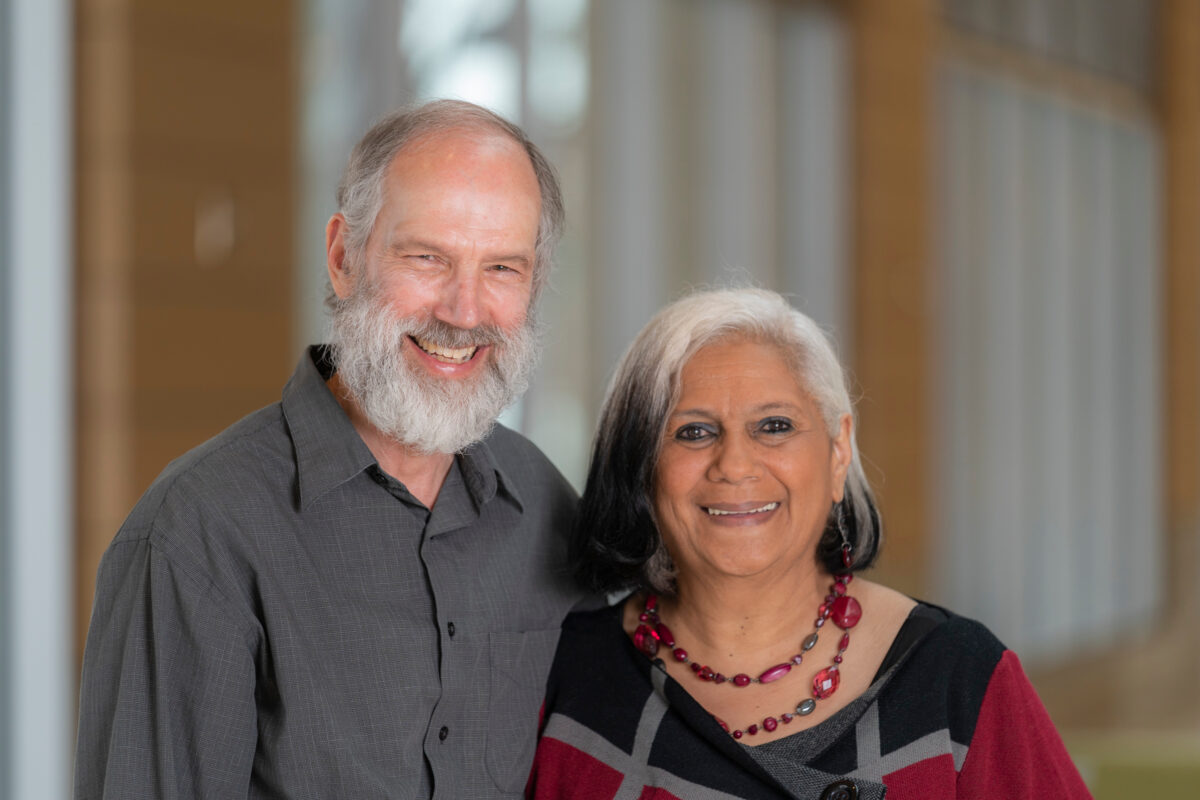 For Center for Educational Opportunity (CeO) senior staff members Wilma Callaway and Kirk Malnor, the joy and pain of retirement is real. Both retired in May, having had their final group of graduates depart early and ironically without the opportunity for a final farewell due to the COVID-19 pandemic.
Fortunately, CeO has always focused on the future of its graduates, meaning closure – even for the Class of 2020 under unprecedented circumstances — is about continuing connections and celebrating life's victories for years to come.
Founded through a contract with the federal TRIO education program (Student Support Services SSS)  to assist and train under-represented and minority students so they may succeed in higher education, TRIO was expanded with supplemental funds from the University and named the Center for Educational Opportunity. Wilma Callaway was one of the first staff members founding director Brenda Pfaehler hired in the fall of 1993.
The former Wilma Barrows heard about the education initiative and its wonderful new director from her then husband, Paul. CeO was only a month old, having begun operation in September 1993.
"So, I applied.  He was RIGHT!" Callaway exclaimed, adding that working with the student services program was a perfect fit.
Starting as a program assistant, Callaway was a returning student at the time.  Her internship project was launching the CeO Mentoring Program. She progressed from advisor to assistant director and then to associate director during her tenure.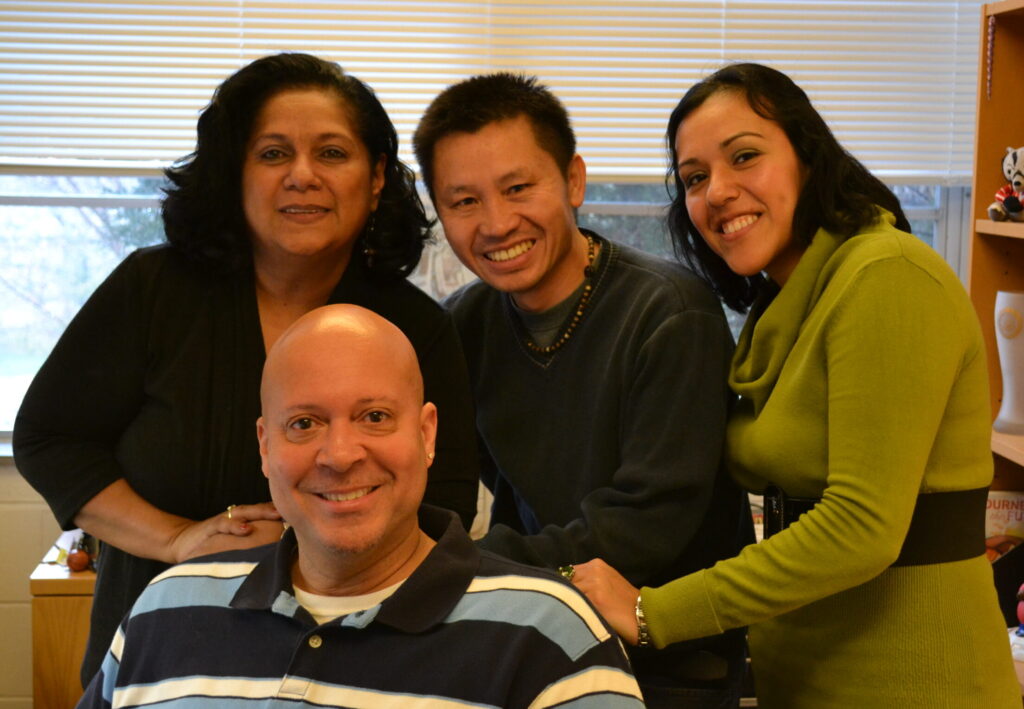 "It became my heart, my purpose!" Callaway said. "Some of these students were me at one point in time. I am a TRIO alum. When I started TRIO I had my associates degree. I helped them and they helped me."
Over the years, her memories grew in number and type from really wonderful things to some that were very hard, Callaway said.
"There are so, so many memories," she said, recalling the original TRIO team's trip to their first national conference in Las Vegas.  They paid their own way, sharing a suite as an all-female six-person entourage.
"We had a lot of fun but worked really hard…they had us doing projects," Callaway said, adding that the staff was on an educational mission. "We had to participate because we got a stipend to bring back to our programs."
Another fond memory was CeO Program's 25th Anniversary Celebration, where they managed to surprise Callaway with a special honor for her dedication throughout the existence of the program.
"It was an honor to have Walter (Lane), the staff and students celebrate me."
Spending time together learning, mentoring and sometimes playing together are what make CeO a supportive academic and emotionally bonded family, Callaway said.
"On Valentine day, students gathered and had a TRIO student sing 'My Girl' to m — it made me feel so great, I cried!" she said.
From pumpkin carving contests to group excursions where they took pictures with the cast at Fireside Theatre, CeO scholars gravitate to the program's office, now located in Ingraham Hall. The program has moved around campus since 1993, but the office has also been where students and staff have made hard decisions about grades, crammed with tutors, comforted each other in the loss of loved ones, and celebrated new children being born.
The students are what she will miss most after retiring, Callaway said.  But she plans to remain in contact with many of them through Facebook, letters and getting together, especially those who grew from first-year undergraduates to colleagues and close friends.
"I am in tears as I say so long to a program that has been my life. I believe in what I did and I think the students knew that I was there for them through thick and thin."    – Wilma Callaway
"I think it's a place where they are welcomed. They know that we care about them… the whole them," Callaway said. "They feel safe to be themselves.  And they know they can ask any question that they may have."
Over their tenure of continuous service – 27 years for Callaway and 23 years for Malnor – they became the constant of the growing CeO family. Unlike scholarship or some other advising programs, CeO is housed in the diversity division and serves qualified students across all schools and colleges.
With CeO's student service mission, there have had too many memorable students to mention, and they remain connected for years. Calling from China to wish them well in retirement was Sunny Yang, joined Robin Murphy, Africa Lozano, Linda Lam, Christina Lee and Deiadra Gardner to name just a few.
It has been a tradition for many of CeO's advisors to rise from the ranks of former program scholars, starting with Toua Thao, one of CeO's very first students who became an advisor.  Other legacy families include the Lozanos with three family members (Africa, Carlos and  Katie); the Thao family (siblings Chai, Tria and Ser Jer); twin doctors Joel and Jesse Charles; the Her family (Chou Yee, Qua and Pao); and the Yang family (Mai, Kee and Michael).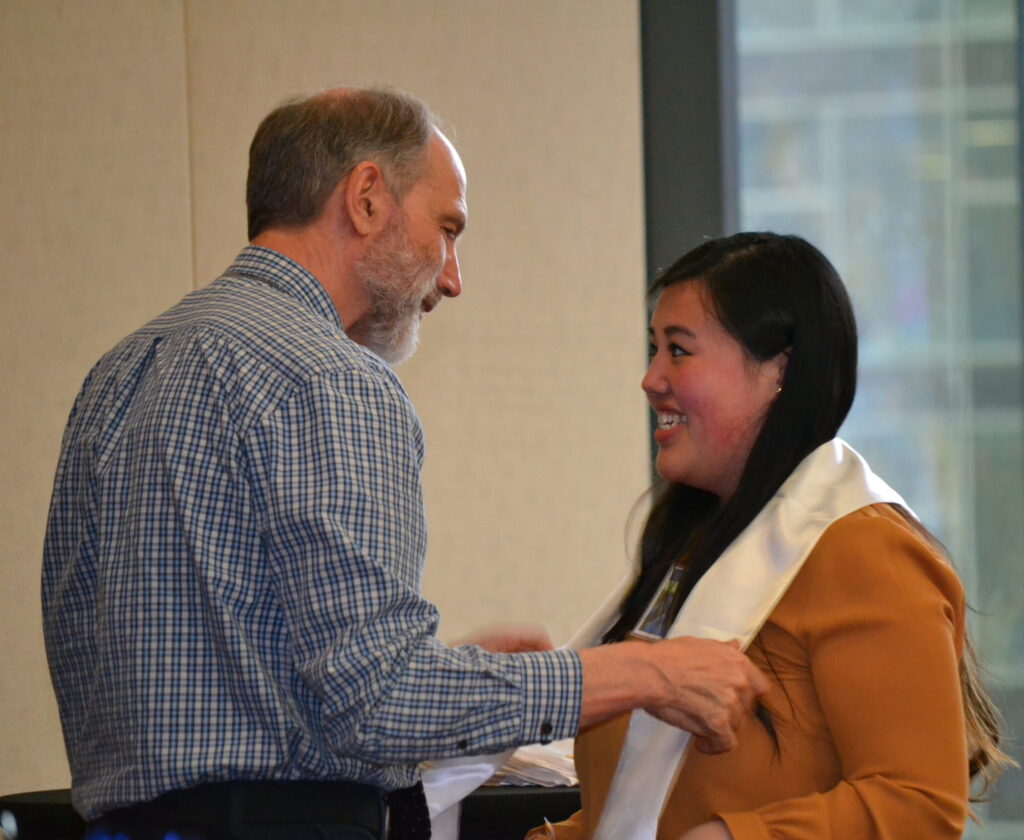 When it's all finished and sealed with a diploma, CeO graduates, families and staff never get through a graduation celebration in May or December without the tradition of each scholar presenting their mentors with individual Brenda Pfaehler Awards and tears…lots of happy tears… and gratitude for their growth through CeO.
Every minute has been rewarding and inspiring for Kirk Malnor, who was looking for the next step in his career in 1996 when a job opening with CeO popped up.
"I had been teaching general equivalency diploma (GED), reading and employability skills with Omega School in the Dane County jails and loving it," Malnor said. "I saw this opening at UW-Madison to be a part of the TRIO program.  The opportunity for me to be a part of a TRIO community was a dream come true!"
He joined CeO and never left.  Starting as a Counselor/Tutorial Specialist, Malnor rose to Assistant Director, then becoming the second CeO Director in 1996.  He retires as the program's compliance, assessment and data specialist using his intricate knowledge of CeO's mission and operations to ensure the program meets federal grant compliance and renewal requirements.
"We were small in 1996, a few staff and just over 100 students," Malnor said. "Now we have nearly a dozen staff and over 500 students a year. We used to have a touch-tone phone in the office for students to use.  Now most students have their own phone!"
CeO has weathered plenty of growing pains over the years.
"Space was a problem in the beginning as we grew," Malnor said.  "Sometimes the state would be challenged for money and sometimes the federal government would be challenged for money.  Sometimes the prevailing winds are happy and delighted our program is here and other times our presence was questioned."
Malnor estimates that he has worked directly with 30 to 40 scholars a year, multiplied by 25 years with the program would total close to 1,000 students, plus close contact with student staff, mentors and others.  He estimates that together, he and Callaway have been closely involved with at least 3,000 CeO students who have accomplished their goals in the journey from incoming freshmen to graduating seniors.
"We have the joy and privilege of working with smart, resilient and hardworking students and staff," Malnor said. "My most memorable students are those who are surprised to discover how gifted and talented they really are."
When CeO scholars can finally exhale and look back at the journey to their degree, they realize their ability, accomplishments and work have paid off, in addition to learning more about who they are as individuals, he added.
"We try to be authentic and genuine and allow people to be people," Malnor said, adding he, too, will miss all of the energy, drive and time spent learning and growing together.
Over the years, Callaway and Malnor became the constant of the ever-evolving CeO family. Unlike scholarship or some other advising programs, CeO was originally part of the School of Education, but is now in the diversity division serving qualified students across all schools and colleges. Now having helped thousands of students complete their degrees, CeO is among the oldest diversity service programs on campus and the among the most diverse in its service to first-generation, transfer and non-traditional returning students. The program is not likely to change its successful approach to serving its scholars and gathering a staff that is dedicated to hands-on diversity, equity, and inclusion work.
"Enjoy your time with students and staff," Malnor advises his colleagues. "Continue to grow, learn, and change. You, too, have so much potential.  Go after your dreams and your authentic self."
Callaway has done her very best to perpetuate the spirit of CeO's first director Brenda Pfaehler.   She agrees with Malnor in advising not only CeO staff, but also those who have gone on to serve students in other venues, "Work from your heart and be real! Let the students know that you are there to help them with anything."
Likewise for their students.
"Prepare for your future for education is the passport to many places," Callaway said. "Use all the resources that are available to you — CeO for sure."
"The world is changing," Malnor reflected. "Use your gifts, talents and resources to push for change in a life-affirming direction."
Together, they proclaim to the Class of 2020: "Congratulations! You did it!"
"Behind you, all your memories,  Before you, all your dreams,  Around you, all who love you,  Within you, all you need!"   — Sidney Mohede
This fall, for the first time in a quarter century, Callaway and Malnor will be on their own without registration advising, orientations, and the measured chaos of first-year students — who seem younger every year — finding their way.
What comes next? Making the most of retirement with nothing to prove.
"Anything I want… spend time with family and hopefully travel," Callaway said.
Malnor said his new mission is to: "Discover what it means to be a Connoisseur of Leisure and excel at it."