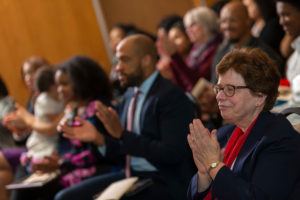 The 2019-20 Outstanding Women of Color come from varied interests ranging from a Madison City Council member and a computational chemist to an Alzheimer's research advocate and a university Chief of Staff. There's also a geneticist and a pediatrician/public health educator, along with a psychology researcher who explores the intersection of gender identity and immigration as a form of discrimination. They're passionate, they're innovative and they're making an impact on the UW–Madison campus and the nation.
The twelfth cohort of Outstanding Women of Color awardees will be honored at a reception on Thursday, March 5 from 5 p.m. to 7:30 p.m. in the Alumni Lounge of the Pyle Center, 716 Langdon Street. The event to celebrate this year's honorees is open to the campus and community. To register for this year's event, go to Outstanding Women of Color Reception.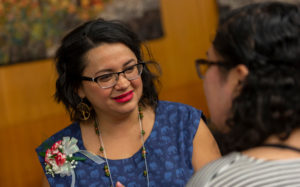 In a campus tradition dating back to 2007-2008, the annual celebration of women who share their exceptional scholarship with the campus and community through their dedicated work, outreach and impact was an outgrowth of a similar award launched by UW System in 1994. For more than a decade, the number of UW–Madison women and alumni of color who are quietly making a difference has continued to increase. This year's cohort of honorees joins more than 60 past Madison honorees and dozens more faculty, staff and graduate students have been nominated for recognition by their colleagues and friends.
"Every year we have a growing number of nominees who are incredibly talented, accomplished and dedicated to both the university and the community. We're celebrating just a few of the many women of color who have exceptional passion for innovations in teaching, recruiting and supporting students and staff on our campus, as well commitment to improving the quality of life in our larger community through service, oversight and personal involvement," said Patrick J. Sims, Deputy Vice Chancellor for Diversity and Inclusion. "This year we received more than 50 nominations for this opportunity to salute their exemplary contribution to campus and community. That means there is still an incredible number of candidates who need to know we value your tenacity, strength and wisdom."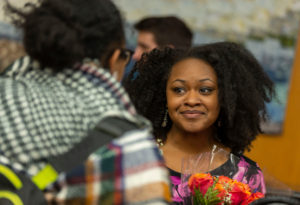 Two consistent attributes of Outstanding Women of Color honorees are being so busy with their work and goals that they haven't met each other, said DDEEA Assistant Vice Provost Cheryl Gittens. Another endearing quality of the honorees is their humility, she added.
"They're surprised to be nominated by admiring colleagues and ultimately selected, Gittens said. "As a result, we're building an evolving coalition of support and affirmation for women whose invaluable work often gets overlooked."
The UW–Madison Outstanding Women of Color Awards acknowledge and honor women of color among UW–Madison faculty, staff, students (undergraduate or post-baccalaureate) and in the Greater Madison community, who have made outstanding contributions in one or more of the following areas:
Social justice, activism and advocacy on behalf of disadvantaged, marginalized populations;
Community service;
Scholarly research, writing, speaking and/or teaching on race, ethnicity and indigeneity in U.S. society, and;
Community building on- or off-campus, to create an inclusive and respectful environment for all.
For a full list of past honorees, please go to: Outstanding Women of Color Honorees.
The 2019-20 seven honorees include:
Desiree Bates
Computational Chemistry Leader, College of Letters & Science
Desiree Bates is a researcher, teacher and co-founder of three initiatives that serve underrepresented graduate students in the Chemistry Department. She has worked diligently to establish support for the unique needs of students who come from "at-risk" groups. From recruitment to the pursuit of doctoral degrees, in addition to increasing the number of diverse students enrolled in the Chemistry Department, Bates provides mentoring and guidance to keep at-risk and underrepresented students growing successfully through the ranks of academia to future faculty and actively reproducing peer support networks for those to come.
With an impressive academic publication record and proven skills in grant writing, Bates is an active listener for faculty and students through her committee work and mentoring on campus, in addition to working in the community. Always willing to share an understanding of race issues, Bates is highly respected and not afraid to challenge the status quo. She initiates change in campus climate through informal interactions and building sincere relationships at all levels.
Shiva Bidar-Sielaff
UW Health Chief Diversity Officer & Madison City Alder
Shiva Bidar-Sielaff is widely known as a community leader, who was first elected to Madison City Council as District 5 Alder in 2009. She is an advocate who educates others how to promote inclusive environments, while creating new venues and possibilities that result in improved diversity and inclusion. Bidar-Sielaff is deliberate, engaging and dedicated to her work and mission across all cultures, races and communities. Fluent in four languages, she is has worked extensively at the national level on issues of equal access to health care for limited English proficient individuals and cultural competence in health care services.
Bidar-Sielaff is a founding member and co-chair of the Madison Area Diversity Roundtable, a coalition of employers committed to diversity and inclusionary practices.  She is deeply involved in training and mentoring the next generation of health specialists and has served as City Public Health Commissioner, on the Dane County Equal Opportunities Commission, the Ad-Hoc Committee on the Department of Civil Rights, and the Police and Fire Commission.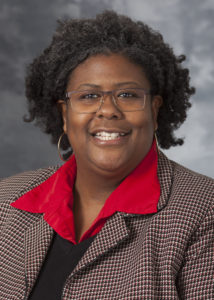 Gina Green-Harris
Director, Center for Community Engagement & Health Partnerships, School of Medicine & Public Health
Why sustainable scientific progress must center on social justice for marginalized communities is a point researcher and equity advocate Gina Green-Harris can show with metrics, framework models and plenty of other expert data — not to mention the demonstrated success of the innovative culturally-centered practices she uses with her patients.   Many of Green-Harris' innovations in Alzheimer's research are rapidly becoming routine in cutting-edge research laboratories nationwide. By turning her academic work into community service and social activism, she is helping communities of color in Milwaukee and Madison learn to trust biomedical research and better understand their rightful place in the overall search for treatment and cures.
Green-Harris also is the Inaugural Director of the Center for Community Engagement and Health Partnerships in Milwaukee (CCEHP), UW Director for the Wisconsin Alzheimer's Institute's Regional Milwaukee Office, Director of the Lifecourse Initiative and the UW Medical School and Public Health's Diversity and Inclusion Ambassadors.
Eden Inoway-Ronnie
Chief of Staff, UW-Madison Office of the Provost
Working quietly behind the scenes, Eden Inoway-Ronnie is the person who ensures initiatives in Bascom — particularly those having to do with inclusion, climate and diversity — are made real and affect the lives of faculty and staff in powerful and positive ways.  She is innovative and objective, working to guarantee that faculty committees, policies and important processes are balanced and include members with a variety of perspectives.
Inoway-Ronnie works tirelessly to make sure the university delivers on its promises of due process, that every person is treated with dignity and that the talents of those who come from historically underrepresented or marginalized groups are recognized and celebrated.  While also serving as a mentor and role model for other women of color, Inoway-Ronnie is an incredibly effective manager in an extremely complicated university setting, having served eight provosts since 2001.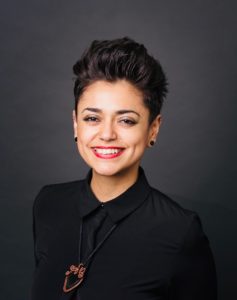 Laura Minero-Meza
Doctoral Candidate in Counseling Psychology, School of Education and 2019-2020 Intern at Semel Institute for Neuroscience & Human Behavior, UC-Los Angeles
Laura Minero-Meza is a counseling psychology researcher and scholar, therapist, teacher, mentor, public lecturer and activist.  She has partnered in national studies on undocumented youth and the lived experience in the intersection of gender identity, race, citizenship status and mental health.  Minero-Meza also is an advocate for the LGBTQAI+ community and undocumented students like herself at all levels.  "Intellectual courage" is how one colleague describes the way in which she blends groundbreaking scholarship with personal experience and compassionate activism to put a human face on immigrants.
Minero-Meza has been influential in her communities and beyond as a Wisconsin Network for Peace and Justice collaborator and a person who has used her own story to raise awareness and debunk misconceptions about undocumented immigrants in the media and community.  She co-founded the first UW–Madison student organization for undocumented students and a scholarship to directly support undocumented students while working through her own immigrant family financial challenges.  She also created a support group to connect middle school students with mentors to support their Latinx and immigration identity and collaborates with UW administration on supporting the safety and legal needs of undocumented campus students.  Minero-Meza also works to develop leadership, academic and social competency among all at-risk UW–Madison undergraduates.
Ahna Skop
Professor, Genetics, College of Agricultural & Life Sciences
As a Native American female faculty member in a STEM department, Ahna Skop is an innovative advocate and activist pushing UW–Madison to improve its support networks so that all students become more engaged and comfortable on campus.  Her innovative integration of scientific research and storytelling builds knowledge and communities.  She pursues research interests relating genetics and fine arts with funding from the National Science Foundation, encourages students to become engaged through mentoring in her laboratory, hosts dinners and social activities in her home, and has cultivated a new generation  of student leaders who are giving back in much the same way.
Under her guidance, the genetics department in the College of Agriculture and Life Sciences now has a diversity committee tasked with assessing diversity and climate issues in that affect recruitment, training, retention and overall quality of experience within the department.  Working with undergraduate student collaborators, Skop led the development of the STEM Diversity Network to encourage inclusion, diversity and equity.  She serves as a mentor, on several campus committees and advisory boards, is a diversity liaison promoting campus-wide equity and diversity, and has been awarded a Chancellor's Inclusive Excellence Award.  Her contributions to advancing science and early-career scientists have been nationally recognized.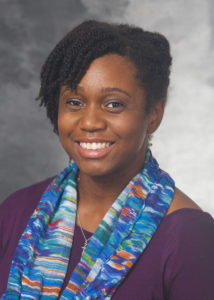 Jasmine Zapata
Assistant Professor (CHS), Pediatrics, School of Medicine & Public Health and Centennial Scholar, UW Institute for Clinical & Translational Research
An exceptional young pediatrician, researcher and educator, Jasmine Zapata has a passionate desire to develop innovative strategies that will combat racial inequities in maternal and child health.  Officially named a "Woman to Watch" by Brava Magazine in 2016, Zapata has worked tirelessly to help premature babies get a better start in life and prevent them from becoming critically ill in the first place.  Shortly after being named a faculty in the Pediatrics Department in the School of Medicine and Public Health, she was named a Centennial Scholar to advance her research on the interplay of biological, environmental and social factors that may contribute to the gap in mortality rates between African American and Caucasian mothers and babies.
While investigating the causes, Zapata has formed community-based coalitions to enact possible solutions and make model prenatal care and support for new mothers and their babies more community focused and culturally relevant.  She is simultaneously helping to develop future health specialists of color by serving as the Faculty director for The Ladder program, a partnership with the Boys and Girls Club of Dane County and the UW School of Medicine and Public Health to provide long-term mentoring opportunities that prepare students as young as nine years old from underrepresented backgrounds and medically under-served areas for careers in health. in an extension of that work, Zapata founded "Madam Dreamers Academy," a national online mentoring group for women from diverse back grounds who are interested in medical careers and authored three books promoting health and empowerment for young girls of color.
If you need an accommodation to attend this event, please email events@cdo.wisc.edu. All accommodation requests should be made no less than two weeks before the event. We will attempt to fulfill requests made after this date, but cannot guarantee they will be met.