UW-Madison's American Indian Student Organization Wunk Sheek will host the 48th On Wisconsin Annual Spring Powwow (OWASP) April 1-2 at the Alliant Energy Center Arena. This event will be free and open to the public.
Doors will be open on Saturday from 10 a.m. to 10 p.m., and from 10 a.m. to 7 p.m. on Sunday. Parking is $7 per car. UW Housing will provide free buses for UW-Madison students from the Chazen Museum and Dejope Residence Hall. The student shuttle buses will run every 30 minutes from 10 a.m. to 9 p.m. Saturday and 10 a.m. to 7 p.m. Sunday.
The On Wisconsin Annual Spring Powwow provides an opportunity to learn outside of the classroom and participate in a contemporary Native event, as well as enhance the Wisconsin Experience by providing the campus and surrounding community the opportunity to share and learn about the culture of the people indigenous to this area. For more information on the event, go to the Facebook event page: https://www.facebook.com/events/1874485292832551/permalink/1892138511067229/.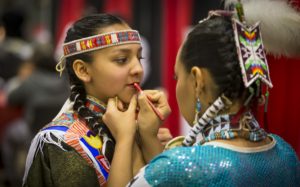 More than 7,000 people attended the OWASP in 2016, said Emily Nelis, co-president of Wunk Sheek, which plans and is lead host of the annual Spring Powwow outreach event.
A powwow is an indigenous gathering to celebrate dance, song, art and food. The On Wisconsin Annual Spring Powwow is unique in its cultural education through engagement with Native Nations, a family activity area, and volunteer opportunities for student volunteers. The event is very hands-on in order to immerse participants in the experience, Nelis added.
Native American students comprise less than one percent of UW-Madison's total student population, Nelis said. Being so small of a group, Wunk Sheek works hard to pull together their annual event because Powwow is a dynamic and vibrant part of First Nation culture.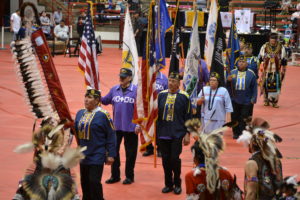 "This event gives native students a way to express our culture on campus since our population is so small," she added. "Having a place where we can express our culture and share it with our campus community benefits us so that we can thrive on this campus."
"It's very important for Native American people to be acknowledged and for others to know that we still exist. We're on Native land – Ho-Chunk – here at the university," she said. "Surprisingly, there's a lot of ignorance about our existence and who we are, so this is an opportunity to see first-hand our beautiful culture."
Nelis, who is a UW-Madison senior majoring in social welfare with a certificate in American Indian Studies  and a member of the Bad River Ojibwe tribe, emphasized the importance of students being able to collectively host an event to share their culture and enjoy time together celebrating Native culture with their community.
"It's important for students to be able to advocate for ourselves and express their cultural identity while away at college," she said. Students run and coordinate the two-day event through a variety of roles ranging from  staffing entrances to helping vendors and artists set up exhibits and displays, and assisting the performers to running the vital cultural components of this event.
This year, UW-Madison graduates will be honored on Saturday evening at 7:30 p.m.
Annual powwows play an integral role and happen just once a year, bringing together Native culture from the entire larger region – Minnesota, South Dakota, Iowa and even Canada — to the campus, said Christopher Kilgour, program manager for the UW-Madison Tribal Technology Institute (TTI).
"It's a community gathering for strength, reflection and sharing, as well as a way to re-center for many people," Kilgour said, especially for students who are from Native communities where they are used to being consistently surrounded by their culture.
"This will make it possible to not only expose students to events and activities on campus, but also put them in contact with other Native students from all over the region who are involved in education," Kilgour said. "This is a totally different world. For some students, Powwow may be the only time they see other community members."
The Annual Powwow also bridges the boundaries of the University and all of Wisconsin's twelve Tribal Nations.  The powwow will be a fluid event including dancing, cultural demonstrations and performances. The Grand Entry, which occurs at 1 p.m. and 7 p.m. on Saturday and on Sunday at 1 p.m., will feature the Ho-Chunk Nation and Menominee Nation Color Guards, who will lead this opening dance followed by the Head Staff.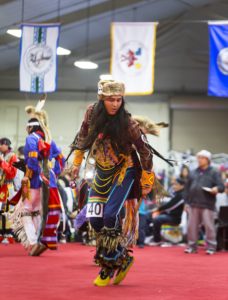 The dancers, drummers and the staff participating in the OWASP 2017 are prominent in the powwow community and nationally recognized for their participation on the powwow circuit. This year they include: Host Drum The Boyz, Youth Host Hay Creek, Co-Host Motown, Head Man David Greendeer, Head Lady Laryn Oakes, Junior Head Man Guppy Benton, Junior Head Lady Micayla Silas, Master of Ceremonies Keveon   Kingbird, Arena Director Randy Paskemin, Head Veteran Paul Cloud, Head Dance Judge Jason Kingbird, and Head Drum Judge Chuck Lasley.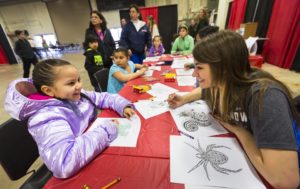 The Masters of Ceremony will keep the crowd informed by explaining what's happening throughout the Grand Entry and the dancing that follows.  Dance ranging from social to ceremonial has always been an important part of Indigenous life.  The On Wisconsin Powwow will include exhibition, competitive, social and intertribal dancing, which is open to everyone including audience members.  Although dance styles, content and the outfits of the dancers have evolved over time, their meaning and importance has not changed.  There will be more than 30 traditional and contemporary American Indian art vendors from the United States and Canada, an opportunity to learn the importance of regalia through regional Native languages, and traditional Native foods made by Native food vendors.
"We're going to have a large feast as well, which is culturally important in Native culture to feed our guests and be hospitable in that way," Nelis said.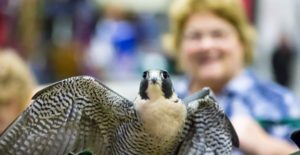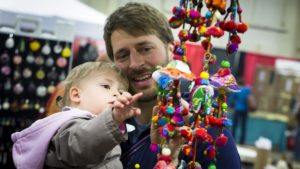 This year's event will have an enhanced interactive Kids Activity Area, where all children can learn about the Three Sisters, a southeastern United States tradition of growing main agricultural crops of beans, corn and winter squash together in a sustainable combination. They will learn the science behind why and how these three crops grow well together, about sustainable agricultural and wildlife management, and the importance of tribal sovereignty.
Other learning adventures – all open to the public — will include the opportunity to meet the biologists of the Great Lakes Indian Fish and Wildlife Commission (GLIFWC), see live raptors presented by The Raptor Education Group, Inc., (REGI), and participate in a Center for Wildlife Management discussion.
Co-sponsored by multiple departments, units and programs, and the Native American student groups at UW-Madison, including Wunk Sheek, Alpha Pi Omega Sorority, Inc., and the Tribal Technology Institute, the UW-Madison Multicultural Student Center, the Wisconsin Union Directorate Global Connections Committee, the Associated Students of Madison (ASM), and the UW-Madison Division of Diversity, Equity & Educational Achievement's Pathways Program.
#   #   #