Three of the 25 students selected to receive Meyerhoff  Undergraduate Excellence & Ginsberg Family Awards, which recognize outstanding students for their leadership, service and scholarship, are members of the Division of Diversity, Equity and Educational family.  Recipients were honored at the Undergraduate Awards for Leadership, Service, and Scholarship on May 4.  View the list of Meyerhoff/Ginsberg winners.
Previously, the awards bore only the Meyerhoff name. As the funding arrangement with the Meyerhoff family reaches its end, the awards will be known going forward as the Ginsberg Family Awards.
The Ginsberg family has chosen to offer these awards in honor of Paul Ginsberg, who served as UW–Madison dean of students from 1970 to 1987. Ginsberg, who died three years ago at age 90, kept in close contact with current Dean of Students Lori Berquam, whom he considered "a kindred spirit," according to Larry Ginsberg, one of three Ginsberg children.
"In talking with Lori about our father's legacy, we knew he would love the idea of continuing to provide benefits to students at the university, especially any benefit that helps students who want to give back to society as a whole and to those less fortunate in particular," Larry Ginsberg says.
His father believed in and tried to instill in others the "one-pot theory" — that whatever we have, we share.
"This isn't about keeping his name alive — he wouldn't have cared about that," Larry Ginsberg says. "It's about bettering the lives of students. He loved the dean's office, but mostly he loved bridging the gap between a student and the university. He absolutely loved and valued most being able to 'humanize' the university experience for a student."
Nominated by the Division of Diversity, Equity, and Educational Achievement (DDEEA)
DDEEA Intern  Shannon Thao 
Academic Major: Community & Nonprofit Leadership, Certificate in Educational Policy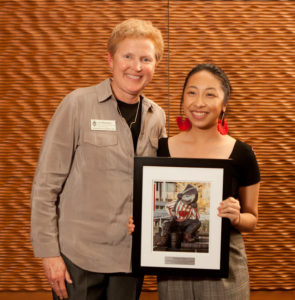 A Madison native, Shannon is a senior graduating this spring. Building from her own identity and educational  experiences as an underrepresented scholar, Shannon's vision to create accessible, responsive, and community centered spaces for students of color in K-12 schools and higher education drives her work. An active advocate for community-centered spaces, Shannon has spearheaded Asian Pacific Islander Desi American (APIDA) Heritage Month for Spring 2018 and serves in the APIDA Cultural Center Organizing Committee. She reveres the power of collectives and capitalizes on opportunities to support the mission and work of the DDEEA as a student intern. In the upcoming year, Shannon will continue working with Freedom Inc., a non-profit dedicated to bringing about deep social, political, cultural, and economic change for African American and Southeast Asian communities in Madison.
Nominated by the College of Letters and Science
Posse Scholar Erika Gallagher
Academic Major(s): English, Social Welfare, Gender & Women's Studies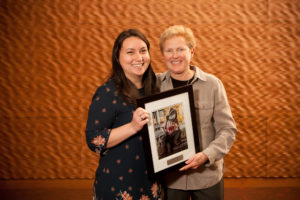 Erika will graduate this spring, finishing three academic majors. Her involvement on campus includes founding the first-generation English majors (GEM) group, acting as an assistant director of the writing fellows program, and serving on numerous campus committees. She has also facilitated and presented workshops ranging from Ernest Hemingway, Suicide Awareness, and LGBTQ leadership. Erika has extended her passion for English into the community as well, tutoring students at Bayview Community Center, Schools of Hope, and the Boys & Girls Club. English advisor Karen Redfield can attest to her efforts: "Her compassion translates into action, both UW and in the community. She is a woman of her word…" Another recommender states, "Erika has become a leader because of her determination, determination that is unparalleled by any student I have worked with." In addition to pursuing graduate school to be an English teacher, she hopes to one day serve as US Secretary of Education.
Nominated by the Center for Leadership and Involvement
Center for Opportunity (CeO) Scholar Jesus Del Toro
Academic Major(s): Latin American, Caribbean, & Iberian Studies, Spanish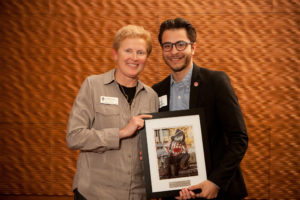 Jesus will graduate this spring with degrees in Latin American, Carib- bean, & Iberian Studies, and Spanish. He has a strong dedication to serving our community as demonstrated by his internship contribu- tions for United Nations Association of Dane County and Columbia Support Network. His mentorship efforts through the Center for Educational Opportunity and his volunteer work with the Dodge County Jail have also fueld his passion for public service. On campus, Jesus is a member of Lambda Theta Phi Latin Fraternity, Incorporated and served as chapter president. Additionally, Jesus served the Multicultural Greek Council as an executive board member and helped to coordinate dialogue around privilege for men in fraternities. Jesus also works with the Multicultural Student Center and SAFEWalk. Both
UW-Madison and our surrounding community have been positively impacted by Jesus and the Center for Leadership & Involvement is excited to honor Jesus with this award.
Meyerhoff Undergraduate Excellence Awards
From 1993 to 2018, the Meyerhoff Undergraduate Excellence Awards for Leadership, Service, and Scholarship have recognized students who have made outstanding leadership and service contri- butions to the university and/or the surrounding communities while maintaining a record of academic excellence. The awards are named after the benefactor, Harvey "Bud" Meyerhoff from Baltimore, Maryland. Mr. Meyerhoff, a successful businessman and philanthropist, is a 1948 graduate of UW–Madison.
Ginsberg Family Awards
Beginning in 2018, the Ginsberg Family Awards will continue the tradition of recognizing outstanding student leaders. The Ginsberg family has chosen to offer these awards in honor of the late Dean of Students Paul Ginsberg (Dean of Students from 1970-1987), in recognition of his profound impact on the campus community. These awards will continue Dean Ginsberg's legacy of honoring the student experience. The 2018 awards are a joint partnership between the Meyerhoff
Undergraduate Excellence and Ginsberg Family Awards to ensure the continued support of student excellence scholarships. We thank both benefactors for their commitment to honoring the tenants of leadership, service, and scholarship.