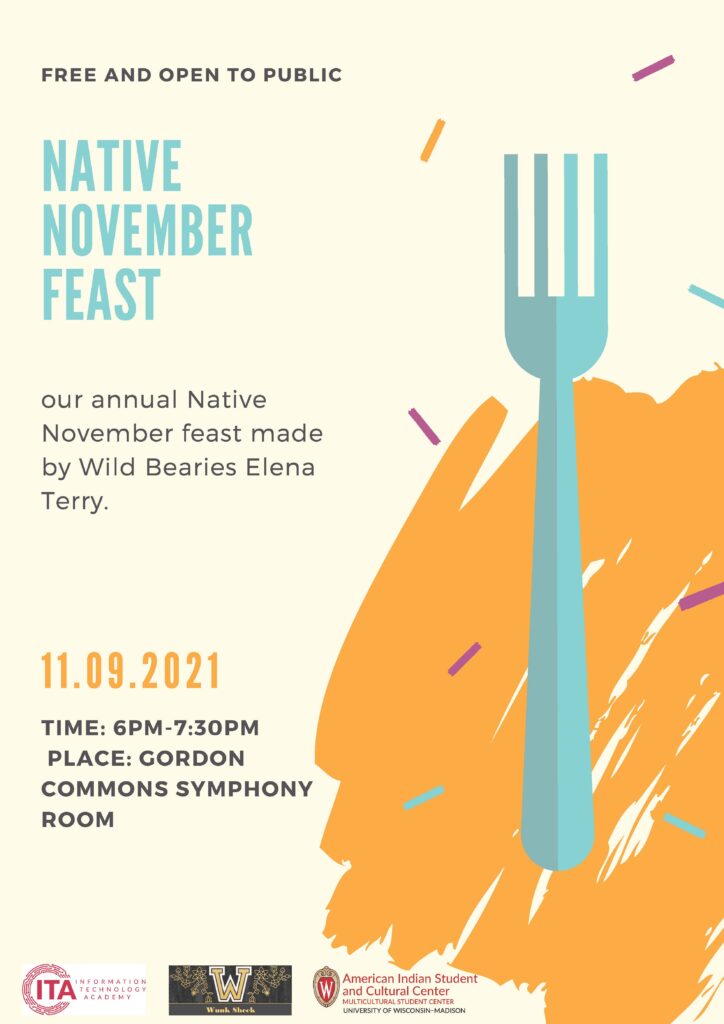 Come kick off Native November with Wunk Sheek! Join us for a Wild Berries Feast on November 9th, to be held in the Symphony Room on the 2nd floor of the Gordon Dining and Event Center. Come through for some good food, laughs, and to be in community!
Event Details
Date: Nov. 9, 2021
Time: 6 – 7:30 p.m. CST
Location: Gordon Commons, Symphony Room
Sponsors: Wunk Sheek, Information Technology Academy, American Indian Student and Cultural Center
What is Wunk Sheek?
Wunk Sheek is an organization that serves students of Indigenous identity and members of the UW–Madison community interested in indigenous issues, culture, and history.
Wunk Sheek gives students of indigenous identity:
A way to socialize with one another
A way to connect with other UW–Madison student organizations
A way to represent indigenous communities to the wider UW–Madison community
Wunk Sheek gives members of the UW–Madison community interested in indigenous issues, culture, and history:
A source for indigenous knowledge, education, and experience
A way to connect with students of indigenous identity at an organizational level
A way to access and understand the indigenous communities Wunk Sheek members are from