Celebrate Multicultural Homecoming by joining a cross-generational discussion on the lived experiences of participating in Black student activism at UW–Madison on Thursday, Oct. 28 from 4:30 p.m. to 6 p.m. in the Wisconsin State Historical Society, 816 State Street, across from Memorial Union. The free event is open to the public with a special invitation to UW–Madison alumni and students.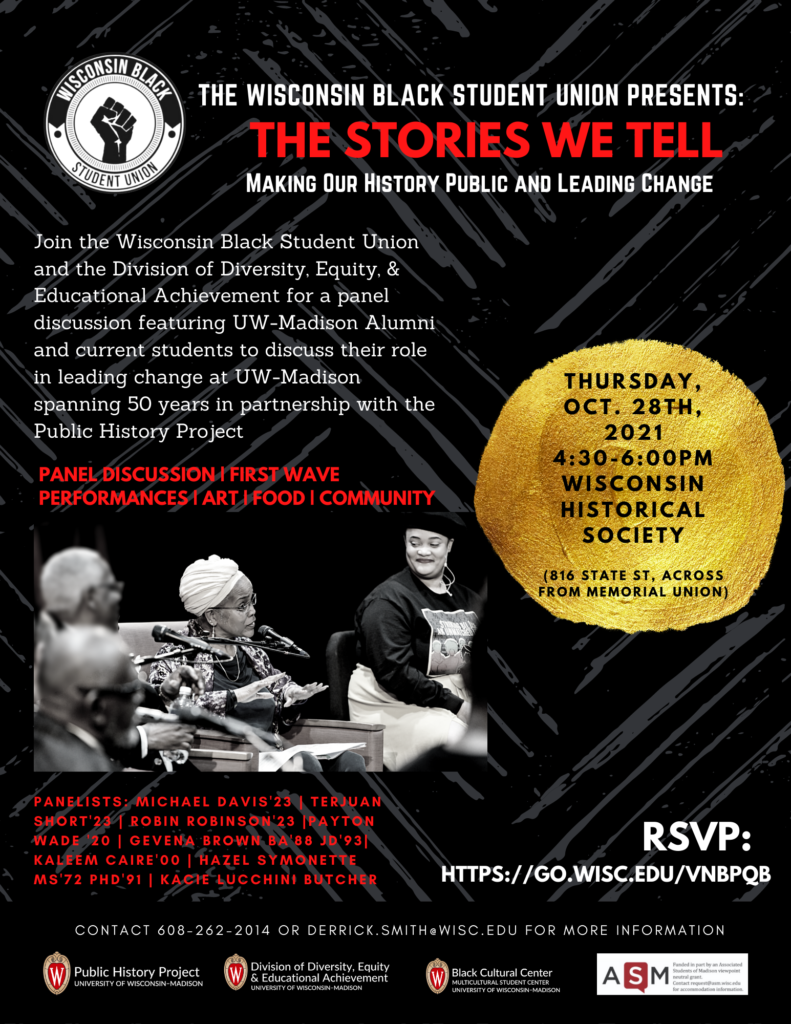 The Stories We Tell is a signature Homecoming event sponsored by the Division of Diversity, Equity, and Educational Achievement (DDEEA) in collaboration with the Wisconsin Black Student Union (WBSU) and Black Cultural Center (BCC). This forum will illuminate our experiences and explore change leadership and Black activism at UW–Madison through the personal stories of UW–Madison students, alumni, and Madison community leaders.
Members of the campus, community and alumni are invited to join us in a community discussion to expose and enrich a shared history of Black student activism by connecting the past with present efforts to initiate change. Participants are encouraged to bring their genuine and authentic selves to share individual experiences about involvement in student activism while here on campus and how it shaped their life and memories of UW–Madison.
The forum begins with an introduction to the UW–Madison Public History Project as a convener and resource created to broaden awareness of our campus history and movements to address racism and discrimination at UW. In addition, a performance by First Wave students will use their art to explore their stories and examine activism on campus.
Panelists:
Geneva Brown ('88, JD '93)
Kacie Lucchini Butcher
Kaleem Caire ('00)
Michael Davis (x23)
Robin Robinson (x23)
Terjuan Short (x23)
Hazel Symonette (MS '72, PhD '91)
Payton Wade ('20)
There also will be food and refreshments along with culturally appropriate booths to share Black voices, history, campus information and literature. We look forward to meeting and having a robust and exciting event. Register today.