Level Up 2022: PEOPLE College Scholars Student Development Conference
February 5, 2022 – 9 a.m. – 4 p.m. Central Time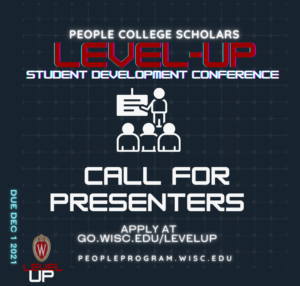 Call for presentations: Proposals due Wednesday, December 1, 2021
Level Up is an academic and leadership development conference designed for second-, third- and fourth-year PEOPLE scholars. Scholars participate in a variety of conference events including a series of large and small group workshops led by campus and community partners, PEOPLE staff, and program alumni. Scholars will have the opportunity to "level-up" their skills, knowledge, and networks in the areas of academic preparedness, personal and professional identities, and wellness.
Selection Criteria
Presentations will be selected based on the following criteria:
Topics alignment to track description
Alignment of presentations goals with tracks desired learning outcomes
Relevancy and urgency of topic in relationship to the current times
Appeal to student audience
Submission Guidelines & Important Information
Proposal must be submitted by 11:59pm on Wednesday, December 1st, 2021
Presentations should be approximately 50 minutes in length
Presentations will be in a virtual format
Presenters will in be informed of decisions by Friday, December 17th, 2021
Level Up 2022 Conference Tracks
Leaders for Education, Advancement & Diversity (LEAD)
Target Audience: 2nd year students
Track Description: Enrich scholar's understanding of their collegiate and academic experiences through critical reflection and structured engagement on topics such as personal identity, social justice, and leadership.
Desired Learning Outcomes:

Students will discover and define 1-2 personal beliefs and values that will guide decision making when choosing their career path
Students will be able to recognize and express next steps in their personal and professional development
Alumni Connections
Target Audience: 3rd year students
Track Description: A professional networking opportunity for PEOPLE Scholars to learn from the professional and education experiences of PEOPLE Alumni to aid their own post-graduation plans.
Desired Learning Outcomes:

Students will connect with alumni and peers who have similar career interests and talk through the opportunities for social impact and pain points of their chosen industry.
Students will hear direct experiences of program alumni and garner information to assist them in shaping their own post-graduation preparation plans to support successful entry into the post-graduation ecosystem
Students will have an increased level of confidence in their personal and professional abilities through engagement with alumni who reflect their lived experiences and have achieved goals they aspire to
Leadership in the New Economy
Target Audience: 4th year students
Track Description: Reflect on the state of the global economy and provide scholars with resources, tools, and information to support the transition into the professional work environment.
Desired Learning Outcomes:

Students will learn about the current challenges and opportunities in the current economy and access the context and historical and global events that led to the current state.
Students will create their own framework on how to handle ambiguity and change when personal beliefs and values conflict in the workplace, understanding that knowledge, truth, and morality exist in relation to culture, society, and historical context, and are not absolute.
Please contact Goodson Vue with any questions.