Dr. Russell Jeung, a professor of Asian American Studies at San Francisco State University and co-founder of the Stop AAPI Hate reporting center, will provide the Day 1 keynote address at the 2021 UW–Madison Diversity Forum, Interim Deputy Vice Chancellor for Diversity & Inclusion Dr. Cheryl B. Gittens announced on Monday.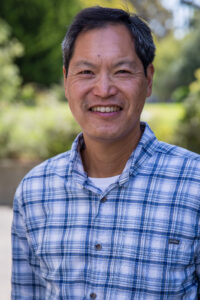 A highly respected sociologist, Dr. Jeung has studied social movements, community organizing, race and religion and the Asian Pacific Islander experience for decades. In the last year, he has also emerged as a powerful advocate and voice in the media for revealing and countering racism, xenophobia and hate directed at people of Asian American and Pacific Islander (AAPI) descent in the United States.
Responding to the increase in anti-Asian rhetoric and violence in the U.S. during the COVID-19 pandemic, Professor Jeung co-founded Stop AAPI Hate with the Asian Pacific Policy and Planning Council and Chinese for Affirmative Action. Since March 2020, Stop AAPI Hate has been tracking instances of xenophobia and bigotry, revealing that the number of anti-Asian hate incidents — which may include shunning, online harassment, and verbal and physical attacks — is far greater than previously reported and that a disproportionate number of attacks have been directed at women. The group's statistics have been widely quoted in the media, helping to raise awareness of how racialized rhetoric around the novel coronavirus's origins has uniquely targeted people of Asian descent while fueling a new generation of intersectional activism.
The 2021 UW–Madison Diversity Forum will likewise focus on social justice, healing and finding solutions to longstanding social problems in the context of the pandemic. Our speakers and panels will consider a number of the most searing questions of our time: How do we acknowledge and address the continuing inequities the pandemic exposed? How do we end racism and xenophobia and stand up for gender and sexual identity rights? And how do we move forward in our efforts of healing after the Derek Chauvin verdict?
Call for Proposals for UW-Madison Diversity Forum 2021 EXTENDED to May 17
For the second year, the Division of Diversity, Equity & Educational Achievement is issuing a call for proposals for breakout sessions at the Diversity Forum, held on November 2 and 3 at Union South as well as online in an anticipated hybrid format. We welcome submissions from campus partners, Madison-area community members, and partners throughout the Midwest. Proposals for 75-minute breakout sessions may take the form of workshops, panel discussions or lectures and can be submitted at go.wisc.edu/df21-cfp. The new deadline for submissions for 2021 Diversity Forum presentations is Monday, May 17.
Successful proposals will meet some or all of the following criteria:
Align with the Forum's mission to update, educate and activate attendees
Provide an interdisciplinary perspective on the latest research and best practices in diversity, equity and inclusion with practical applications for a broad audience
Respond to or build upon key issues of the day and/or reflect the keynote and overall themes of the 2021 conference
Help increase attendees' understanding of matters of importance to people from historically marginalized or underrepresented groups
Provide a relevant contextual starting point for discussion, self-learning and/or interactive work among attendees
Learn more about the call for proposals, including examples of well-received past breakout sessions: https://diversity.wisc.edu/2021/03/call-for-proposals-uw-madison-diversity-forum-2021/
For more information on Diversity Forum, contact Mary Carr Lee, Communications Director at the Division of Diversity, Equity & Educational Achievement, at Mary.CarrLee@wisc.edu