The year 2021 heightens our awareness of progressive leadership in transformational change. Woman are known to be pioneers of progressive change movements in history and remains true today. Embracing the theme, Onward & Upward: The Era of the Empowered Woman, the UW–Madison Division of Diversity, Equity & Educational Achievement in partnership with the National Diversity Council, presents the 8th annual Women in Leadership Virtual Symposium on Friday, March 26 from 9 a.m. to 11 a.m.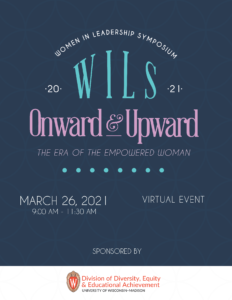 This half-day seminar and networking event presents a diverse representation of women in executive leadership roles, who will educate, inspire and encourage women to embrace their individual talents and skills to advance change within their organizations and career trajectories.
Women have taken on challenging situations that affect their personal and professional lives with innovation, flexibility, and strength. This year's symposium will explore the ways women can empower themselves and one another to conquer new norms throughout the journey of life.
"This conference demonstrates our commitment to diversity and equity though professional development, mentoring and community building. It is one of our strategic priorities to cultivate the next generation of leaders" said Cheryl B. Gittens, Interim Deputy Vice Chancellor for Diversity & Climate and Chief Diversity Officer.  "Wisconsin has a long history of strong, trail-blazing women who are at the forefront of contemporary issues. During Women's History Month we celebrate their strength and acknowledge their accomplishments by continuing the tradition of partnering in growth."
Sign up today — limited free registration for UW faculty, staff and students and once spots are filled and for community participants there is a $59 fee set by the National Diversity Council.

The 2021 panel will be moderated by one of UW–Madison's women leaders, Binnu Palta Hill, Assistant Dean for Diversity and Inclusion in the Wisconsin School of Business.
Panelists
Binnu Palta Hill (moderator) Assistant Dean for Diversity and Inclusion, Wisconsin School of Business

Kareeda Chones-Aguam
Vice President of Partner Strategy & Management, Milwaukee Bucks

Kourtney Gibson
President, Loop Capital Markets

Ana Hooker
Senior Vice President of Operations, Exact Sciences

Melissa Scholz
Principal Attorney/Owner, Scholz Nonprofit Law

Syneathia LaGrant
Vice President, Enterprise Learning & Leadership Development, ManpowerGroup
Exploring the 2021 Theme: On & Upward: The Era of the Empowered Woman
With a focus toward finding and sharing solutions our symposium discussion will include the following topics. Through a series of questions to our panelists, who will describe their experiences and methods for successfully navigating multiple roles and overcoming barriers, we will learn, mentor and share with one another.
I am not your superwoman. Debunking women having to take care of everything;
Be the change you want to see in the world: how to advocate and support causes that matter to you;
Diversity of womanhood: showcasing the wide array of experiences among women;
What's wrong with being confident?
The high-achieving woman: a look at the five key themes of agency, authenticity, connection, self-clarity, and wholeness;
I got your back: the importance of sponsorship and having more women in executive leadership.
More about the 2021 Panelists
Kareeda Chones Aguam
In her 21st season with the Milwaukee Bucks, Kareeda Chones Aguam is the Vice President of Partner Strategy and Management. Leads a team responsible for managing and retaining 70+ marketing partnerships for the Milwaukee Bucks including working closely with the management team in the construction and development of the new 500M Deer District in downtown Milwaukee. The partership revenue line has quadrupled during her leadership.
In addition to her position with the Milwaukee Bucks, Chones Aguam has also been a free-lance voice talent artist for over 20 years as the voice of numerous radio and television commercials, television programs, and professional employee videos for various clients throughout the city and across the country including Milwaukee Bucks' Basketball, and her most recent project as the Voice of Fiserv Forum! Chones Aguam was formerly the TV host of the Marquette Women's Basketball Coach's Show, Marquette Women's Basketball TV Color Analyst, and on-air voice talent on Milwaukee's Smooth Jazz 106.9. Chones Aguam is excited to launch Aguama Productions LLC. this year…site coming soon!
A graduate of Marquette University and four (4) year letter winner of the Marquette Women's Basketball Team, Kareeda majored in PR along with a minor in Spanish. Kareeda also is engaged in the community as a Board of Directors for the Penfield Children's Center of Wisconsin and Board Director for Employ Milwaukee, and past member of the African American Chamber of Commerce Women in Business Committee and the Women's Fund Board of Greater Milwaukee. In 2016 Chones Aguam was awarded the Marquette Athletic Department Young Alumnae of the Year Award. In June 2019 Kareeda was celebrated as one of the Milwaukee Business Journal's Women of Influence 2019 for mentorship and honored as one of the 2019 Milwaukee Magazine's Women of the Distinction, most recently, Kareeda was selected as a Sports Business Journal's distinguished Game Changer Recipient- Class of 2020.
In addition to her responsibilities in the office, studio, and community, Kareeda's most cherished role is being a wife of 13 years to husband Ryan and mother to her amazing children, daughter Averie (9) and son Carter (6).
Kourtney Gibson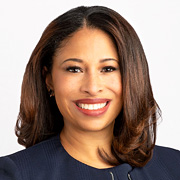 Kourtney Gibson is the President of Loop Capital Markets. She oversees all brand-building efforts at the firm including the cultivation and enhancement of strategic client relationships across the firm's various business lines. In addition, Ms. Gibson identifies and pursues firm-wide opportunities for growth and operational improvement. Ms. Gibson serves on Loop Capital's Management and Fairness and Valuation Committees.
Ms. Gibson started with Loop Capital as an intern in 1997, the firm's founding year. Over more than 20 years, Ms. Gibson has worked across multiple functions at Loop Capital including strategy, investment banking, sales and trading. In 2015, after a decade of running the firm's equity division, she became responsible for heading the firm's taxable fixed income division. Ms. Gibson was then named President in 2016.
Ms. Gibson currently serves on the boards of Lululemon Athletica Inc. (NASDAQ:LULU) and MarketAxess Holdings Inc. (NASDAQ: MKTX). She is a member of The Economic Club of Chicago and the Treasury Market Practices Group sponsored by the Federal Reserve Bank of New York. In addition, Ms. Gibson sits on the board of trustees at the University of Miami, where she serves on the Executive Committee and Investment Committee, and Viterbo University, where she serves on the Finance Committee. Her community outreach includes her role as a board member of the Dibia Dream Foundation and Chairman of the board of the Chicago Scholars Foundation.
She holds Series 7, 57, 24 and 63 FINRA registrations and is a CNBC Contributor providing insight, analysis and outlook on the markets.  Ms. Gibson received an M.B.A. from the Kellogg School of Management at Northwestern University and a B.B.A. from the University of Miami.
Ana Hooker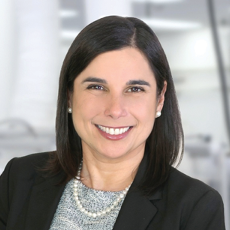 Ana Hooker is the SVP of Operations at Exact Sciences where she is responsible for laboratory operations, manufacturing, and quality. Ana joined Exact Sciences in 2013 to start the Clinical Laboratory while waiting for the test's FDA approval bringing over 20 years of clinical laboratory experience to the operation. Prior to her position at Exact Sciences, she was at ARUP Laboratories for 15 years, the latter two as the SVP Division Manager for anatomic pathology, oncology and genetics. She received her BS from Kansas State University, her MT from Hays Pathology Laboratories, and her MBA from Westminster College in Salt Lake City, Utah.
Melissa Scholz
Through Scholz Nonprofit Law, Melissa unites her expertise in nonprofit law with 30 years of experience as a community leader and fundraiser. Prior to forming Scholz Nonprofit Law in 2007, Melissa worked at a large Wisconsin law firm and developed a broad knowledge of legal issues that affect nonprofits. She brings this tax and business savvy to the firm, where she is able to tailor their service to the unique needs of nonprofits and mission-driven businesses.
Originally from California, Melissa received her B.A. in History from Stanford University, then received her J.D. from University of Wisconsin Law School in 1995 (cum laude; Order of the Coif). Melissa and her husband, Karl Scholz, have enjoyed living in Madison for thirty years and raising their family of three daughters. When Melissa isn't practicing law or working on a community issue, she enjoys UW sport and other activities, being outdoors, hearing live music, cooking or eating good food, and being with family and friends.
Syneathia LaGrant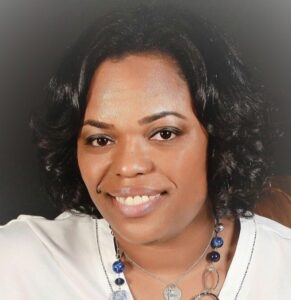 Dr. Syneathia LaGrant is an expert in adult learning and leadership development.  She brings more than 18 years of experience working in human resources focusing on training, leadership development and talent management. Her experience includes managing global talent management teams and developing learning interventions for multi-national organizations including MolsonCoors Beverage Company, Fiserv Inc, and Johnson Controls, Inc. In her current role with ManpowerGroup, she leads the strategy for designing, developing, and deploying enterprise wide learning and leadership development initiatives.
Syneathia holds a bachelor's in English and Secondary Education Certification from Bradley University. She earned a Master's in Adult Education with an emphasis on Instructional design from Alverno College. Syneathia earned her doctorate from the University of Pennsylvania's Chief Learning Officers Program. Her dissertation is entitled Beyond Belonging: Identifying Critical and Conflicting Factors in Women's Career Progressions. Her research explored the impact of belonging on a woman's success trajectory in large organizations. When she is not working, Syneathia enjoys being active in the Milwaukee community supporting educational initiatives and volunteering with nonprofits that support education, children, and serve the homeless. She provides leadership development and board development workshops for churches and community groups, is an active board member for Community Memorial Hospital in Menomonee Falls, and serves as a trustee and youth ministry leader for her church. She also loves spending time with her husband, Robert, going Bucks games and enjoying the many restaurants in Milwaukee.  She is the proud mother of Brendan, a freshman at Howard University in Washington DC, and Marcus, a sophomore at Rufus King IB High School in Milwaukee, WI.