Even before the police brutality and Black Lives Matter protests earlier this year, Latasha Harlins was never far from Amaud Jamaul Johnson's mind.
In 1991, Harlins walked into a Los Angeles convenience store and was shot in the back of the head by the store's owner, who accused her of trying to steal a bottle of orange juice. She was Black. She was 15. She died with money in hand.
Johnson, a nationally renowned poet and English professor at UW–Madison, dedicated a poem to Harlins in Imperial Liquor, his new collection on race and fatherhood. A Compton, California, native, he left for college as his city burned following the acquittal of police officers who had beaten Rodney King around the time of Harlins's death.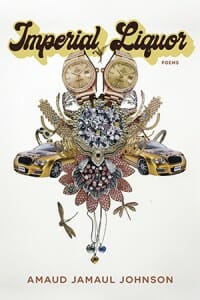 "One of the great anxieties I have is that it seems like these riots mark generational shifts," Johnson says. "When my father was a teenager, he experienced the Watts riots in '65. When I was a teenager in Los Angeles, there was a riot. And now my sons have rioting and protest that's part of their adolescent experience. It feels like we're caught in a dangerous loop."
Such brutal realities of being Black in America — from slavery to today — underpin much of Johnson's award-winning writings, as well as his wife's. Cherene Sherrard, a fellow distinguished poet and professor in the Department of English, also released a collection this year. In Grimoire, she writes of the turbulences of Black motherhood that echo across generations.
Johnson and Sherrard will discuss their poetry in a virtual event on December 17 at noon CST.

Poetry of the Moment

December 17 – 12:00PM – 1:00PM

Online, 

join from anywhere
In the couple's poetry, the elegance of each line guides you deeper into a haunting scene. You agonize over pain and loss, violence and survival. You explore the transience of home, identity, and memory. And you start to understand why — as the country confronts racial strife and a devastating pandemic with precious little empathy — a poet's touch is essential.
"During a time like this, when people feel like they don't quite understand where things are going, where there's a confusion or hopelessness, there's a great call for poetry," Johnson says. "We saw this after September 11. Poets deal in uncertainty — or what John Keats called negative capability. A poet exists in a space where the answers aren't readily available, where you linger in a silence and speak into it."
About the event
At a time when the nation grapples with long-standing racial injustices and police brutality, two UW professors — who are also poets, a married couple, and featured in the Winter 2020 issue of On Wisconsin magazine — will read their important poetry about Black identity and the brutal realities of being Black in the U.S. They'll then talk about the process and research behind their work. This program, moderated by freelance editor and poet Ann Shaffer MA'90, will also include a discussion and a Q & A session. Don't miss this imperative program — sign up today.
The speakers
Amaud Jamaul Johnson, Halls Bascom Professor of English, UW–Madison; director, MFA Program in Creative Writing
Cherene Sherrard, Sally Mead Hands-Bascom Professor of English
Moderator
Ann Shaffer MA'90, writer and editor
About the speakers
Amaud Jamaul Johnson was born and raised in Compton, California, and was educated at Howard University and Cornell. He released his latest poetry collection, Imperial Liquor, this year, and his other collections include Red Summer (2006) and Darktown Follies (2013). Johnson is a former Wallace Stegner Fellow in Poetry at Stanford, MacDowell Colony Fellow, and Cave Canem Fellow. In addition, he has received the Hurston/Wright Legacy Award, the Dorset Prize, and the Pushcart Prize; and his work has been published in Best American Poetry and American Poetry Review, among others.
Cherene Sherrard, who was born in Los Angeles, earned her bachelor's degree at UCLA and her doctorate at Cornell. Her research primarily focuses on Black female representation in mid-19th- to early 20th-century American literature and visual culture. She has authored Portraits of the New Negro Woman: Visual and Literary Culture in the Harlem Renaissance (2007) and Dorothy West's Paradise: A Biography of Class and Color (2012). She has also published poetry collections Vixen (2017) and Grimoire (2020). Sherrard has earned many fellowships and awards, such as a Wisconsin Arts Board Grant in poetry, a National Endowment for the Humanities Award, and a 2019 Outstanding Women of Color Award.
Ann Shaffer's poems have appeared in Poetry, Image Journal, Free State Review, and elsewhere. Her essays, reviews and stories have been published in a variety of outlets. She has written and edited many books on mathematics, computer technology, and engineering. A Madison resident, Shaffer is a proud UW–Madison alum.
This event is made possible thanks to the generosity of the Sandra G. Sponem Alumni Park Signature Program Series Fund.
Questions? Email Angeline Mboutgnam at angeline.mboutgnam@supportuw.org or call 608-308-5161.