MADISON, Wis. —  Taking part in the Legends of Wisconsin Classic made him fair game for a loaded question.
Do you feel like a legend?
"In our own mind," Trent Jackson said before teeing off in the athletic department's annual golf fundraiser at University Ridge last week, "I think we all want to sort of feel like legends.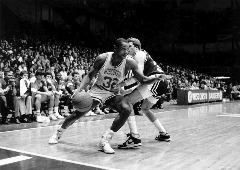 "But when you look at what the program did when I was playing here, it certainly wouldn't have happened for me without guys like Danny Jones and Tim Locum."
Jones, Jackson and Locum were the leading scorers on a gritty Wisconsin basketball team that ended a 42-year postseason drought with an appearance in the 1989 National Invitational Tournament.
The NIT turned out to be a stepping-stone, an awakening for a long dormant program.
"We broke the curse of no postseason play," Jackson likes to say.
Ten years after that first NIT bid, the Badgers went on a run of 19 straight trips to the Big Dance.
Jackson feels a strong sense of accomplishment knowing he was on the ground floor for it all.
A feeling that will be heightened in September when he goes into the UW Athletic Hall of Fame.
"I was driving down to Chicago with my wife," he said, "and I had to pull over."
Jackson, a two-time team MVP, had just fielded a call informing him of his induction.
"I couldn't believe it," he said. "I thought they were kidding."
He even playfully scolded the caller, "Don't be playing with my emotions."
That's how much this honor means to the 52-year-old Jackson, who works for the chancellor's office as the senior director of development for the division of diversity.