After 41 years on the University of Wisconsin–Madison campus and 34 years of continuous service,  Dr. Gloria Hawkins, assistant vice provost in the Division of Diversity, Equity & Educational Achievement and director of the Mercile J. Lee Scholars Program, is announcing her retirement.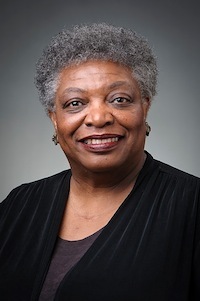 She was appointed director of the Chancellor's and Powers-Knapp Scholarship Programs, now known as the Mercile J. Lee Scholars Program, in 2013.   Over the past five years under Hawkins' guidance, the programs have created educational opportunities for more than  656 undergraduates. Currently, there are 525 Chancellor's and Powers-Knapp Scholarship recipients in the Mercile J. Lee Scholars Program.  One hundred and thirty-two (132) new students have been recruited to join the Scholars Program this coming Fall 2019.
The Mercile J. Lee Scholars Program is a highly selective merit-based program for academically talented students from underrepresented diverse racial/ethnic and disadvantaged groups who have leadership potential and a demonstrated interest in and commitment to service.  The Scholars program was recently enhanced with a major gift from Phillip and Elizabeth Gross honoring the founding director Mercile J. Lee.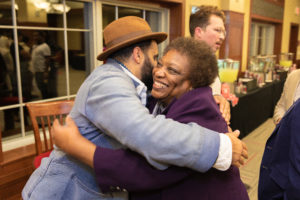 Formerly the Assistant Dean for Multicultural Affairs in the UW School of Medicine and Public Health for nearly 20 years, Hawkins earned a reputation as an extraordinary adviser and recruiter, as well as a strong administrator who was fair and treated others with "dignity, respect and love."
When she took the helm of the Chancellor's and Powers-Knapp programs, now known as the Mercile J. Lee Scholars Program, Hawkins expressed excitement about continuing the extraordinary work of two specific scholarship programs for talented and highly motivated students.
"The programs have a philosophy that encompasses not only excellence in scholarship, but also leadership development and service," Hawkins said. "They have the potential to transform individuals, institutions, and communities."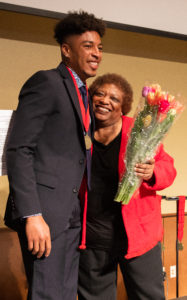 Hawkins was chosen as Lee's successor for her stellar reputation in educational leadership, recruitment and fundraising said Deputy Vice Chancellor and Chief Diversity Officer Patrick J. Sims, in addition to her outstanding rapport with students, which is a key factor in the programs' exceptional advising, mentoring and community-building components.
Building on Lee's strategic tenets for student success of high academic expectations, community service and building student persistence, Hawkins also connected with the strong alumni and constituent groups that have traditionally played a pivotal role in promotion and support. More than half of the programs' graduates pursue graduate or professional degrees, with many going on to become leaders in business, education, medicine, engineering and other professions.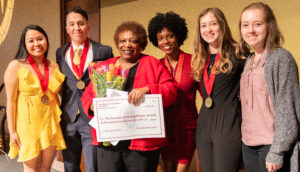 Leading by example throughout her educational and professional career, the Texas native who came to Madison for graduate school began working as a placement counselor and graduate assistant on the UW–Madison campus in 1978 while earning her doctorate in educational administration and policy. She earned her master's degree in guidance and counseling from Atlanta University, and her bachelor's degree in music therapy from Michigan State University.
Hawkins has been a dedicated leader of disadvantaged and minority programs throughout her career, serving for nearly a decade as director of the Summer Collegiate Experience program in the College of Letters & Science, rising to assistant dean of L&S Student Academic Affairs and then as assistant dean of multicultural affairs in the School of Medicine and Public Health prior to taking the helm of Chancellor's & Powers-Knapp Scholars Program.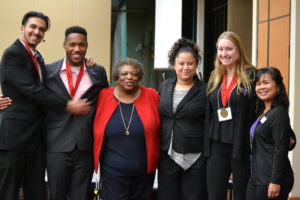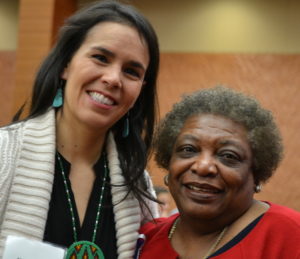 Serving on dozens of university and community boards and committees, most notably as current co-chair of the Martin Luther King Coalition of Madison and Dane County, Hawkins also has represented UW–Madison regionally and nationally. In 2012 she became a Lifetime Honorary Member of the School of Medicine and Public Health National Alumni Association. A member of Delta Sigma Theta sorority, she has been honored by many groups for her service, including a YWCA Woman of Distinction and a UW System Outstanding Woman of Color.
"My interest in service came from the values that my parents, who were educators, instilled in me," Hawkins said. "My father was a minister, community leader, and former teacher/principal. My mother was a music teacher and church musician. Through countless examples, I learned from them that one could have a job or profession and still be concerned about others, and, therefore, work in the community to make life better for others."
Hawkins remembers growing up and being involved with the voter registration drives and the NAACP meetings, the fundraisers at the church for college scholarships and summer camps, as well as the community and church meetings to raise money to start a day care center for those with modest incomes.
"It was from my parents that I learned to work hard and take pride in my work, strive for excellence, love family, and be respectful of myself and others," she said. "Their values and life examples taught me that 'giving', whether to individuals or to a community at large, is a way of giving to and reaffirming yourself."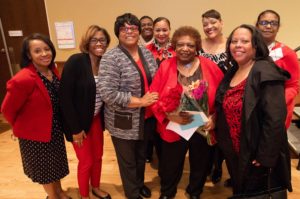 Early in her career, Hawkins says she was able to identify her strengths and interests. She had always loved science as well as opportunities to interact with people.
"I was good at advising students, problem solving and creating programs," she said. "Some years later, I learned what my true passions were — working with young people, helping them to realize or expand their intellectual potential, and developing and creating educational opportunities for them. I followed my passions by combining my career in higher education with my love of community service and education."
She strongly advises students to choose a career based on their strengths and interests, and then passion.  When you follow your passion, your work and life will be a series of fulfilling and gratifying opportunities to make a difference.