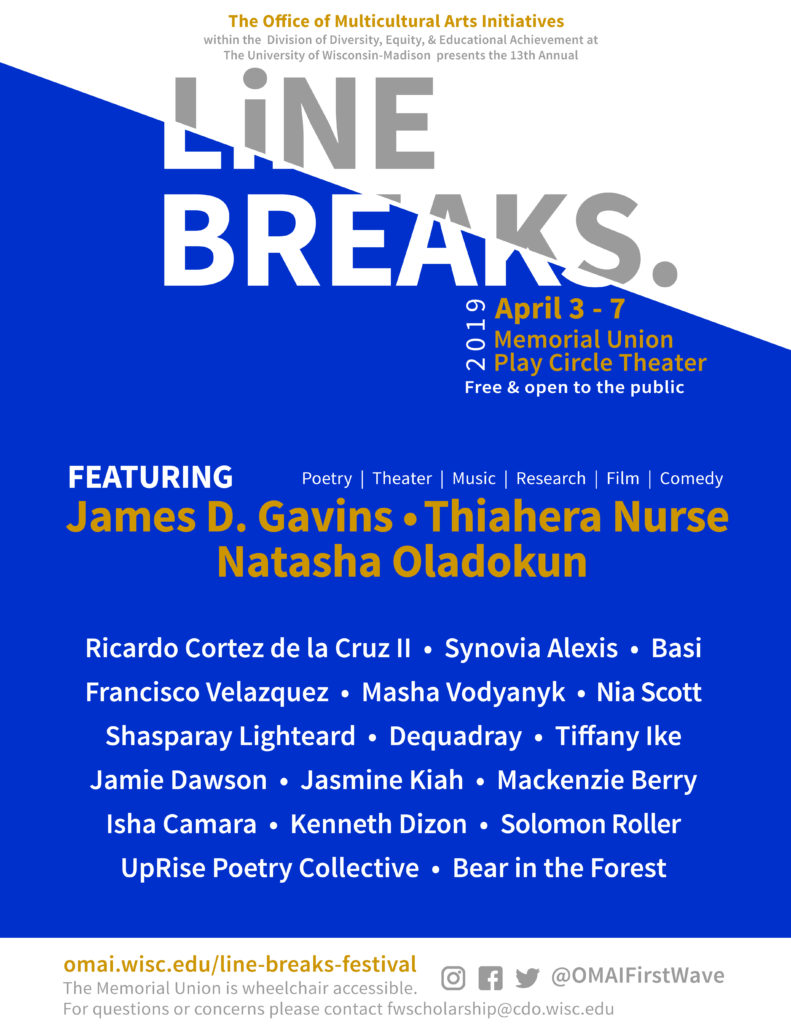 The 13th annual Line Breaks Festival will take place Wednesday, April 3rd through Sunday, April 7th at the Play Circle Theater in Memorial Union, with a variety of performances,lectures and discussions by the Office of Multicultural Arts Initiatives' First Wave scholars and invited professional artists. This Festival brings the top new aesthetics in contemporary performance art to the University of Wisconsin-Madison campus and surrounding community.
Line Breaks is an exciting opportunity where some of the most talented scholar-artistactivists bring their voices forward from the page to the stage in order to empower themselves and others, ignite activism, deepen awareness on subjects deeply tied to their personal narratives as well as community engagement and academic themes. Topics vary from masculinity and revolution to relationship intersections and mass incarceration.  The talents displayed through theater, music, poetry, dance, visual art, flash talks, film and multidisciplinary performances represent forward movement and connect the students' academic backgrounds with their gifts to reach people and create unity, empowerment, deeper thought and show how the younger generation is actively involved in the shaping of life.
Line Breaks utilizes the power of the arts to open and channel voices on various themes. Conversation is welcomed during scheduled talk backs to provide a space for dialogue and questions. Join us as we walk into the hearts and minds of these ground-breaking presenters who are creating change in the world today. All performances are free and open to the public. A full schedule is available online at omai.wisc.edu/line-breaks-festival.
SCHEDULE
WEDNESDAY 4/3 – OPENING DAY 6:15pm – 9:00pm
6:15 p.m. Documentary film, Tiffany Ike
6:45 p.m. First Wave Flash Talks
Emeka: Art Creates Art Creates, Tiffany Ike
Research & Documentary Film: A Case for Muhammad Ali's Influence on Hip Hop, Mackenzie Berry
Untitled, Francisco Velazquez
Untitled, Masha Vodyanyk
8:00 – 9:00 p.m. Visual Arts Showcase Reception
THURSDAY 4/4 – DAY TWO 6:00pm – 9:30pm
6:00 p.m. How Bruising Lonely Can Be, Isha Camara
6:45 p.m. Citizen X, Ricardo Cortez de la Cruz II
7:40 p.m. Fifth Year: A Collaboratoin, Nia Scott
8:10 p.m. Untitled (flash talk), Masha Vodyanyk
8:25 p.m. One Last Time, Kenneth Dizon
9:00 p.m. Feast of Flowers, Jamie Dawson
FRIDAY 4/5 – DAY THREE 5:40 – 8:00pm
5:50 pm. Untitled (flash talk), Shasparay Lighteard
5:50 p.m. Emeka: Art Creates Art Creates, Tiffany Ike
6:00 p.m. Unlearning God, Tiffany Ike
6:30 p.m. The Help, Jasmine Kiah
7:00 p.m. First Wave Poetry Showcase featuring Natasha Oladokun and First Wave scholars
8:30 – 11:00 p.m. Just Bust! Open Mic featuring Thiahera Nurse and UpRise Poetry Collective
SATURDAY 4/6 – DAY FOUR 1:00pm-3:00pm
1:00 – 3:00 p.m. Thiahera Nurse Writing Workshop
3:30 – 5:00 p.m. James D Gavins Movement Workshop
5:30 p.m. Feast of Flowers, Jamie Dawson
6:15 p.m. Untitled, Solomon Roller
7:00 p.m. Featured performer James D Gavins
7:35 p.m. Research in Practice: A Case for Addressing Mass Incarceration through the Arts, Mackenzie Berry
7:45 p.m. Fifth Year: A Collaboration, Nia Scott
8:20 p.m. One Last Time, Kenneth Dizon
9:00 p.m. Citizen X, Ricardo Cortez de la Cruz II
9:35 p.m. Untitled (flash talk), Francisco Velazquez
9:45 p.m. How Bruising Lonely Can Be, Isha Camara
SUNDAY 4/7 – DAY FIVE
4:00 p.m. The Help, Jasmine Kiah
4:30 p.m. Untitled, Solomon Roller
5:10 p.m. Unlearning God, Tiffany Ike
5:45 p.m. Love U(s) First, Dequadray White
6:45 – 8:30 p.m. First Wave Music Showcase
Synovia Alexis
Basi
Bear in the Forst
First Wave cypher