Five women were honored with UW–Madison's Outstanding Women of Color Award at a reception in the Pyle Center on March 5.
In its 11th year, the award was given to five women:
Bianca J. Baldridge, assistant professor in the School of Education's Department of Educational Policy Studies
Mariela Victoria Quesada Centeno, graduate student in the School of Human Ecology and director of the Centro Hispano of Dane County wellness program
Jennifer Young Choe Edgoose, associate professor in the School of Medicine and Public Health's Department of Family Medicine
Melissa F. Metoxen, community and academic support coordinator for the Native American Center for Health Professions in the School of Medicine and Public Health
Cherene Sherrard-Johnson, professor in the College of Letters and Sciences' Department of English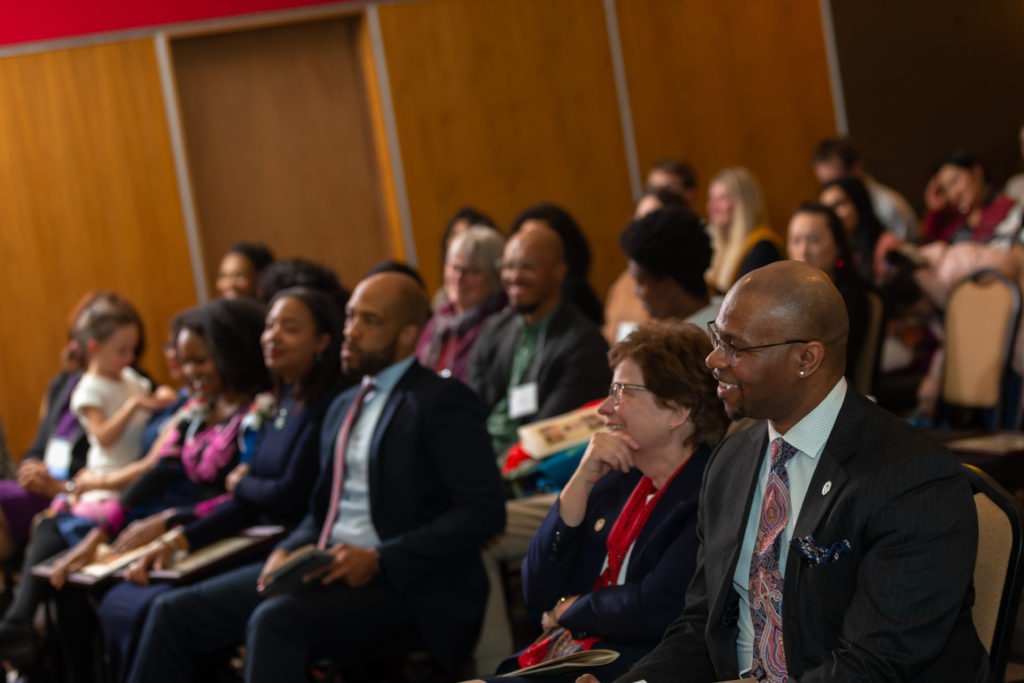 The awardees were joined by around 200 family, friends, colleagues and other supporters at the reception in the Alumni Lounge.
UW–Madison Chancellor Becky Blank and Wisconsin Lt. Gov. Mandela Barnes joined with Deputy Vice Chancellor Patrick J. Sims, associate professor of History in Afro-American Studies Christy Clark-Pujara (a recipient of the 2017-18 award) and members of the selection committee in celebrating the accomplishments and positive impact of the honorees.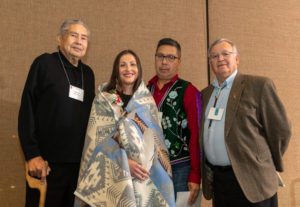 Melissa Metoxen received some additional, unexpected accolades when she was joined on stage by representatives of her family and the Oneida Nation. Her grandfather, Russell Metoxen, presented her with a white eagle feather, which is a symbol of great accomplishment in the Oneida community and is typically presented by a veteran (Russell Metoxen served in the Korean War). She also received a blanket and letter of recognition from the Oneida Nation Community Health Center and Oneida Business Community, respectively.
The Outstanding Women of Color Award is granted each year by the Division of Diversity, Equity & Educational Achievement to women of color in the campus community who demonstrate excellence in one or more of the following areas:
Social justice, activism and advocacy on behalf of disadvantaged, marginalized populations; community service;
Scholarly research, writing, speaking and/or teaching on race, ethnicity and indigeneity in US society; and
Community building on or off campus to create an inclusive and respectful environment for all.
Each year the selection committee receives more than three dozen nominations.
"We've never run short on women who are a force on campus, in the community and in their own lives," said Interim Assistant Vice Provost Cheryl Gittens. "In fact, UW–Madison had so many nominees for the UW System's original Outstanding Women of Color in Education Award that former Vice Chancellor Ruby Paredes launched a separate award in 2007 — and it's still never been just one honoree."