Pardeep Kaleka was irritated when his daughter forgot her notebook.
On their way to the Sikh temple on a beautiful Sunday morning, the former police officer was upset that he had to waste time and gas to turn around and get the notebook.
That irritation gave way to worry as Kaleka approached the temple, where his father was a co-founder and had served as president for 15 years. Police cars started speeding past him, also going toward the temple. He was incredulous when a police officer barricading the off-ramp told him there had been a shooting at the temple just minutes earlier. Kaleka said his first feeling was relief — had he not taken the time to get his daughter's notebook, he and his children might have been inside the temple when the shooting started.
Over the next few hours, Kaleka would learn that his mother survived the shooting, but his father didn't. Satwant Singh Kaleka, 65, was one of five members of the temple who died that day, August 5, 2012. The assailant also died of a self-inflicted gunshot wound. Wade Michael Page was an avowed white supremacist, a member of an organization co-founded by Arno Michaelis in the 1980s.
Kaleka told his story to a rapt crowd of about 800 students at Mt. Horeb High School — and then introduced Michaelis.
"That man is my brother," Michaelis said of Kaleka — perhaps an unexpected sentiment from a man who once fronted a hate-metal band and spent years recruiting disaffected young men into the white-power movement.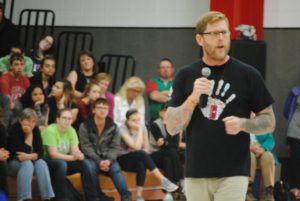 Michaelis told the students how the white power movement is largely made up of angry young men who have a hard time taking responsibility — they have problems like any young people, but, he said, "It's everybody's fault but ours." He recounted starting fights and getting hit a lot ("I wasn't a very good fighter"), and cheering for the Packers in secret because watching black and white players work together "wasn't very white-power friendly."
Michaelis said he left the movement when his daughter was about 18 months old and a friend was killed in a fight. He realized he would likely end up dead or in prison, leaving his daughter behind. His transformation was also helped along by acts of kindness by people of color who he worked with.
"They were defying me," he said. "They were resisting me in the most powerful way possible."
Michaelis said stepping away from the movement in 1994 was like "a burden being lifted from my shoulders," but that he will "spend the rest of my life working to forgive myself."
By the time a member of the group he started murdered Kaleka's father and four others, Michaelis had already been speaking publicly against hate, bias and white supremacy for about two years. And he knew he had to do something to repair the damage done in that temple.
"This was partly my fault," he said. "I set the stage for this to happen."
When he reached out to Kaleka in October 2012, Kaleka was skeptical. Kaleka recounted being open to meeting Michaelis, but still cautious, worried that perhaps the former white supremacist wasn't entirely "former." He chose a Thai restaurant for the first meeting as a kind of test — "no white supremacist could ever handle spicy Thai food," he said with a laugh. When Michaelis agreed to the location, the two met with a lot of apprehension on both sides — but ended up talking for about four hours.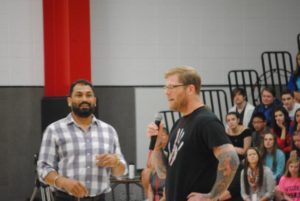 "After that we knew we would work together," Michaelis said.
Today, their organization hosts an annual Peace Summit as well as events like the one in Mt. Horeb. A student asked how to get more involved in the organization. Michaelis said the first step is to start spreading love.
"In your day to day life, be good to people," he said. "You see someone having a bad day or sitting alone, go be their friend."
The pair were brought to Mt. Horeb High School after two members of the Student Council saw them speak at a Monona Terrace event, according to Associate Principal Kolleen Nesheim. The Student Council had dinner with Kaleka and Michaelis Tuesday night at the Grumpy Troll, a favorite local spot for burgers and pizza.
"We wanted to do something that gave them a taste of Mt. Horeb, literally," Nesheim said.  "I just wanted to give them a better feel for us. My hope is that (the students) got that bottom line of forgiveness and how the hate spreads, and affects all of your actions. The fact that Arno was able to move past white supremacist thoughts and the life he lived, to realize that he was living in a life of hate, is just unbelievable. For the two of them to come together like this and talk to kids about forgiveness, that's all we want. Forgiveness and acceptance."
Written by Robert Chappell,  associate publisher of Madison365.