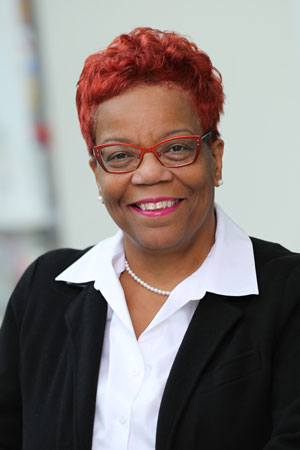 The award is Wisconsin Alumni Association's highest honor
Danae Davis, the executive director of Milwaukee Succeeds, is one of four UW alumni in 2017 to receive Wisconsin Alumni Association's (WAA) highest distinction: the Distinguished Alumni Award.
Davis, who graduated from University of Wisconsin Law School in 1980, has devoted her career to promoting education and to helping society's most vulnerable. She joined Milwaukee Succeeds in 2015 to lead the effort to improve educational outcomes by focusing on children's readiness to learn, from kindergarten through college and beyond. The community partnership has shown promising results, particularly in improving third-grade reading skills.
What I'm Doing with My Law Degree: Danae Davis '80

Davis told an audience of students that she found her first year of law school overwhelming. "It took my second year to finally have the confidence to know that I was on a path that was going to be pretty neat," she said. "I didn't know what that path would be, but there was an atmosphere of 'the sky's the limit' in law school that I found inspiring."  

After earning her J.D., Davis built a successful career that spans more than three decades in the public, private and nonprofit sectors. Her experience includes serving as legal counsel for the governor of Wisconsin and as a former executive at Miller Brewing and Kraft Foods. Under Davis' leadership, PEARLS for Teen Girls expanded to bring PEARLS' proven success to 10,000 girls annually. 
Submitted by Law School News on April 23, 2014
Prior to joining Milwaukee Succeeds, Davis served as executive director and CEO of PEARLS for Teen Girls, a leadership development program for at-risk middle school and high school girls in Milwaukee. In 2014, among 1,300 girls in the program, 97.6 percent graduated from high school and were accepted to at least one college; 99.9 percent avoided teen pregnancy.
She also worked as legal counsel for former Wisconsin governor Tony Earl and sought to promote diversity as an executive at Miller Brewing and Kraft Foods. She was a member of the UW System Board of Regents from 2003 to 2011, and in 2008, she earned the Outstanding Woman of Color in Education Award from the UW System.
Davis was recently named a Woman of Influence by the Milwaukee Business Journal and attended a prestigious program for nonprofit leaders at the Harvard Business School called Strategic Perspectives on Nonprofit Management. Davis also chairs the board for 88Nine Radio Milwaukee, which seeks to make the city more inclusive; and StriveTogether, a national, nonprofit network to improve U.S. educational outcomes from cradle to career.
Along with Davis, the 2017 Distinguished Alumni Award recipients are Jim Berbee '85, MS'87, MBA'89, a UW School of Medicine and Public Health assistant professor; Robert Bergman PhD'66, the Gerald E. K. Branch Distinguished Professor Emeritus in chemistry at the University of California, Berkeley; and Kelly Kahl '89, the president of CBS Entertainment.
The Distinguished Alumni will accept their awards at a chancellor's luncheon on the UW-Madison campus on October 19. The Law School will hold a separate reception in Davis's honor later that day.