Family, friends, supporters and staff came out to the Memorial Union on May 10 to celebrate the accomplishments of 255 graduating seniors from the scholarship and service programs in the Division of Diversity, Equity & Educational Achievement (DDEEA). Below are highlights from the remarks to the graduates from Patrick J. Sims, the head of the DDEEA, and Diem Van Groth ('94), who gave the keynote address.
Change and the importance of family and relationships: Summation of the journey by Patrick J. Sims, Deputy Vice Chancellor for Diversity & Inclusion
"As we embark on this celebration of you — our graduates — I want to share a few thoughts on change. Right here on this stage, we have folks who were the first in their family to attend college like many of you. In fact, I'm one of them. So, we know today is no small matter. It's been a journey, a process, a path with lots of branches and a pivotal time in life training. You've changed.
"In today's world we expect instantaneous results. Things can change with the push of a button, or the downloading of an app. It appears that everything about society can be faster, easier or more efficient all so we can keep rushing toward a future that's not all that well defined. In fact, the future is built on the past and people – one does not change and the other doesn't change very quickly.
"We've talked so many times about standing on the shoulders of our ancestors and you have figured out how to climb up and balance there to reach for the next step.
"It's your generation that will help us to recalibrate our current commitment to change for the common good.
"… I also want to encourage you not to sleep on your haters. They become that challenge — that double-dare — that you need in order to shift your thinking from wondering if the goal you've set for yourself is possible to knowing that it is possible and defining how you're going to get there."
Sims assured the graduates that their efforts to move the campus toward a more diverse, equitable and inclusive place were successful even if they can't see it from where they are now.
"None of this," he said referring to the graduation recognition ceremony, "would be happening without individuals like yourselves who stood up five years ago and said 'we are here, and we deserve to be recognized.'"
The Class of 2019 has earned its place in the legacy of the University of Wisconsin–Madison, but the work doesn't stop here, Sims said.
"With every new degree … you continue to move the needle forward," Sims said reminding the graduates that earning a college degree is a bold and life-changing choice.
"No one ever grows up without making mistakes. The key is what you learn as a result of making those mistakes. I want to encourage you to take what is within you and boldly continue to change the world."
Diem Van Groth gives a charge to the 2019 graduates
Keynote speaker Diem Van Groth is a 1994 UW–Madison graduate and Mercile J. Lee Powers-Knapp Scholar, who earned degrees in political science and international relations.
Van Groth is passionate about making a difference. An entrepreneur and business development executive with more than twenty years of experience, he didn't follow a traditional career path when leaving UW. Among other ventures, he managed a blues legend and co-founded a charter school in South Central Los Angeles.
At the age of sixteen, Van Groth started in the mailroom of Midwest Federal Bank and two years later he was an intern — at age 18 — in the Corporate Finance Department of investment bank Dain Bosworth. The legendary Mercile J. Lee scooped him up as a Powers-Knapp Scholar, and he's continued forging a nontraditional career path both domestically and abroad since leaving UW.
Now Van Groth is the head of Creative and Brands for New Zealand Trade & Enterprise, the New Zealand government's international business development agency, advising top executives in film, entertainment, media, consumer products and service companies on how to grow their international business. Van Groth's resume is a testimony to what a creative mind can do with a degree from UW–Madison.
The Class of 2019 joins a list of notable contributors to our country and to our planet, Van Groth stated.
"You are in good company. This university graduates ballers," he said to a growing ripple of laughter. But simultaneously, he added, it's important to define success as an individual.
"You will be successful when you have peace and you have progress."
Advice to graduates on seeking personal peace as harvested from shared public wisdom
There are things you worry about, things that could happen and things that actually happen.
Be mindful of the thing you put in your body emotionally, spiritually and physically.
Minding your own business will seriously eliminate half the problems in your life.
There's never just one way to do something, respect that we all do things in a different way.
Mental wellness is the foundation for peace.
It's okay to fall apart sometime.
Observations on the pursuit of progress and money
The next time someone says money can't buy happiness, ask them to give you all of theirs.
You will regret the things you don't do. The past is not a prison, it's a grad school.
As Badgers, he advised graduates to join the UW Alumni Association and be active in their your local chapter.
There is no growth in the comfort zone and no comfort in the growth zone.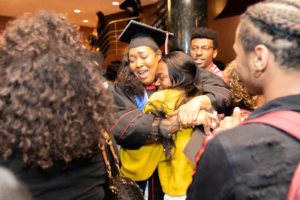 "Graduates, you've got to risk it for the biscuit," Van Groth said, adding that networking with and investing in each other is key. Don't expect to be an immediate success, it will come. America is wealthy with possibility, but in great need of improved intent, so it's critical to participate in democracy.
"The very core idea of our country — that we are all created equal — is on the ballot. Your future and the future of our planet is on the ballot. You need to go vote."
He urged graduates to go big and get involved in major issues.
"Your success, above all, your peace and progress will be based on how good of a human you become."
Reflecting for a moment on his own journey, Van Groth said that throughout his life, circumstance after circumstance has challenged his very existence, but there have been people who have opened doors. He urged the graduates to step through and take advantage of every opened door.
Going forward, the community that loves them only expects that the graduates will be excellent in all they do.
"That you do right for right's sake; that you never ever quit becoming a star, that you help one other person achieve the success you have achieved; and that you provide light in a time when this planet needs light. The door is wide open for you."