The American Indian Studies program's fall 2022 Elder-in-Residence will be Janice Rice, a member of the Ho-Chunk Nation. She will participate in community events, visit classes, and engage with students directly during her residency.
The Elder-in-Residence program gives students access to crucial cultural resources, strengthens partnerships between Tribal Nations and the university, and improves the campus experience for Indigenous students.
Event Details: Welcome Feast for Janice Rice
The Indigenous Student Center will host a feast on Sunday to welcome Elder-in-Residence Janice Rice to campus. Steamed dumplings, miso soup, other appetizers and green tea will be served.
Date: Sunday, Nov. 13
Time: 4:30 p.m.
Location: Indigenous Student Center, 215 N. Brooks St.
About Janice Rice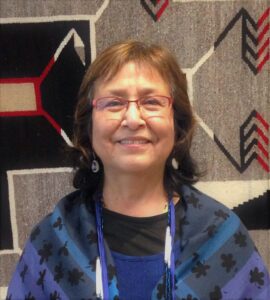 Janice Rice is a Peacemaker for the Ho-Chunk Nation's Trial Court, a Clan Mother for Ho-Chunk Nation Social Services, a past president of the American Indian Library Association, and a board member of the Ho-Chunk Nation Museum and Cultural Center and the Little Eagle Arts Foundation.
Rice serves on the Ho-Chunk Curriculum Committee for Indigenous Arts and Sciences, Earth Partnership Program grant on Deepening STEM, Indigenized Teaching and Learning. She serves as an advisor for the Teejop Community History Project which is designed to assist teachers in learning about Hoocąk presence in the Teejop/Four Lakes/Madison area.
She served as Lecturer for the Tribal Libraries, Archives & Museums course, in Spring 2022, at UW–Madison Information School. She earned her bachelor's degree in education with an area of concentration in American Indian Studies from UW–Milwaukee and her master's degree in library science from UW–Madison. In spring 2022, Rice received a certificate from Ho-Chunk Nation's Language Division for the First Listeners Program, a three-year language instruction program.
Recently, she served as Hoocąk language tutor for Madison's East and West High Schools. During her career, she has worked to promote education, Indigenous history, librarianship, civil rights, intellectual freedom, environmental justice and cultural preservation. UW–Madison awarded Janice Rice the Outstanding Women of Color Award in 2008 and she received the UW System Outstanding Women of Color in Education award in the same year. Rice is active in Ho-Chunk historical research, art and museum projects, native language revitalization, and contemporary native issues.