Donald Warne, MD, MPH, an expert in Indigenous health and the impact of unresolved trauma on American Indian health disparities at the University of North Dakota, will deliver the keynote address at the School of Medicine and Public Health's 2022 Diversity Summit on Sept. 29.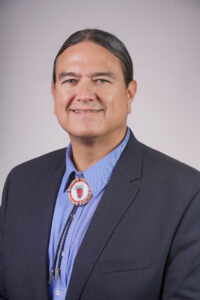 A member of the Oglala Lakota tribe from Pine Ridge, SD, Dr. Warne serves as the associate dean of diversity, equity and inclusion; chair of the Department of Indigenous Health; director of the Indians Into Medicine (INMED) and Public Health Programs; principal investigator for the Indigenous Trauma & Resilience Research Center; and professor of family and community medicine at UND. He also serves as the senior policy advisor to the Great Plains Tribal Leader's Health Board in Rapid City, SD.
The 2022 Diversity Summit, "Honoring Indigenous Health: Past, Present and Future," will be held on Sept. 29 from 3 to 6:30 p.m. The event is presented by the SMPH Office of Diversity and Equity Transformation and Native American Center for Health Professions and co-sponsored by SMPH and UW Health. All learners and employees from both organizations are invited and encouraged to attend.
More information, including a complete schedule and breakout session topics, will be posted on the Diversity Summit 2022 website.