UW–Madison is seeking nominations of faculty, staff, students or community members for the 2022 UW System Dr. P.B. Poorman Award for Outstanding Achievement on Behalf of LGBTQ+ People.
To submit a nomination, please send a single nomination letter of no more than three pages to Lindsey Stoddard Cameron by Saturday, April 30.
Awardees from all UW System campuses will be recognized at a ceremony and reception in fall 2022 in conjunction with the UW System's Outstanding Women of Color in Education Awards.
Thank you for helping us to recognize and celebrate the important contributions of individuals from UW–Madison and the broader Madison community who are advancing social justice and making transformative change.
Award Criteria
Successful candidates will be LGBTQ+ people or their allies whose contributions have advanced the work of diversity, equity, and inclusive excellence in the following ways:
Whose advocacy, activism, or scholarship has fostered social justice and organizational change
Who have created positive transformation within their institutions and/or the community to achieve the goals of diversity, equity, and inclusion
Whose efforts are improving the climate for, or status and visibility of, LGBTQ+ people
About P.B. Poorman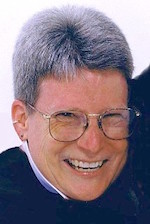 Among other accomplishments, Dr. P.B. Poorman carried out the research and laid the groundwork to bring in a nationally-known climate assessment expert to conduct a system-wide evaluation of the experiences of diverse people throughout the UW System. This achievement epitomizes Dr. Poorman's rich contributions to creating a welcoming university climate for all individuals.
To honor Dr. Poorman's legacy to the state of Wisconsin, the University of Wisconsin System and the LGBTQ+ communities, the UW System LGBTQ Inclusivity Initiative established an annual award in her name. The award is intended to recognize UW System faculty, staff, students, or community members for their excellence in advocacy, research, teaching, or service on behalf of the LGBTQ+ communities.