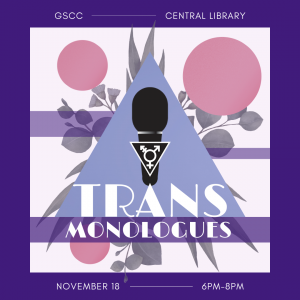 The Gender and Sexuality Campus Center at UW–Madison will host the annual Trans Monologues event this Thursday at Madison's Central Library.
The public is welcome to join in-person or online as performers share stories about their lives, experiences, relationships and communities as trans, nonbinary and gender-nonconforming (TNG) people. Trans Monologues is an open mic event and not a contest.
Event Details
The library venue is wheelchair accessible. Restrooms will be labeled as all-gender. The performance will include CART captioning. For accommodations, comments, questions, or concerns, contact lgbt@studentlife.wisc.edu or 608-265-3344.
Trans Awareness Week
Each November 13 through 19 is Trans Awareness Week, where people and organizations around the United States take action to help raise the visibility of transgender people and address issues members of the community face. The week culminates on Nov. 20 with the Transgender Day of Remembrance, an annual observance that honors the memory of transgender people whose lives were lost in acts of anti-transgender violence that year.
Resources for Trans, Nonbinary, and Gender-Nonconforming People
Please email us if we're missing important campus or community resources and
we'll add them here.
Resources for Allies