The Graduate School's Office of Diversity, Inclusion, and Funding will host a happy hour mixer on Tuesday, Nov. 23, to kick off the 2022 nominations for the Edward A. Bouchet National Honor Society.
This Bouchet Society aims to diversify higher education through building a national network of outstanding dissertators, postdoctoral researchers and early career faculty who are underrepresented in the academy. The Grad School is inviting all current Bouchet Society members and any dissertators, post docs, or faculty working to diversify their field to attend and build community. If you intend to come, please register as soon as possible.
Event Details
Date: Tuesday, Nov. 23
Time: 4:00 – 5:15 p.m. CST
Location: Lee Lounge, Pyle Center, 702 Langdon St.
Food: Appetizers will be provided; cash bar
About the Bouchet Society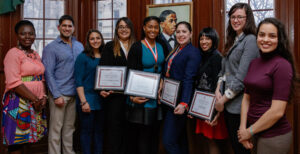 The Edward Alexander Bouchet Graduate Honor Society commemorates the first African American to earn a doctorate degree from an American university (Physics, Yale University, 1876). The Bouchet Society seeks to develop a network of scholars who exemplify academic and personal excellence, foster environments of support, and serve as examples of scholarship, leadership, character, service, and advocacy for students who have been traditionally underrepresented in the academy.
One national charter with two chapters was inaugurated by Yale University and Howard University on September 15, 2005, in commemoration of Dr. Bouchet's birthday. UW–Madison's Graduate School formed it's Bouchet Society chapter in 2010. Each year, the Graduate School sponsors a limited number of graduate students and postdoctoral researchers to become members of the national Bouchet Society. Meet our previous UW–Madison inductees in the biographies at the bottom of the page. Learn more…