The AAPI Coalition of WI will be co-sponsoring healing spaces throughout the month of May! The programs are open to participants who identify as AAPI and to keep these spaces engaging each program will be capped at 15 participants. Each space will have a focus (e.g. racial identity, peer support) and open dialogue about the differences and the similarities of experiences within our AAPI community. Whether it is to share your own experience, to listen to another's story, or to just be in the presence of the AAPI community, we hope you join us as we move together to heal ourselves and to heal in community. Please share with your networks.
The Armor We Wear with Dr. Songco 
Wednesday, May 19 
7:15-8:15 pm
AAPI Healing Space – Dr. David Songco
Home is where we start from: Unpacking what home means to us. In this space, we will examine the ways we protect ourselves and have our needs met. Whether it be in corporate and professional settings or with family and relatives, we often find ourselves shifting in how we "show up" in order to feel safe. Participants are invited to explore authentic ways of relating through sharing of personal narratives and processing experiences in the present space will be encouraged.
This session is capped at 15 and is open to participants who identify as AAPI.
About David A. Songco, Psy.D. CGP
Dr. David Songco is an Assistant Professor & Core Faculty Member in the Clinical Psychology Doctoral Program at the Wisconsin School of Professional Psychology. He is also a licensed psychologist, owner, and founder of New Insights, LLC – a speciality group private psychotherapy practice located on Milwaukee's East Side.
Dr. Songco received his Doctoral degree in Clinical Psychology with a Health Psychology concentration from The Chicago School of Professional Psychology in Chicago, Illinois. He is credentialed with the National Register of Health Service Psychologists, Certified as a Group Psychotherapist (CGP) with the International Board for the Certification of Group Psychotherapists and the American Group Psychotherapy Association (AGPA) and a Diplomat of the American Academy of Experts in Traumatic Stress in collaboration with the National Center for Crisis Management. He also currently serves on the Board of Directors for the International Board for Certification of Group Psychotherapists, Co-Chair of the eLearning Task Force for AGPA and is a previous Fellow of the American Psychoanalytic Association Teachers Academy. Dr. Songco and his practice was most recently recognized as a finalist and runner-up in the 2016 & 2018 Shepherd Express Best of Milwaukee "Best Psychotherapist."
The Stories Embedded in our Identity with Gaochi Vang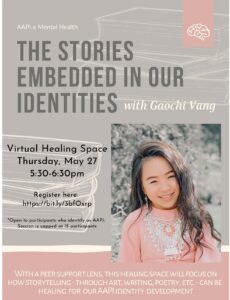 Thursday, May 27
 5:30-6:30 pm
AAPI Healing Space – Gaochi Vang
With a peer support lens, this healing space will focus on how storytelling – through art, writing, poetry, etc. – can be a tool to our AAPI identity development. Exploring how we grieve, reflecting on our healing process, and finding strength in our personal growth is a journey we can do together. What has been defeating for you in your racial identity development? What has empowered you to embrace your AAPI identity? What can we do together as our This session is capped at 15 and is open to participants who identify as AAPI.
About Gaochi Vang:
Gaochi Vang was born and raised in the Fox Valley area of Wisconsin. Reflecting on the community she grew up in, it was easy to feel invisible with its lack of representation and spaces for people to feel heard. Through these experiences and remembering how resilient her ancestors were as they navigated adversity with courage, Gaochi found a love for making every space she occupied a chance to listen to another's story. Through intentional listening, she has come to see that unpacking our wellbeing with each other is another way to grieve and to heal with community.
In her current role, as the Assistant Director of a peer run mental health respite, Gaochi provides emotional and mental health support for people across Wisconsin through respite care and warmline services. And to stay true to her Hmong roots, to hold close her collectivist values, and to come back to who she is, Gaochi holds a strong passion to advocate for mental health resources that reflect the needs and experiences of her Hmong community in the Fox Valley and throughout Wisconsin. Working alongside local Hmong organizations, Gaochi is committed to aligning her passion for mental health care with actions of opening spaces for the underserved to share their stories, to feel heard, and to feel valued.
Gaochi believes the power of storytelling is where our mental wellbeing invites grief to come in and lead us to heal – with ourselves and with one another.