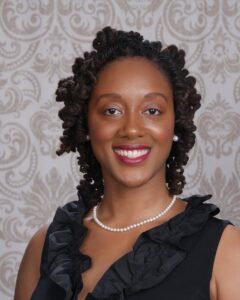 MADISON, Wis. (April 8, 2021) Dr. Torsheika Maddox has advanced to become the inaugural Senior Operations Officer and Chief of Staff to the Interim Deputy Vice Chancellor for Diversity & Climate and Chief Diversity Officer in the Division of Diversity, Equity & Educational Achievement (DDEEA).
In her new role, Dr. Maddox will utilize her skills as a trained Sociologist (demographer), organizational and project manager, and higher education leader to enhance the strategy and operational areas of the division while working to strengthen the institutional impact of Chief Diversity Officer's campus-wide scope of responsibilities.
"We are particularly fortunate to have someone with Dr. Maddox's skill and experience to take the countless responsibilities and expectations of our DEI (diversity, equity and inclusion) work into a demanding and productive future.  She is a proven leader in building systems, teams, and partnerships to advance research, scholarship, and practice. It is the nexus of professional competencies we're so grateful to find in a colleague who sincerely cares about the importance and understands the challenges of D &I work" says Dr. Cheryl Gittens, interim deputy vice chancellor for diversity & inclusion and chief diversity officer for UW–Madison.
After receiving her bachelor's degree at Rutgers University-New Brunswick, Dr. Maddox earned two master's degrees and the Ph.D. in Sociology from UW–Madison. She joined the DDEEA's staff in 2015.
"I am honored to step into this important role at DDEEA," says Dr. Maddox. "As a two-time Badger graduate of UW–Madison with 12 years of experience in diversity, equity and inclusion work, my method is to cultivate partnerships to create inclusive communities where all members can thrive personally, professionally, and in their educational pursuits."
In her most recent role, Dr. Maddox served as director of the DDEEA's Office of Strategic Diversity Planning and Research (OSPDR), heading the team responsible for research, evaluation, and assessment. Under her direction, the office facilitated quality improvement efforts, audited, and monitored internal and external operations/units, and oversaw the Office of Affirmative Action Planning and Programming (OAAPP).  These activities grew out of her prior role as chief developer of the Diversity Inventory program, designed to capture comprehensive documentation of campus diversity, equity and inclusion efforts, community partnerships and opportunities to pursue intersectional funding.
"Dr. Maddox has been dedicated to broadening the path of equity and inclusion at all levels from cultivating future leaders by training divisional interns to playing a key role in supervising the first-ever campus climate survey at UW–Madison," Gittens said.  "Her connections in and out of our division, throughout campus, and in the community will help DDEEA moving forward."