Lewis Henry "Les" Ritcherson, Sr., 1926-2019
Assistant Football Coach, 1966-1969
Les Ritcherson, an award-winning college football player and Texas high school coaching legend, was the first African-American to join a University of Wisconsin coaching staff. The second black assistant football coach hired by a Big Ten school, Ritcherson worked as the receivers coach for the Badgers from 1966-1969.
Ritcherson grew up in Waco, Texas, and attended A.J. Moore High School, an all-black segregated school where he played varsity basketball and football and served as the vice president of his class. After graduating from high school in 1943, he entered Wiley College, an historically black school in Marshall, Texas.
In college, Ritcherson was a four-year starter at end for the Wiley Wildcats. Known for his pass-catching skills and stout defense, he helped to lead the Wildcats to a 28-4-3 record during his career. In 1945, Wiley recorded a perfect 10-0 record and beat Florida A&M in the Orange Blossom Classic to claim the mythic "Negro national championship." After the season, legendary sportswriter Fay Young, of the Chicago Defender, tabbed Ritcherson as an end on his "Negro All-American Team." In his senior year, his teammates elected him to be team captain.
After graduating from Wiley, Ritcherson returned to A.J. Moore High School to teach and coach his old football team. As the head coach of his alma mater from 1950-1966, Ritcherson directed A.J. Moore to a record of 132-38-3. In the strictly segregated world of Texas football, he led his team to several state black high school titles. A.J. Moore High School was the state runner-up in 1954; the state co-champion in 1951 and 1960; and the undisputed "Negro State Champion" in 1952 and 1964.
His coaching prowess caught the attention of Badger football administrators who were scouting prospects in Texas, and, in February of 1966, the University of Wisconsin hired Ritcherson as an assistant coach to instruct receivers and tight ends. Ritcherson became the second African-American football coach in the Big Ten – after Iowa's Frank Gilliam – and the first black assistant coach of any sport at the University of Wisconsin.
Cal Jacox, a sportswriter for the Norfolk Journal and Guide, a weekly black newspaper, hailed the hiring of Gilliam and Ritcherson, reportedly the first black assistant coaches in major college football, as "another milestone in the world of sportsdom." Jacox did not doubt that Ritcherson "was highly qualified for the opportunity" and noted that "it is to the credit of the University of Wisconsin that it is allowing him to take advantage of a chance for advancement."
The Capital Times reported the UW's hiring of a "Negro coach" on its front page, and Dallas sportswriters praised Ritcherson as "one of Texas' leading Negro coaches." Ritcherson consented to come North only after Head Coach Milt Bruhn and UW President Fred Harvey Harrington offered "assurance[s] that the University was strongly committed to seeing that Ritcherson received the support he needed to succeed as a full-fledged member of the coaching staff." The university gave its new coach an unusual five-year guaranteed contract to seal the deal.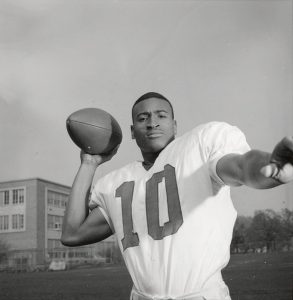 The star quarterback of Coach Ritcherson's final Texas state championship team in 1964 had been his son, Lewis H. "Lew" Ritcherson, Jr. In 1965, the younger Ritcherson received High School All-American recognition, and several leading colleges including USC and UCLA sought his talents for the next level. Lew Ritcherson, however, followed his father to Madison and joined the Badger football program. During his father's first year as a UW assistant coach, Ritcherson won MVP honors on the freshman football team and was in the mix at quarterback for the next three seasons.
The elder Ritcherson was a well-respected and popular coach, and, during the turbulent years of the late 1960s, he developed an especially good rapport with the squad's growing contingent of African-American players. During his years on campus, he was instrumental in organizing the first meeting of black football coaches from predominantly white institutions at the 1970 American Football Coaches Association convention.
Although he was aware of his role as a pioneer, Ritcherson emphasized in an interview with the Wisconsin State Journal that an African-American coach should not be hired simply as a "tranquilizer or a pacifier." He argued strongly that it was "wrong" when "blacks are hired as blacks first and coaches second," and he emphasized that "coaches should be hired as coaches, not as blacks or whites."
Unfortunately, Ritcherson had joined the coaching staff during one of the most difficult periods in the history of UW football. The Badgers posted a 3-6-1 record during his first season on campus, but then slumped badly to a combined 0-19-1 mark over 1967 and 1968. The squad rebounded a bit to a 3-7 record in 1969, but the University made wholesale changes to the coaching staff after that season.
Ritcherson traded his Camp Randall office for one on Bascom Hill in 1970. He became one of the first African-American academic administrators at UW when he accepted a job as an Assistant to the Chancellor for Affirmative Action. Until his retirement in the 1980s, Ritcherson was an important voice for equal opportunity and diversity throughout the University of Wisconsin system.
Written by Gregory Bond, Ph.D. History
University of Wisconsin-Madison