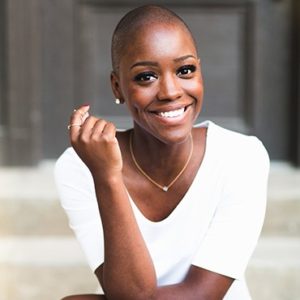 It's time to mark your calendars for the 5th Annual Wellness Symposium October 23 at Union South, 8 a.m. to 2:30 p.m. with a theme of "Cultivating a Well You at Work."
This year's keynote speaker is Stacey Flowers (pictured above). Click this link to see some of her amazing speaking!
More information can be found on the conference web page. Cost is $35 for UW Faculty and Staff.   Register  
The university is committed to supporting every employee in being their best self while at UW–Madison. This symposium will help you find your energy, engagement and connection with what being your best self means to you as you continue your studies or employment at UW–Madison.
No matter where you are in your wellness journey, you'll find breakout sessions and resources that meet your needs. You can learn how to be more mindful and resilient, cultivate more energy, eat a nutritious, balanced diet, or manage stress. Join us for a full day or part of the day.
If you'd like to take a moment to care for yourself in the midst of your everyday work or studies at UW–Madison, this symposium is a great place to start. The UW–Madison Wellness Symposium is open to all UW–Madison employees. The symposium is designed to support your well-being through a day of experiential breakout sessions, inspiration, connection with others and helpful resources that cover all areas of your well-being.