"People get us mixed up all the time," says Marquez, 21, older by 30 minutes. "Our siblings and our close friends are the only ones who can tell us apart."
The UW–Madison seniors are about to confuse a whole new set of people. The two will be appearing together — but competing individually — on the NBC television show "American Ninja Warrior."
"Do I want to beat him? Of course — badly," Nathan says. "But if I can't win, I'd want him to."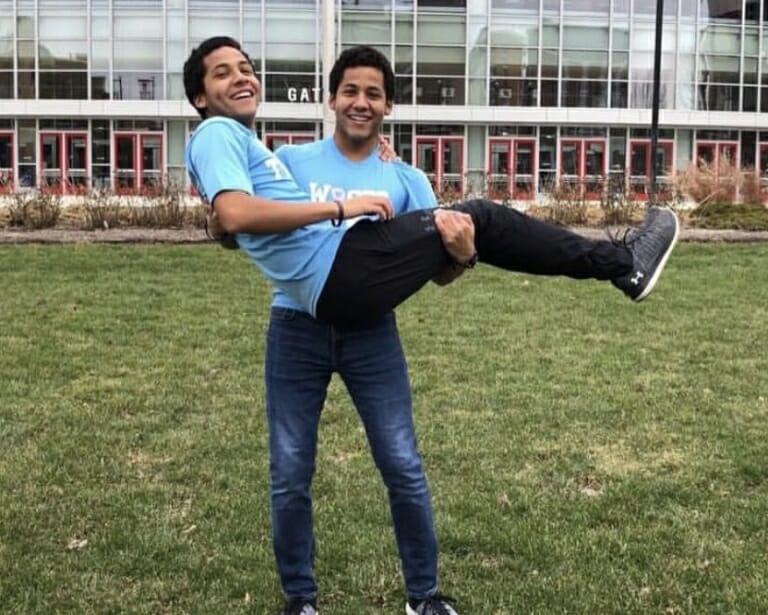 Participants often adopt memorable nicknames. The Greens? "Wisco Twinjas."Each season of the show, hundreds of competitors attempt to complete a series of obstacle courses in select cities across the country. The top finishers advance first to the city finals, then the national finals in Las Vegas.
Their episode was taped in mid-May in Tacoma, Washington. It is scheduled to air at 7 p.m. Central Time on Monday, June 24. Marquez and Nathan plan to watch it at a viewing party open to the public at The Sett in Union South.
The two are not allowed to disclose how they fared. Circumstantial evidence suggests they impressed producers. Shortly after the taping, a four-person crew from the TV show flew to Madison and spent 10 hours filming them. Locations on campus included McClimon Track and the Natatorium.
The crew also filmed them placing flowers on their mother's grave at Forest Hill Cemetery. Martha Green died of breast cancer in 2012 at age 43. The boys were 14. Her story provides the backdrop and inspiration for their television appearance.
"We're doing this in her honor and for all those kids out there who have parents battling cancer," Marquez says.
The brothers volunteer with the UW–Madison chapter of Camp Kesem, a national organization that supports children whose parents have or had cancer.
The two are not allowed to disclose how they fared, but circumstantial evidence suggests they impressed producers.
Marquez and Nathan were born and raised in Madison. They attended Madison West High School for two years, then moved to Wauwatosa to live with their grandmother. They graduated from Wauwatosa East in 2016.
Since seventh grade, they've been part of UW–Madison's Precollege Enrichment Opportunity Program for Learning Excellence (PEOPLE). The program helps prepare high school students for college and supports them once they get there.
"It's the whole reason we're here," Marquez says.
Both twins are majoring in community and nonprofit leadership, with a certificate in entrepreneurship. They've roomed together since the first day of classes and are members of the same student organizations.
They grew up watching and loving reality TV shows with their mom, including the Japanese version of "American Ninja Warrior."
Last year, they drove to Minneapolis in hopes of becoming walk-ons at a "Ninja" taping there. That didn't happen. But they attracted the attention of producers and were encouraged to formally apply for this season. They secured a guaranteed spot at the Tacoma taping with a video audition.
Both are competitive athletes. Marquez has the edge in 5K races — his personal record is 16:34. But Nathan has bested him in the four Spartan obstacle course races they've done. They've both qualified for the Spartan North American Championship in West Virginia in August.
To prepare for "Ninja," they did lots of pull-ups and practiced on climbing walls. Their older brother Gavin, a graduate of UW–Whitewater, and their younger sister Amara, a UW–Madison junior, flew to Tacoma and cheered for them at the taping.
"I was calmer than I thought I'd be," Marquez says. "The nerves weren't there. I think it had a lot to do with the taping being on Mother's Day weekend."
"We were doing it for her," Nathan says. "That's all that really mattered."