All are invited to the 50th Annual On Wisconsin Spring Powwow on April 6-7, 2019 at the Alliant Energy Center Arena in Madison, Wisconsin. Doors will open Saturday & Sunday at 10 a.m. We will provide free buses for UW–Madison students from the Chazen Museum of Art and Dejope Residence Hall every 30 minutes from 10 a.m. to 9 p.m. Saturday. The powwow helps bridge the boundaries of the university and all of Wisconsin's 12 Tribal Nations. The powwow will be a fluid event including dancing, cultural demonstrations and performances. The Grand Entries will occur at 1 p.m. and 7 p.m. on Saturday and 12 noon on Sunday.
The masters of ceremonies will keep the crowd informed by explaining what's happening throughout the Grand Entry and the dancing that follows. Dance ranging from social to ceremonial has always been an important part of indigenous life. The On Wisconsin Powwow will include exhibition, competitive, social and intertribal dancing, which is open to everyone, including audience members. Although dance styles, content and the outfits of the dancers have evolved over time, their meaning and importance have not changed. There will be more than 30 traditional and contemporary American Indian art vendors from the United States and Canada, an opportunity to learn the importance of regalia through regional Native languages, and traditional Native foods made by Native food vendors.
The On Wisconsin Spring Powwow provides an opportunity to learn outside of the classroom and participate in a contemporary Native event, as well as enhance the Wisconsin Experience by providing the campus and surrounding community the opportunity to share and learn about the culture of the people indigenous to this area. Thousands of participants and spectators are expected as the event grows yearly.
Free and open to EVERYONE!!!!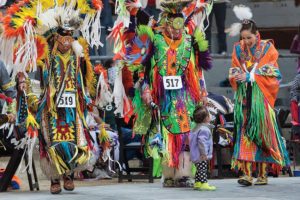 Location
Alliant Energy Center Exhibition Hall
1919 Alliant Energy Center Way
Madison, WI 53713
Hosted by Wunk Sheek
UW–Madison American Indian Student Organization Wunk Sheek will host the annual event. Students run and coordinate the event through a variety of roles ranging from staffing entrances to helping vendors and artists set up exhibits and displays, and assisting the performers in running the vital cultural components of the event.
The powwow is co-sponsored by multiple departments, units and programs, and the Native American student groups at UW–Madison, including Wunk Sheek and Alpha Pi Omega Sorority, and the Information Technology Academy's Tribal Technology Institute, the UW–Madison Multicultural Student Center, the Wisconsin Union Directorate Global Connections Committee, the Associated Students of Madison, and the UW–Madison Division of Diversity, Equity & Educational Achievement.