Dear Friends,
It's that time of year again, when fall is upon us and the leaves start to change and the excitement of campus in full mode takes over.  We're inviting you to share that excitement by coming back to campus to reconnect for our Multicultural Homecoming Reunion Celebration.
Multicultural Homecoming October 19-20
The DDEEA is hosting a major event of the weekend with Ho-Chunk Gaming Madison, our premiere sponsor.  ReUnite the ReUnion Experience Homecoming Concert was curated specifically for UW-Madison's multicultural homecoming audience to bring a soulful cabaret of live performances by talent from across the nation along with an outstanding showcase of campus and local talent.  Attendees can anticipate an engaging show hosted by Chicago comedian T Murph. The show will include the sounds of national recording artist June's Diary and words from UW-Madison alum and world-renowned director and choreographer Frank Gatson Jr.  Gatson has choreographed and directed over 300 music videos and won seven MTV Awards, most recently for Beyoncé's 'Run the World' video.
The show will feature a captivating dance performance by UW-Madison alum Rebecca Arends ('04), as well as a performance by a UW-Madison student Alberto Kanost and Madison's Angela Puerta.  The crowd can expect an exciting step performance from Alpha Phi Alpha Fraternity, Inc. and Lambda Theta Alpha Latin Sorority, Inc.  There will be a phenomenal art presentation by UW-Madison's own Professor Faisal Abdu' Allah for the guests to view. This will be an event you will not want to miss — register today!
In partnership with the Wisconsin Alumni Association, we are also hosting the Multicultural Homecoming Alumni Reception on Friday, Oct. 19 at 5:30 p.m. in the Main Lounge on Memorial Union's second floor. Special guests Gabriel Stulman ('03), founder and CEO of Happy Cooking Hospitality and restaurant partner Matt Kebbekus ('03) will be on hand to discuss their stellar entrepreneurial culinary careers while meeting and greeting old friends.   A celebrated restaurateur, Stulman has quietly built a neighborhood empire in New York's West Village, the neighborhood that houses his collection of laid-back, cozy spots. His latest venues are inside his Freehand New York hotel — a space that fills a full city block. He's come a long way since he was tending bar while attending UW–Madison as an undergrad, but no amount of New York grit can take the Wisconsin out of him.  Stulman's business partner, Matt Kebbekus, is a passionate front-of-house player that served in managerial roles at several shared eateries, including Joseph Leonard, Jeffrey's, and Fedora, before becoming a partner at Perla.
On Saturday, Oct. 20, the Multicultural Homecoming Committee is hosting a tailgate and football game watch party from 10 a.m. to 3 pm. in the AT&T Lounge at the Pyle Center, 702 Langdon St., so alumni and students can continue connecting with fellow Badgers, friends and family.  There will be food, beverages, and a DJ.
Diversity Forum October 31 and November 1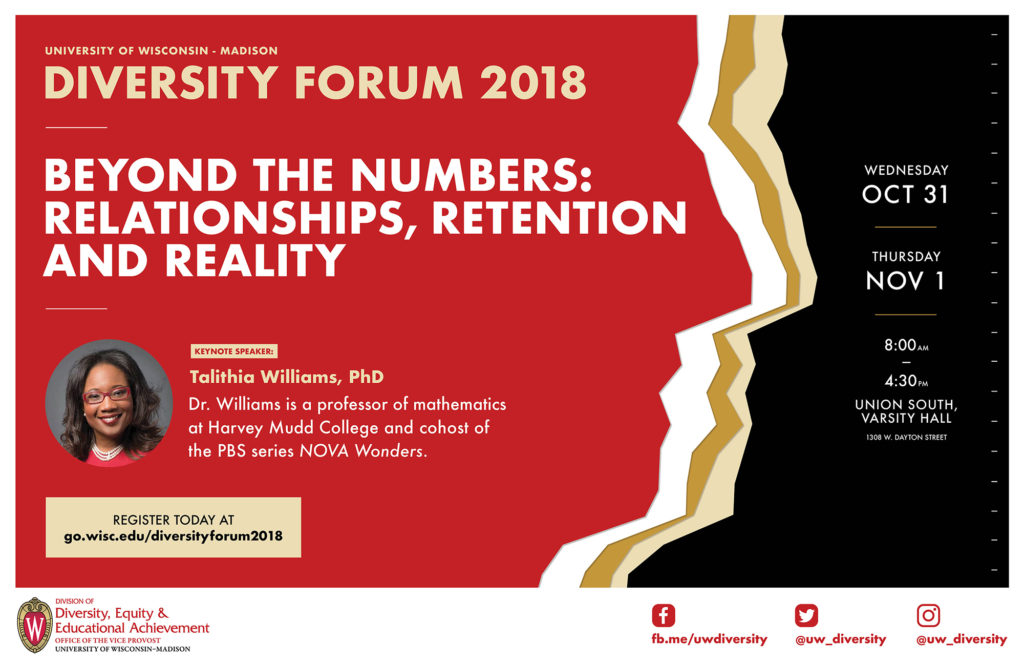 This year's Diversity Forum, Beyond the Numbers: Relationships, Retention and Reality features Talithia Williams, Ph.D., a professor, statistician, mathematician, specialist in the spatiotemporal structure of data and first black woman to achieve tenure at Harvey Mudd College.
Dr. Williams will discuss her personal journey as a woman of color in STEM and examine current benchmarks shown to be effective in retaining underrepresented students in STEM. Using data to capture the many facets of the problem, she'll highlight best practices embraced by institutions that have had success in these areas.
Day one will also feature a screening from "America to Me," a Starz documentary series exploring racial, economic and class issues in contemporary American education. Jessica Stovall ('07) and Adam Levin ('11), teachers at Chicago's suburban Oak Park and River Forest High School, will be returning to campus to discuss their experiences and the pressures and challenges students face today as they grapple with racial and education inequities.
Day two of the forum features eleven breakout sessions covering issues on campus such as mental health, sexual assault, drinking, trans ally ship and community policing.
Finally, we hope you will consider coming to the Wisconsin Leadership Summit. Madison365 and the Ho-Chunk Nation invite you to join Wisconsin's most influential leaders of color in business, government, education and nonprofit sector for two days of discussion on planning the future for communities of color across the state.
As you can see it's a busy and exciting fall for us as we partner to champion diversity for campus and beyond.
In community,
Patrick J. Sims
Deputy Vice Chancellor for Diversity & Inclusion
Elzie Higginbottom Vice Provost for the
Division of Diversity, Equity and Educational Achievement
University of Wisconsin-Madison