When the very first University of Wisconsin-Madison class of Posse scholars was being screened in 2002, university officials were so impressed with the pool of potential recruits that they wanted them all.  So there are two groups of Chicago Posse 1: Chicago Posse 1 – BAM! and Chicago Posse 1 – POW!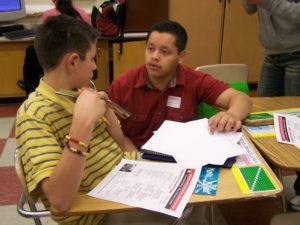 Gerardo Mancilla is still proving it was a good decision to keep them all.
Close to a decade later, Mancilla can look back over a college career that wasn't always easy and testify how the Posse program helped him to journey north of Chicago to become the first in his family to attend an American college or university. A single parent who moved to Chicago from Los Angeles in 1993, his mother had earned three degrees in her native Mexico, but the American higher education system was a mystery.
"She knew the ropes in Mexico, but I didn't have anyone here to help me and my mom was working three jobs to support us."
Like many urban Chicago students, heading north for college never crossed his mind.  By the spark in his heart – to follow his mother's example of service to others, or "ayudar projimo" – brought him to Madison, along with the enticement of a scholarship to help bridge his family's economic shortfall.
"Prior to Posse, I never even knew where Wisconsin was on the map," Mancilla said. Posse brought him to Madison and has kept him here for nine years and two degrees at both the undergraduate and graduate levels.
"I knew that I was going to a state I didn't know…but, I wasn't going to be alone. On campus, the mentor component of the program was my backbone," Mancilla says. He struggled in science, but was able to get a tutor through the program. "Posse was encouraging when I would feel isolated."
Beyond their status as outstanding scholars, Posse participants are also chosen for their leadership potential. Mancilla is the founder and former president of the Latino Men's Group, focusing on community service, social interaction and cultural engagement.
"It's a group focused on Latino males, where they can share and express themselves without reservations," Mancilla said. "I'm a Badger, but I'm also part of the Madison community."
In May 2007, he graduated with a double major in elementary education and communications arts, along with a certificate in Chicano/Latino Studies. In May 2010, he'll completed a master's degree in counseling psychology and elementary education with a focus on bilingual education. Mancilla is now in the doctoral program.
"At this point, my career goals are focusing on the youth," he said. His plans are to begin in the classroom working directly with students, then move into administration where he can formulate the policy and budget priorities that help sustain classroom teaching.
In the Posse tradition of reaching back, Mancilla is a mentor for Chicago Posse 7 students and guiding other minority, economically challenged and first generation college recruits to success in higher education. He's spent summers guiding one of UW-Madison's oldest residential minority pre-college programs, the 25-year-old College Access Program.
"I adore working with kids. But ultimately, if I could be an administrator, I could make more changes and have a greater impact on the education of others."