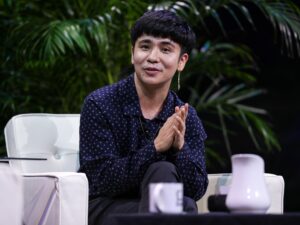 The Wisconsin Union Theater, in partnership with the Madison Public Library's Wisconsin Book Festival, will host a virtual reading with author Ocean Vuong, who will read from "On Earth We're Briefly Gorgeous," his powerful novel about self-discovery through storytelling, followed by a moderated Q&A with Vuong on April 22 at 7 p.m. CDT.
"On Earth We're Briefly Gorgeous" examines the intersection of complex themes, such as race, class, masculinity and family, and considers how people's connections with others help construct their own narratives.
Vuong composed the novel as a letter from a son to his mother, who cannot read, a paradox that allows Vuong to explore whether language can transcend time and circumstance to bring two people closer together.
Vuong established his writing career in 2016 with his collection of poems titled "Night Sky With Exit Wounds." "On Earth We're Briefly Gorgeous" is Vuong's debut novel. He carries his poetic style into his fiction, defying traditional genres to create a final product that blends poetry, prose, essay and letter.
"The vulnerability and honesty portrayed in 'On Earth We're Briefly Gorgeous' illuminate Ocean Vuong's unparalleled talent as an artist and, in a sense, a poetic journalist," said Wisconsin Union Theater Director Elizabeth Snodgrass. "Vuong embraces the raw emotion of his characters, in their times of beauty and their moments of hardship, in order to paint an intimate portrait of what it means to be human."
Guests must register to obtain access to this free, virtual reading and Q&A. Patrons can pre-register here to receive a link to this event.
Daniel Sanji, the cultural programming intern at the Asian Pacific Islander Desi American (APIDA) Student Center and APIDA Heritage Month chair, will serve as the Q&A moderator. Event organizers are honored to have this event included in APIDA Heritage Month 2021, a month-long exploration of the many ways that APIDA identity is shaped both within and outside the community.
This presentation is part of the Wisconsin Union Theater team's commitment to taking action against racial inequities, which includes presenting events that highlight BIPOC's stories. Click here for a full statement on the Theater's stance.
The Theater team is hosting this event in partnership with the Wisconsin Book Festival. The Wisconsin Union Theater presents this event, in part, with the help of financial support from Wisconsin Arts Board funding from the State of Wisconsin and the National Endowment for the Arts.
The Wisconsin Union Theater team strives for all of its spaces to be accessible. The Theater will offer live captioning for this event. Those that need accommodations can reach out to the Theater team at wisconsinuniontheater@union.wisc.edu.
Click here for more information about the Theater-hosted reading and Q&A with Vuong.