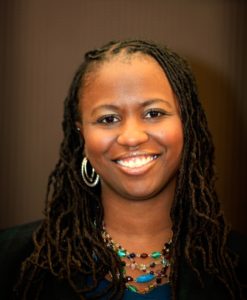 Dr. Sherri Ann Charleston, UW–Madison assistant vice provost and chief affirmative action officer, has accepted a new position as Chief Diversity and Inclusion Officer for Harvard University. Information will be forthcoming about a search for her successor.
"It has been an honor to serve this university as assistant vice provost and chief affirmative action officer. I am immensely proud of the work we have been able to accomplish here and am confident that we have built an infrastructure that will allow UW to maintain its commitment to ensuring access, equity and inclusion for faculty, staff, and students for many years to come," says Charleston.
An expert in diversity in higher education, the history of race and gender and affirmative action and employment discrimination law, Charleston was named assistant vice provost in the Division of Diversity, Equity & Educational Achievement in 2016. There she oversaw many of the university's most groundbreaking and rigorous diversity and inclusion programs, including the First Wave Hip Hop and Urban Arts Learning Community, the Posse program, the Employee Disability Resources office and the Office of Strategic Diversity Research and Planning. In her capacity as chief affirmative action officer, she also oversaw the Office of Affirmative Action Planning and Programming.
"It's hard to put in words just how valuable Sherri has been to UW–Madison as an organization let alone DDEEA specifically. When I say I've yet to meet another person as smart, thoughtful, insightful, strategic and all around a wonderful human being the way Sherri is, that is not hyperbole. I have personally grown from her wisdom and insights and I count it a blessing to have had this opportunity to work with her," says Patrick J. Sims, deputy vice chancellor for diversity & inclusion and chief diversity officer. "I couldn't be prouder of her and Harvard should know they are getting someone who is truly special. I have no doubt that she will go on to do great things. She will be sorely missed."
In her time at UW, Charleston spearheaded the development of a structure for data collection and analysis of student success and campus climate to facilitate the development of data-driven diversity and inclusion initiatives and student academic excellence programming. Part of those efforts included overseeing the completion of the final school and college-level reports from the university's first campus climate survey, as well as the university's Diversity Inventory data-collection initiative.
A faculty affiliate in the Department of Gender and Women's Studies, Charleston has taught courses on women and the law and diversity and inequality in higher education. Charleston is an adjunct faculty member in the higher education doctoral program at Edgewood College, a member of the State Bar of Wisconsin and an elected member of the Midwest Association of Prelaw Advisors Executive Board.
Charleston received her JD from the UW–Madison Law School and her PhD from the University of Michigan in Ann Arbor. She is certified as an Affirmative Action Professional by American Association for Access, Equity and Diversity, received the John Hope Franklin Dissertation Award from the American Philosophical Society and was named one of Diverse magazine's "Top 35 Women in Higher Education" in 2019. Her last day at UW–Madison will be in July.