Mike Montgomery is excited about returning to his hometown of Los Angeles – he left as a student and will return as a teacher.  Between those two points, he journeyed to the University of Wisconsin-Madison as a Posse Scholar and earned a degree in Legal Studies and Sociology.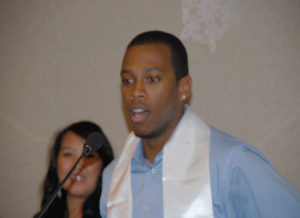 "I think UW was a very different place from my comfort zone of Los Angeles," Montgomery said. "I think that it's a large university that offers opportunities to explore your interests and discover what other interests you may have."
The University of Wisconsin-Madison carries global prestige,, he said. "I think that the actual name and notoriety of the university are great and really make you feel proud of the reaction you get when you tell somebody you went to UW; UW's known for producing great research and being a great university in general. BUT, the main thing I liked about UW was my individual experience here. I learned so much about myself and my capabilities and really became an adult here. I met great people, made brothers and friends for life, explored and discovered my passion for the law and producing social change, and learned the kind of lessons it takes some people much later in life to learn, I learned by 22 years old.
Wisconsin was not a place he'd ever imagined coming to when going through high school and considering colleges, Montgomery said. He assumed he would stay in California and go to a state school, which wouldn't be that difficult or challenging.
"Through four and a half years at UW-Madison, he learned that everybody, no matter where they are from or how different it is from where you are from, has a story to tell, Montgomery said. Sometimes, people from larger cities can have a very "blasé" attitude towards places that are smaller and not as cosmopolitan as the cities they know. Madison has taught him not to be so quick to make judgments about smaller communities. Now, he truly appreciates the big city lifestyle.
Montgomery had originally enrolled as an Education major and wanted to be a high school history teacher. He changed his major to legal studies during the second semester of his freshman year after taking Legal Studies 131 and deciding that he can make a bigger social impact and advocate for change better only through learning the convoluted language of the law.
"I was convinced further to follow legal studies after speaking to an attorney at my first internship and him telling me the many different roles and positions a J.D. can open up for change. I see my major and thinking I've learned form it as a tool of thinking analytically and social problem solving."
The first challenge I believe I've overcome was getting the courage to take a chance to come to a place I never really considered that was so far from home. Once I overcame that and came to UW, a big challenge in such a big university such as this is finding where you fit in and what you want to do here. I found student organizations and projects that I was really passionate about like my fraternity (Alpha Phi Alpha Fraternity, Inc.) and groups that deal with the law, like Students for Equal Access to Law School.
Now that he's familiar with the campus and its communities – which isn't so different from living in a major city – Montgomery is able to pinpoint favorite courses and professors, including Legal Studies 131, Law in Action, and Contemporary Moral issues along with instructors Irene Katale and Howard Schweber.
Overall, the memorable times are, "Wow, too many to pick a few.  I would say road trips with my frat brothers, the study groups with my friends which although were a lot of work definitely had a lot of laughs, and definitely studying abroad in London and playing baseball and doing mentoring there."
The Posse  program emphasizes developing a student's potential in leadership and Posse scholars play major roles in starting, running and promoting student organizations and activities across campus.
"In my fraternity, I've been the secretary, vice president, and the director of membership intake for my chapter, as well as the assistant district director for the state of Wisconsin for Alpha Phi Alpha, in which I served as the representative for all college brothers in my fraternity in the state of Wisconsin," Montgomery said. ." In Students for Equal Access to Law School, I've been a member since my sophomore year and have served as the law school liaison. I got the opportunity to facilitate a class while here for a whole semester (sociology 699, intercultural dialogues) and was a co–host on a student talk show on the Big Ten Network called In My Humble Opinion."
"The POSSE Program has helped me immensely. Definitely providing me with a mentor (Ms. Daphne Chandler) who really served as a rock for me here on campus, as well as not just my nine other Posse members, but the network of older and younger Posse members to rely, network, and fellowship with. It's really a way of breaking down this large university into a smaller community of other scholars who share the same thirst to be leaders, but we do it on campus in many different ways.  I think that the beauty of Posse, especially at UW, is that we have our hands in virtually every aspect of student life here."
Following graduation, Montgomery will join Teach For America, teaching high school English in Los Angeles.
"I'm still currently applying to law school and will either start after teaching for two or more years, or will go part time while still teaching. After that, I want to be involved in advocacy, community building, policy making, and in general public service with my law degree."