Anju Reejhsinghani
Credentials: Ph.D.
Position title: Assistant Vice Provost for Strategic Diversity, Equity and Inclusion Administration
Email: reejhsinghan@wisc.edu
Phone: (608) 262-5175
Pronouns

she/her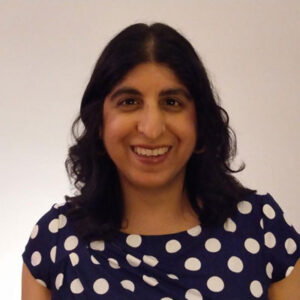 Dr. Anju Reejhsinghani serves as assistant vice provost for strategic diversity, equity and inclusion administration in the Division of Diversity, Equity & Educational Achievement, where she works to develop best practices for diversity, equity, and inclusion work across campus and coordinates the DDEEA's education, training, and development efforts.
She administers Employee Disability Resources, the Office of Affirmative Action Planning and Programming, Learning Communities for Institutional Change & Excellence, and the DDEEA's education and professional development programming. Dr. Reejhsinghani oversees content development for the Diversity Forum, UW–Madison's premier two-day conference focused on diversity, equity and inclusion topics. She convenes monthly meetings of the Equity and Diversity Chairs Committee, and is a co-chair of the Campus Climate Survey Task Force.
Prior to joining the DDEEA in 2021, she served as executive director of the UW–Madison Institute for Regional and International Studies in The International Division. Until 2019 she was a tenured associate professor of Latin American and Caribbean history at the University of Wisconsin–Stevens Point, where she taught courses in global, ethnic, gender and cultural history. At UWSP, she established an interdisciplinary Latin American/Latinx speaker series that was funded by the National Endowment for the Humanities. A specialist in U.S.-Cuba relations and modern Cuba, she developed and ran some of the UW System's first short-term credit-bearing study abroad programs to Cuba.
As a scholar, Dr. Reejhsinghani's research intersects with Latin American, Latinx, African American, and Asian American studies and with race, gender and transnational sport. Her work has appeared in journals and publications, among them "Muhammad Ali in Africana Cultural Memory," "The World of Jim Crow: A Daily Life Encyclopedia," "Dictionary of Caribbean and Afro-Latin American Biography," and "Journal of American Ethnic History." She earned her master's degree and Ph.D. in history from The University of Texas at Austin, a diploma in economics from the London School of Economics and Political Science, and a bachelor's degree in history from Princeton University.