Would you like to conduct research under the guidance of a faculty mentor and receive a research stipend? Do you want to learn more about graduate school? If you are, we strongly encourage you to apply to the McNair Program. Some of the opportunities that the McNair Program offers are:
Participate in a paid research project with a faculty/ mentor in your field of research ($2,800)
Attend professional conferences and present your research at a national conference
Learn about graduate opportunities and careers in your field
Visit graduate schools
We look forward to receiving your application.
---
Eligibility Guidelines
To apply submit your application via the Scholarships@UW–Madison portal.  Because there are a limited number of spots available this is a competitive process and no one is guaranteed entrance. However, we encourage all interested and eligible students to apply. Please do not pass up this incredible opportunity! The eligibility requirements are listed below:
To be eligible, a student must meet either criterion (1) OR (2). All students must meet criterion (3) (4) and (5):
First-generation college student as well as low income students.
African American, Hispanic/Latino, American Indian (according to federal guidelines, Asian Americans, including Southeast Asian Americans are eligible under criterion 1).
A minimum cumulative Grade Point Average of 2.9 and completed 45 credits.
US citizen or permanent resident.
Able to participate in the program for a minimum of 12 full months (including a full summer) in order to meet all the mandatory aspects of the program.
If you know anyone who meets these eligibility requirements and has a strong desire and aptitude for graduate school, please direct them to the online application.
Clarification: In order to be eligible, you must meet either criterion #1 OR criterion #2 (you do not need to meet both criteria to be eligible). Asian-American students are eligible if they meet criterion 1, that is, first-generation college student as well as low-income student. Please email mcnair@cdo.wisc.edu if you have any questions about your eligibility.
Academic year activities prepare participants for success in undergraduate and graduate education, including completion of Ph.D. studies. The University of Wisconsin–Madison McNair Scholars Program provides the following benefits:
Conduct research under the mentorship of UW–Madison faculty and researchers
Learn research ethics and responsible conduct of research
Develop and present research at local and national conferences
Network with graduate students, post-doctoral trainees and faculty with similar research interest
Learn how to prepare a competitive graduate applications
Receive advice on locating funding for graduate studies and financing graduate education
Attend professional development workshops/seminars/discussions on how to successfully navigate the rigors of graduate education
Participate in study groups and study jams with McNair peers
Visit graduate programs in the USA (up to two cities)
Receive up to a $2,800 research stipend
And much, much more…
Ronald E. McNair was born October 21, 1950, in Lake City, South Carolina. Click here for a StoryCorps feature called Eyes on the Stars, narrated by Ronald McNair's brother Carl.
After graduating Valedictorian of his high school class, McNair attended North Carolina A&T State University in Greensboro, where, in 1971, he graduated magna cum laude with a bachelor of science in physics. He went on to study physics at Massachusetts Institute of Technology, where he specialized in quantum electronics and laser technology, completing his Ph.D. in 1977.
As a student he performed some of the earliest work on chemical HF/DF and high pressure CO lasers, publishing remarkable scientific papers on the subject. After completing his Ph.D. he began working as a physicist at the Optical Physics Department of Hughes Research Laboratories in Malibu, California, and conducted research on electro-optic laser modulation for satellite-to-satellite space communications. McNair's research brought him into close contact with the space program for the first time and when the opportunity presented itself, he applied for astronaut training.
In January 1978 NASA selected him to enter the astronaut cadre as one of the first three African Americans selected. McNair became the second African American in space between February 3 and 11, 1984, by flying on the Challenger shuttle mission STS-41-B. Two years later McNair and his six crew members died in an explosion aboard the space shuttle Challenger. In his memory, members of Congress provided funding for the Ronald E. McNair Post-Baccalaureate Achievement Program to encourage low-income, first generation college students to enroll in graduate studies. This program is dedicated to the high standard of achievement that Ronald E. McNair's life represented.
For Faculty Mentors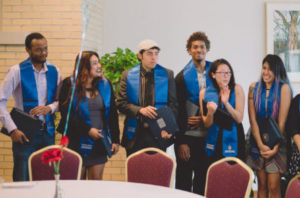 The most important aspect of the McNair Post-Baccalaureate Achievement Program is the Faculty Mentor/McNair Scholar relationship. Faculty Mentors provide exposure and insight essential for the McNair scholar to understand the skills needed to become successful in the academic world. Their time, energy, expertise and commitment to mentoring scholars are invaluable resources that increase the quality of the McNair experience. For the Scholar, the benefit of participating in the program depends to a large extent on the supportive relationship between the Faculty Mentor and Scholar. The relationship is designed to encourage, motivate and prepare the McNair Scholar for doctoral studies.
As a faculty mentor, you may think mainly of the benefits to the student of an undergraduate research or creative project. You may even worry about the work involved in mentoring a student, or the disappointment if the student fails to live up to expectations. But many benefits accrue to the faculty mentor, as many faculty members have attested. Here are just a few:
Pleasure of passing on your knowledge and skill
Reward of seeing a student's growth under your guidance
Opportunities for increasing number of grants that require use of undergraduates
Excitement from learning from students and making joint discoveries (this does happen!)