Each summer, UW-Madison's Office of Multicultural Arts Initiatives (OMAI) teams up with Urban Word NYC to offer educators and community leaders a weeklong program to learn the best practices in hip hop and spoken word pedagogy. The Institute brings together the leading educators, professors, emcees and activists utilizing the media of spoken word, hip hop, and urban arts as relevant, dynamic and necessary educational tools to engage students across multi-disciplinary curricula.
Hip Hop in the Heartland draws from educational theories such as socio-cultural theory, culturally relevant pedagogy, critical race theory, and hip hop and social justice pedagogies, to help educators and community leaders connect hip hop as both an art form and an instructional tool to improve the academic success of students who remain marginalized in our schools.
Participants learn proven, hands-on techniques to develop lesson plans and strengthen their course study, as well as create a platform from which they will understand the scope of hip hop history, culture and politics. Evening programming consists of an all-star cast who will synthesize the day trainings with effective strategies and cutting-edge multicultural educational approaches.
Lodging
Lodging is available at the Lowell Center located within walking distance of the Pyle Center. Rates start at $105 per night. Limited number of rooms available.
Use the following link to reserve your room: Lowell Center Online Reservations or call the Lowell Center at (608) 256-2621 and use the group code "​HIPHOP."
Professional Advancement Credits (PACs)
MMSD teachers who attend a Hip Hop in the Heartland event may be able to use their participation towards PAC credits.
For detailed information on how to obtain PAC credits for participation in Hip Hop in the Heartland , visit https://pd.madison.k12.wi.us/pdinformation and click the "PD Credits & PACs" tab.
 5-Day Institute / July 10-14, 2017 / Pyle Center, 702 Langdon

Hip Hop in the Heartland is specifically designed for:
Classroom teachers, administrators, guidance counselors, school personnel, community educators, college educators, community leaders, education students, hip hop and spoken word educators and practitioners, and anyone committed to social justice and urban education.
Gain a better understanding of the scope of hip hop history, culture, and politics. Deepen your practice as a spoken word and hip hop educator, and engage in best practice approaches to student-centered liberatory education models.
• Discover the best practices in hip hop and spoken word pedagogy
• Learn skills to better reach and mentor your students
• Improve academic achievement, reduce behavior issues and energize your classroom
• Get practical strategies for increasing participation and building community
• Meet new colleagues and enjoy UW-Madison's beautiful campus!
Hip Hop in the Heartland Summer Institute Agenda
Questions? Email fwscholarship@cdo.wisc.edu or visit
Read the article about the 1-Day Seminar, click here.
Registration Price:
$400 (individual)
$350 (groups of 5-9)
$325 (groups of 10 or more)
Hip Hop in the Heartland's Annual Educator and Community Leader Training Institute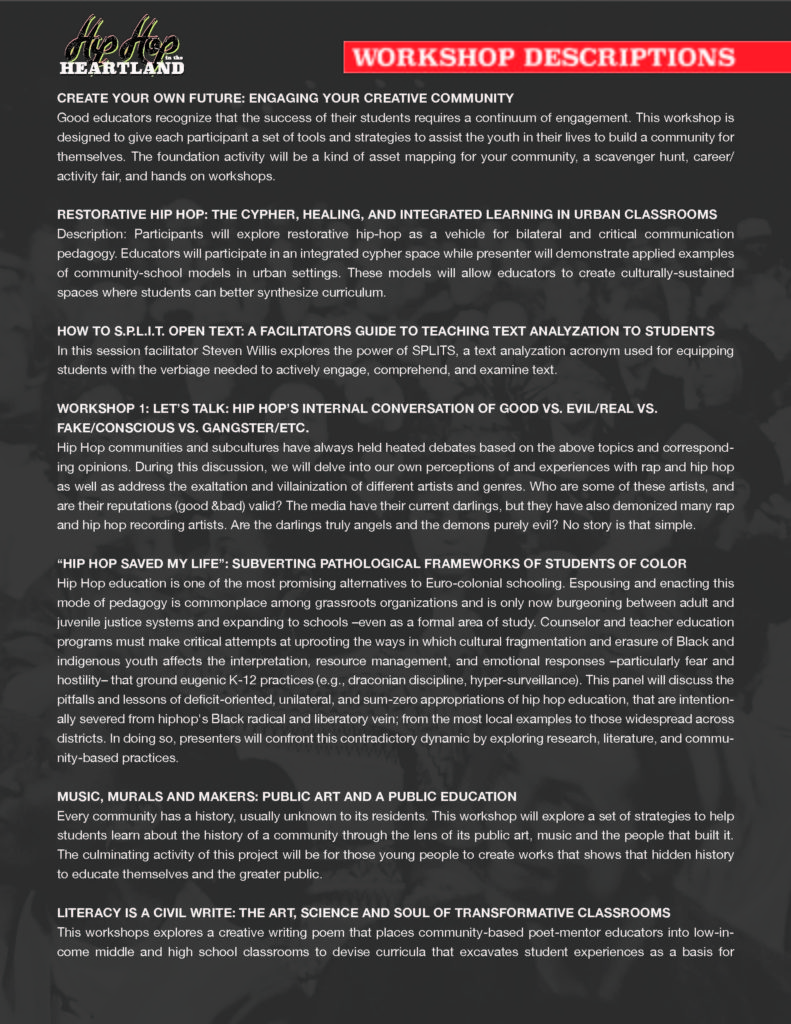 Facilitators
Michael Cirelli
Executive Director
Urban Word NYC
​
Gloria Ladson-Billings
Professor of Urban Education
Dep​t. of Curriculum & Instruction
University of Wisconsin-Madison
​
Baba Israel
Spoken word and hip-hop teaching-artist
Co-founder, Playback NYC
Alan Sitomer
California Teacher of the Year Award Winner
Author of Homeboyz, The Hoopster, and ​other YA novels
Toni Blackman
Rapper, actress, writer
U.S. State Department Musical Ambassador
Bettina Love
Assistant Professor
Dept. of Educational Theory & Practice