A Quarter Century Journey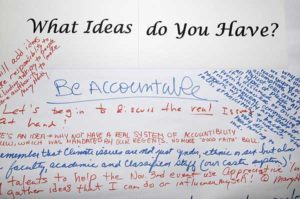 In the 1940's and 1950's the G.I. Bill brought many middle-class Americans into universities, a phenomenon that resulted in the emergence of the "big" universities and "revolutionized" the student population. The academic elites had initially resisted the entry of G.I. Bill students into higher education institutions, convinced that it would result in the "watering" down of standards of academic excellence.
Many among the new rising middle class of American professionals and academics felt it important to provide access to higher education for other disadvantaged and underrepresented groups, i.e., the racial and ethnic minorities. By the mid-1960's, the recruitment effort targeting African Americans was underway at UW-Madison and the presence on campus of these students—many of whom were civil rights organizers and leaders in their own right—continued to power the forces of change.
Social Change at University of Wisconsin-Madison
A HISTORY OF CAMPUS DIVERSITY PLANNING
Year
Diversity Plan
Description
1987
The Holley Report
1988
The Madison Plan
1991
Annual reviews of outcomes are conducted
1994
The Madison Commitment: At the end of the 5-year period, UW-Madison governance bodies and the administration renewed the commitment to diversity, and move to align with the UW System ten-year Design for Diversity
1997
In 1997, UW System began to lay the groundwork for the next 10-year diversity plan and continue the work started in its 1988 Design for Diversity. Public hearings were held across the state, The Board of Regents approved the umbrella Plan 2008 with 7 goals, and the Regents mandated each UW campus to draft its own campus diversity plan.
2008
Plan 2008 UW System
The Seven Goals of Plan 2008 were:
1. Increase the number of Wisconsin high school graduates of color who apply, are accepted, and enroll at UW System institutions.
2. Encourage partnerships that build the educational pipeline by reaching children and their parents at an earlier age.
3. Close the gap in educational achievement, by bringing retention and graduation rates for students of color in line with those of the student body as a whole.
4. Increase the amount of financial aid available to needy students and reduce their reliance on loans.
5. Increase the number of faculty, academic staff, classified staff and administrators of color, so that they are represented in the UW System workforce in proportion to their current availability in relevant job pools. In addition, work to increase their future availability as potential employees.
6. Foster institutional environments and course development that enhance learning and a respect for racial and ethnic diversity.
7. Improve accountability of the UW System and its institutions.

Plan 2008 was widely vetted. UW-Madison campus listening sessions and town halls were scheduled, to generate input and responses from constituencies across the university. A large university-wide Steering Committee was convened by the Provost and the Associate Vice Chancellor/Point Person for Diversity; two co-chairs were named, and four task force/working groups, each with co-chairs, were created:

1. Undergraduate Student Issues
2. Graduate and Professional Student Issues
3. Diversity in the Curriculum Issues; and
4. Human Resources: Faculty and Staff Issues.

Fifty-four members were in attendance at the first meeting. Plan 2008 was published by Steering Committee Co-Chairs Vice Chancellor Paul Barrows and University Committee Chair Professor Bernice Durand. Deans and Directors responded by presenting their own unit diversity plans. To document the results of our diversity efforts, the Office of the Vice Chancellor published the Diversity Update as the university's "report card."
2008
UW-Madison Plan 2008
2011
Strategic Diversity Update
1998
In 1998, UW-Madison began a major planning process, with an assessment and institutional scan to review the outcomes and lessons from the past 10-year diversity effort. Simultaneously at UW System, efforts were underway to assess and evaluate the outcomes of the System-wide Design for Diversity. Based on that assessment, UW System identified seven (7) goals to serve as the basis for campus-wide discussions and guidelines for each UW institution's campus Plan 2008.
)
A Plan for Implementation
In October 2014 the Framework was presented to more than 300 students, faculty and staff  across campus.  Six committees were charged with developing priorities from the recommendations embodied by the initial Framework. The six committees, along with the Campus Diversity and Climate Committee (CDCC), explored specific projects and action steps within the topic areas outlined in the framework.
These 6 Working Committees included:
Faculty/Staff Professional Development and Capacity-Building Experiences;
Administration and Accountability
Access and Recruitment
Retention and Research
Undergraduate Curriculum
STEM Initiatives
Each project or action step included:
A clear implementation timeline, including suggestions for transition
from pilot to full implementation and/or lifespan of the particular
recommendations
Developing measurable outcomes and metrics for success
Exploring opportunities to share data to promote best practices that foster a more
inclusive campus climate
Providing estimates of efforts and costs
Diversity Defined
Previous diversity plans have focused on race, ethnicity and gender, which remain critical problems for UW-Madison. We recognize, however, that to achieve Inclusive Excellence a strategic framework should be expanded to include additional dimensions of diversity. This framework defines diversity as: race and ethnicity; sex; gender, and gender identity or expression; marital status; age; sexual orientation; country of origin; language; disability; socio-economic status; and affiliations that are based on cultural, political, religious, or other identities.