The university has a rich history of engaging issues of diversity as a major institutional priority that reaches back into the 1960s.  While gains have resulted from these continuing efforts,  creating a new campus wide diversity plan presents a powerful opportunity for us to bring even greater clarity to our diversity objectives, goals, and strategies, and establish a national best practice approach to embedding accountability and incentives into our institutional efforts.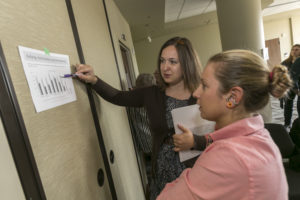 In 2012, past and current participants in the Office of Equity and Diversity (OED) Learning Communities joined with other campus volunteers in facilitating a round table conversation with some 400 campus community members. That conversation focused on diversity priorities and key strategies for the successful implementation of a new plan around our ongoing strategic priorities, which included:  
Provide an exemplary undergraduate education;
Reinvigorate the Wisconsin Idea and renew our commitment to our public mission;
Invest in scholarly domains in which we have existing or potential strength and impact;
Recruit and retain the best faculty and staff, and reward merit;
Enhance diversity in order to ensure excellence in education and research;
Be responsible stewards of our resources.
A New Diversity Planning Process 
The 2012 Diversity Forum became the platform to launch the diversity planning process.
The University Committee (UC) charged the Campus Diversity and Climate Committee (CDCC) with appointing an ad hoc committee of faculty, staff and students to develop a comprehensive proposal for a new diversity plan for UW-Madison. This committee encompassed the breadth of diversity expertise that exists on our campus in terms of race, ethnicity, gender, sexual orientation, socioeconomic background, age, disability, national origin and religion of the UW-Madison campus community.
The Ad Hoc Diversity Planning Committee (AHDPC) drafted the diversity plan, which was officially named Forward Together, a Diversity Framework for UW–Madison. The Framework became a unifying plan for conversations and reports that were developed as part of the Madison Initiative for Undergraduates (MIU), the UW-System Campus Climate Project, efforts from the Year of Educational Innovation, the HR Design process, recommendations from the Native American A2S Taskforce and from the Intergroup Relations and Community Building Working Group, and other conversations. The goal was to increase synergies between these efforts and our new campus diversity plan.
The Completed Report
The work of the Ad Hoc Diversity Planning Committee was completed in May 2014 and a passed through the four major shared governance groups. The report, a successor to initiatives including Plan 2008, was intended to help the campus community contribute to making UW-Madison more equitable, inclusive, and diverse, both on campus and in the Greater Madison Community.
The Diversity Framework is a working document conceived to ensure that recommended action steps regarding diversity, inclusion and climate are put into place on the UW-Madison campus. The Framework's Initiatives were designed to be implemented in three phases within a 10-year period.
The implementation plan, entitled "Affecting R.E.E.L. (Retain Equip Engage Lead) for Diversity & Inclusion," outlines the action steps needed to accomplish the goals and ongoing processes defined in the Diversity Framework.