UW–Madison Diversity Forum 2019
November 5 @ 8:00 am

-

November 6 @ 5:00 pm

CST

Free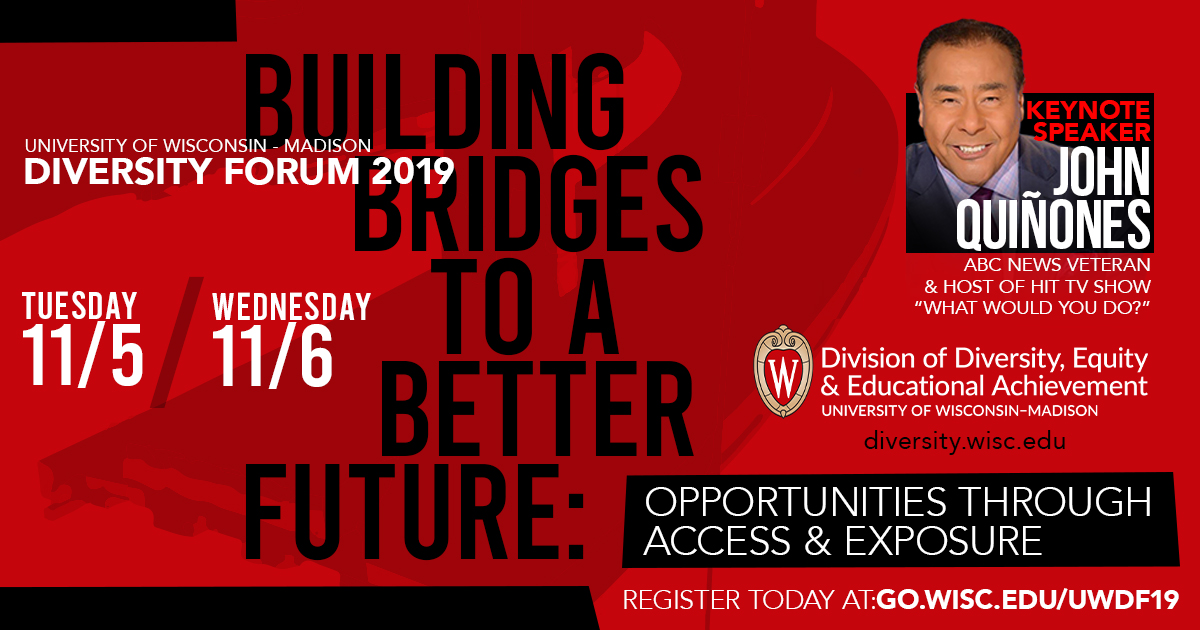 Join us on Nov. 5 & 6 for the 2019 UW–Madison Diversity Forum, the university's annual two-day conference-style event. This year's Diversity Forum, "Building Bridges to a Better Future: Opportunities Through Access and Exposure," will feature a keynote address by John Quiñones, longtime ABC News correspondent and creator and host of the "What Would You Do?" hidden camera television series.
Dates: Tuesday, Nov. 5, and Wednesday, Nov. 6, 2019
Time: 8 a.m. to 5 p.m.
Location: Union South's Varsity Hall and conference rooms (map)

Join the Conversation
Use the hashtag #UWDiversityForum to share what you learn at the Diversity Forum!
Agenda
Topics and titles are subject to change. Check back for additional details as plans are finalized.
Day One, Tue. Nov. 5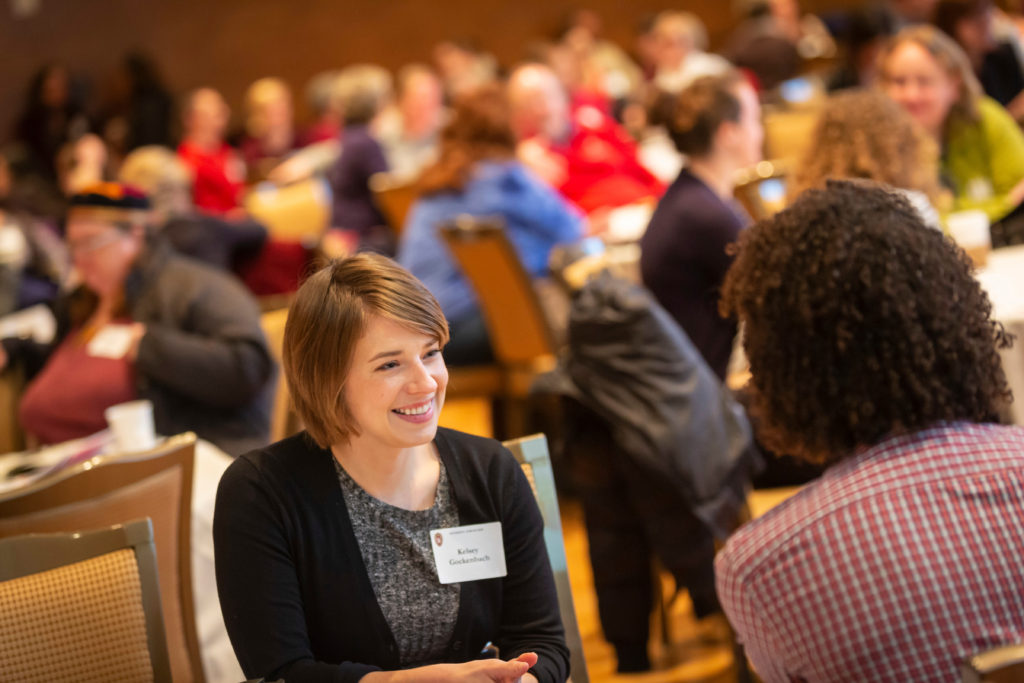 8:00 a.m.
Breakfast
8:30 a.m.
Welcome Message
Becky Blank, Chancellor
Patrick J. Sims, Deputy Vice Chancellor for Diversity & Inclusion
8:50 a.m.
Native Nations Tribute
9:00 a.m.
Keynote Address
A 20/20 Vision for America: Building Bridges, Not Walls
John Quiñones, ABC News Correspondent, bestselling book author, host of "What Would You Do?"


Combining a moving life story, an exceptional career, incomparable insights and a powerful presence, 

Quiñones

 has emerged as one of the most inspiring keynotes in the speaking world today. His moving presentations focus on his odds-defying journey, celebrate the life-changing power of education, champion the Latino American Dream and provide thought-provoking insights into human nature and ethical behavior.

 
Followed by a Q&A and book signing of his bestselling book, "What Would You Do?: Words of Wisdom About Doing the Right Thing"
10:45 a.m.
Panel Discussion
Should I Say Something? Exploring the Barriers Around Responding to Incidents and Bias

Pia Kinney James, Retired Police Officer, Madison Police Department
Gabe Javier, Interim Associate Vice Chancellor, Student Life
Cleda Wang, Assistant Director of Residence Life for Inclusion, University Housing
12:00 p.m.
Lunch & Announcement of the 2019-20 honorees of the UW–Madison Outstanding Women of Color Awards and UW System P.B. Poorman Award
1:15 p.m.
Breakout Sessions
Option A
Building Equity and Inclusion in Public Schools
John B. Diamond, Kellner Family Distinguished Chair in Urban Education, School of Education
Nichelle Nichols, Executive Director, Office of Equity, Partnerships and Engagement, Madison Metropolitan School District
David O'Connor, American Indian Studies Consultant, Wisconsin Department of Public Instruction
Dom Ricks, Principal of Kromrey Middle School, Middleton-Cross Plains Area School District
Option B
Navigating Difficult Discussions: An Interactive Session on Ethical Conversations
Aaminah Long, Coordinator of Inclusion Education, Center for the First Year Experience
2:15 p.m.
Break with Refreshments
2:30 p.m.
Town Hall Discussion
The Discomfort of Public Discourse: Confronting the Legacies of White Supremacy

Aaron Bird Bear, Director of Tribal Relations, Office of University Relations
Kathy Cramer, Professor of Political Science and the Natalie C. Holton Chair of Letters & Science
Kacie Lucchini Butcher, Director of the UW–Madison Public History Project
David Mahoney, Dane County Sheriff
Annette Miller, Founder and Chief Executive Officer, EQT By Design
Patrick J. Sims, Deputy Vice Chancellor for Diversity & Inclusion
Day Two, Wed. Nov. 6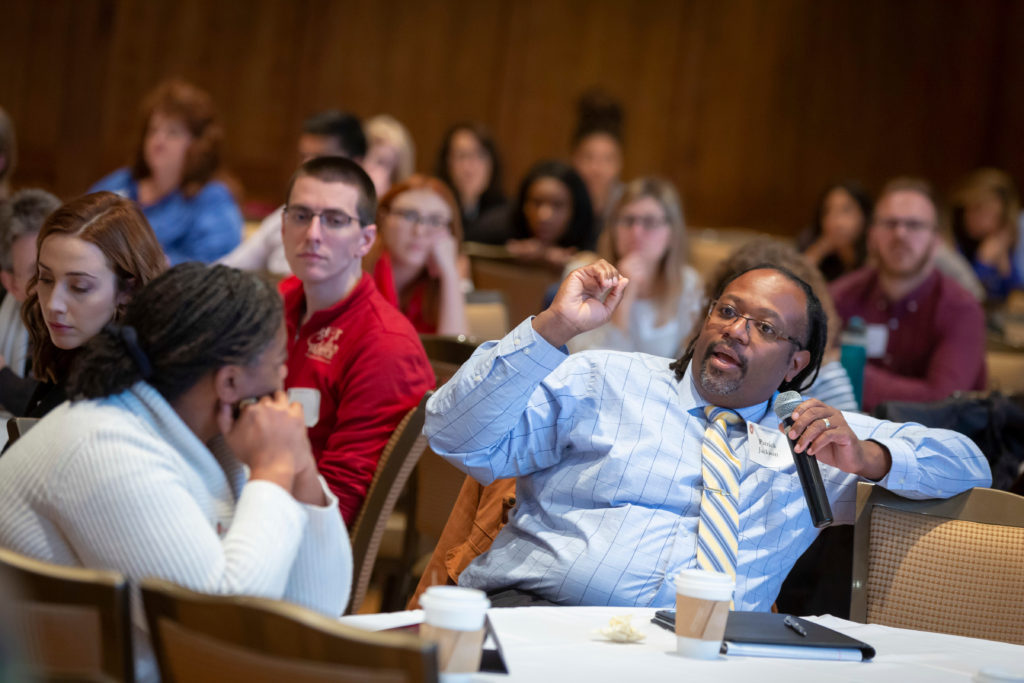 8:00 a.m.
Breakfast
9:00 a.m.
Breakout Sessions
Option A
Reclaiming First Nations' Truth
Jessie Conaway, Faculty Associate for Native Nations Partnerships at the Nelson Institute for Environmental Studies, Co-Chair of the Native Nations_UW Working Group
Brian D. McInnes, Associate Professor of Civil Society and Community Studies, School of Human Ecology
Omar Poler, Coordinator, American Indian Curriculum Services, School of Education
Michael Williams, Co-President of Fiscal Relations, Wunk Sheek
Danielle Yancey, Director, Native American Center for Health Professions, School of Medicine and Public Health
Option B
Intro to LGBTQ+ Identities & Inclusive Practices
Tiffany Lee, Crossroads Coordinator, Gender and Sexuality Campus Center
Jelani Riveria, Program Coordinator, Gender and Sexuality Campus Center
Option C
Supporting the Wellness and Mental Health of Graduate Students
Ellen Marks, Associate Psychologist, University Health Services
Lori Reesor, Vice Chancellor for Student Affairs
Britney N. Washington, Graduate Research Associate in Biomedical Engineering, College of Engineering
Timothy Yip, Doctoral Student, Mead Witter School of Music
Britt Marie Zeidler, Founder and Co-Director, Graduate and Professional Students with Disabilities Initiative
10:30 a.m.
Breakout Sessions
Option A
A Stronger Madison for All: Racial disparities in Madison and Wisconsin and the divergent realities they've created
Alex Gee Jr., President and Founder, Nehemiah Center for Urban Leadership Development
Option B
Is Age Just a Number? Combatting Generational Stereotypes
Sherry Boeger, Director and Consultant, UW–Madison Employee Assistance Office
Luis Piñero, Senior Special Assistant for Workforce Equity, Diversity Education and Outreach, Division of Diversity, Equity & Educational Achievement
Letissa Reid, Equal Opportunity Investigation Program Coordinator, Office of Compliance
Kristen M. Seguin, Assistant Director of Human Resources, School of Medicine and Public Health
Option C
Mass Shootings and Social Media Discourses
Dhavan Shah, Maier-Bascom Professor, School of Journalism and Mass Communication
11:45 a.m.
Lunch
1:00 p.m.
Breakout Sessions
Option A
Creating an Inclusive Environment for Non-Apparent Disabilities
Gwynette Hall, Accessible Learning Technology Manager, McBurney Disability Resource Center
Heather Stelljes, Access Consultant, McBurney Disability Resource Center
Option B
Yo Soy Un Pueblo Unido: Investing in Latinx Talent
Tania Ibarra, Finance Chair, Latino Professional Association of Greater Madison
Nicole Sandoval, President, Latino Professional Association of Greater Madison
Option C
Deconstructing Social Justice Myths
Caitlyn LoMonte, Assistant Director for Social Justice Programs, Multicultural Student Center
2:25 p.m.
Break with Refreshments
2:30 p.m.
What Will You Do? Equity in Action Workshop
Annette Miller, Founder and Chief Executive Officer, EQT By Design
3:30 p.m.
Conclusion
---
Hearing assistance devices will be available in Varsity Hall for participants attending the Diversity Forum. If you need an accommodation to attend this event, please email events@cdo.wisc.edu. All accommodation requests should be made no less than two weeks before the event. We will attempt to fulfill requests made after this date, but cannot guarantee they will be met.
Video of programming from day one of the Diversity Forum will be streamed with live captioning at go.wisc.edu/diversityforumlive.
Digital copies of handouts, presentations and other materials used in the Diversity Forum will be made available after the Forum concludes at go.wisc.edu/diversityforum.