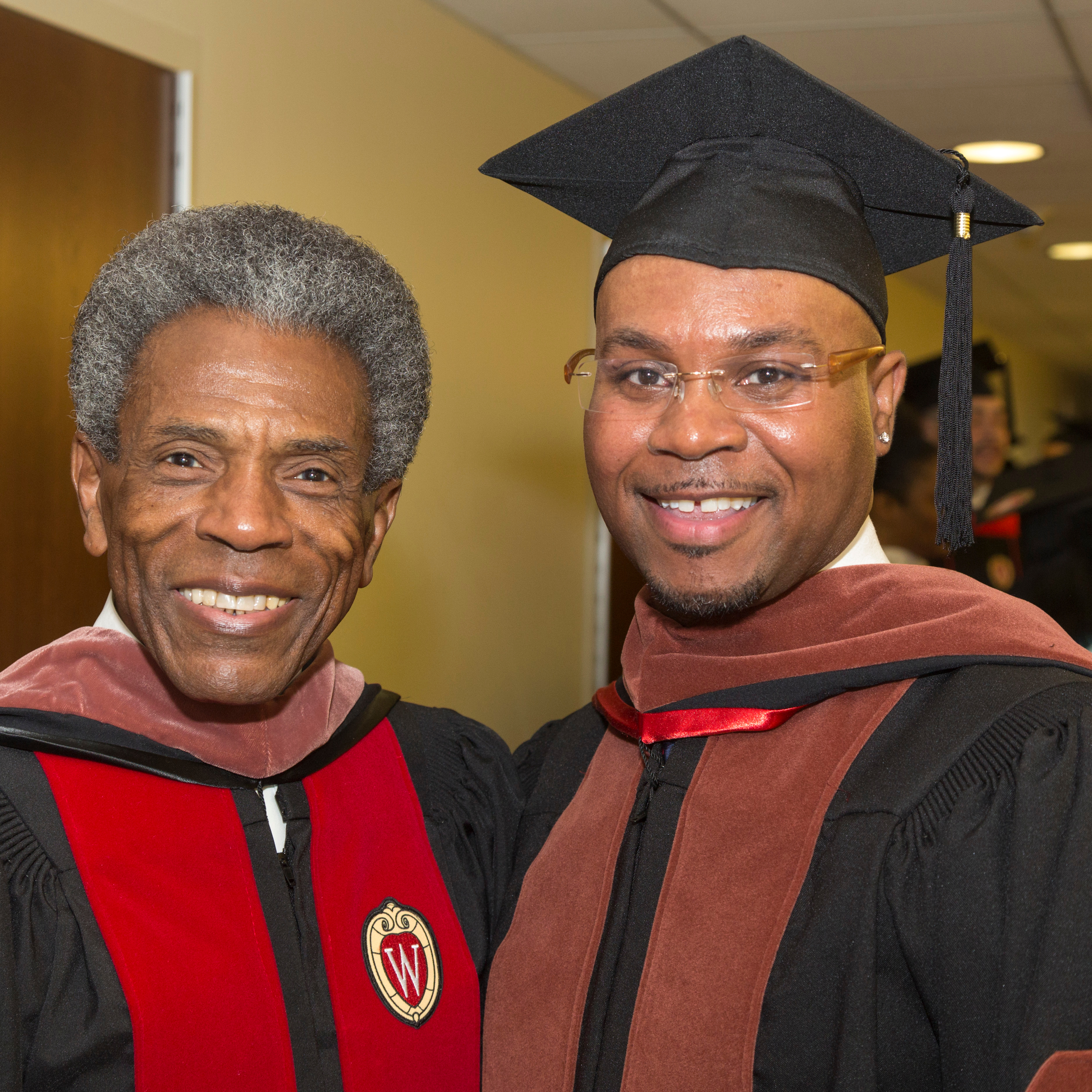 Hosted by the Office of the Vice Provost and Chief Diversity Officer, the Fourth Annual Graduation Recognition Ceremony for students studying under the umbrella of scholarships and services in the Division of Diversity, Equity and Educational Achievement, recognized the outstanding achievements of nearly 300 undergraduates on Friday, May 12.
Scholars in the CeO (Center for Educational Opportunity), Chancellor's Scholars and Powers-Knapp Scholarship programs, First Wave Hip-Hop and Urban Arts Learning Community, Pathways, PEOPLE (Precollege Educational Opportunity Program for Learning Excellence) and Posse programs joined more than 1,000 guests to celebrate.
Ada Deer ('57) was honored as the 2017 Outstanding Alumni of Color
 A nationally recognized social worker, community organizer, activist and political leader, Ada Deer is a champion of Indian rights who led the successful campaign to restore federal recognition of the Menominee Tribe. As head of the Federal Bureau of Indian Affairs, she participated in the development of United States policies on international human rights and supported a strong national position on the rights of indigenous peoples everywhere.
Born in Keshena, Wisconsin, in 1935, Ada Deer was the first Menominee undergraduate to receive a degree from the University of Wisconsin-Madison in 1957. She became the first Native American to receive a Master of Social Work from Columbia University in 1961.
When the federal government initiated a termination policy in the 1950s that led to the creation of a corporate body to manage the Menominee tribe, Deer helped to organize a grassroots organization to restore federal recognition of the tribe. Determination of Right and Unity for Menominee Shareholders, or DRUMS, successfully fought the government policy, which led to the Menominee Restoration Act of 1972, officially redesignating the Menominee as a federally recognized tribe. Because of her work, Deer became the first woman to chair the Menominee Tribe in Wisconsin, a position she held from 1974 to 1976.
Deer ran for Wisconsin Secretary of State in 1978 and again in 1982. She served as vice chair of the Mondale-Ferraro Presidential Campaign in 1984. In 1992, she became the first Native American woman in Wisconsin to run for Congress, winning the Democratic primary without political action committee funding. The following year Deer was appointed the head of the Federal Bureau of Indian Affairs, the first Native American woman to hold that position. While in office, Deer helped set federal policy for more than 550 federally recognized tribes, approved tribal-state gaming compacts, extended recognition to 12 tribes, and settled a century-long border dispute with the Crow Tribe that restored tribal lands and provided compensation for lost coal reserves and revenue.
Both before and after her years in office, Deer taught classes at the University of Wisconsin-Madison School of Social Work. She developed groundbreaking classes in the 1970s on Native American issues and multiculturalism, and created the first program to provide social work training on reservations. She also co-founded the Indian Community School in Milwaukee, organized leadership workshops for Indian women, and helped to implement Indian participation in the Peace Corps.
In January 2000, Deer became director of the American Indian Studies Program at UW-Madison. In 2007, Deer received the Wisconsin Historical Society's Robert and Belle Case LaFollette Award for Distinction in Public Service.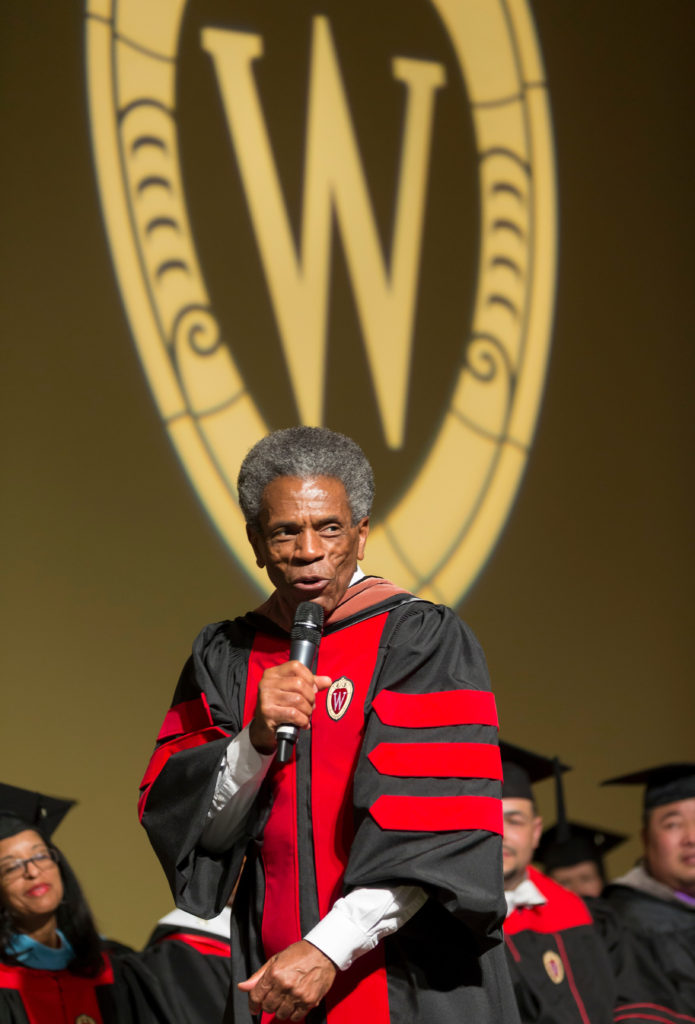 Keynote speaker veteran Broadway performer André De Shields, ('70 & Honorary Doctorate '04) charged the graduates to create their own paths to success by firmly believing in themselves and an unyielding commitment to excellence.  
A multiple Tony Award nominee,  De Shields is best known for his show stopping performances in six legendary Broadway productions: Impressionism; the world premiere of Mark Medoff's Prymate; The Full Monty; Play On!; Ain't Misbehavin'; and in the title role of The Wiz.  His career also includes film and television credits as well as the concert stage with the St. Louis Symphony at New York's Carnegie Hall and the BBC Symphony at London's Royal Festival Hall.
Terming himself a "reforming artist" because of the ongoing need to re-evaluate life's journey, De Shields told the graduates, "I say that because you are now at your second birth,"  and to think of their undergraduate degrees as a second birth certificate following four years of gestation and growth to prepare to go forth and change the world.
After taking the audience to "church" with a traditional acapella gospel-style interlude on the lilt of his Broadway-honed voice, De Shields told the new graduates that they have power, but it must be used responsibly and with a sense of accountability.
"I'm talking about the power you have to transfer a world that right now is marked by morale panic, speakers of ambiguity, ethical skepticism, darkness and brutality. And it is incumbent upon you, with your power of diversity, equity, inclusion and educational achievement to transform that world."
Vice Provost and Chief Diversity Office Patrick J. Sims lauded André De Shields as a role model for all graduating and future Badgers.
"In addition to being one of our most esteemed alumni, Andre de Shields is an example of personal and professional longevity, a Titan in the theatre world," Sims said. "It was a tremendous honor to have the progress of our graduates positively and emotionally touch someone of his stature."
The Class of 2017 has embraced the opportunity to conquer challenges, push boundaries and set the bar higher like never before, Sims said, adding that he has every confidence this class of graduates also would make their mark on the world following graduation in the Badger Tradition. This year's graduates join the legacy of UW-Madison that thrives and persists on two key factors, Sims said; What the University has to offer and who takes advantage of it.
"You've written another chapter in a rich legacy that continues to expand the definition of what it means to be a Badger. So don't underestimate just how hard it is to engage in the practice of 'sifting and winnowing' because the reality is the 'Test' becomes the testimony of how you overcame."
Six graduate speakers reflected on their time at UW-Madison. 
Center for Educational Opportunity
"I am an independent, first generation student graduating with a double major in Human Development & Family Studies  and Spanish with two certificates in Pilates and American Indian Studies," said Center of Educational Opportunity and Pathways graduate Kelsey Harker, a Milwaukee native and descendent of Wisconsin's Oneida and Bad River tribes. She began preparing for graduation from UW-Madison in fifth grade through TRIO summer camps, Harker said, joyfully affirming, "And, yes, everyone, you can minor in Pilates!"
"These programs have helped me understand that people come with different talents, life stories, as well as how to respect and learn from them. We all bring amazing talents into this space," Harker said, along with new roles like serving as role models and the contemporary embodiment of the struggle of respective our elders.
"I am constantly thinking about the ancestors who walked this land for us to be her today," Harker said. "No one said it would be easy, but someone said that the best things are worth fighting for."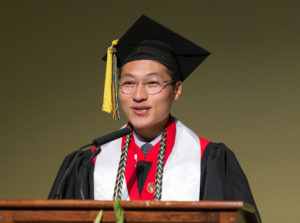 Chancellor's Scholars/Powers-Knapp Scholars  
"Graduating means another smile on my mother's proud face and a way to hold strongly the weight of my people and our proud history," said Chancellor's Scholar Charlie Ying Thao of Manitowoc, a first-generation college student who earned a degree in biology, certificates in environmental studies and global health, and studied abroad in Nicaragua.
Thao credits the sacrifices of his culture's people, their ancestors and most of all his parents for pathing the road to and supporting him in his successful educational journey, but asserted that formal education is just one form of valuable wisdom.
"I am a child of the diaspora," Thao said. "My people belong to the land and live off the land and beautiful, too, are the souls of my people. My parents are wise in ways academia could never curate. I must  carry their wisdom as well into this world."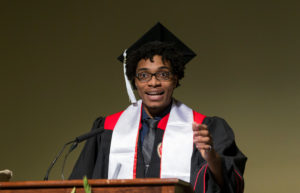 Precollege Enrichment Opportunity Program for Learning Excellence (PEOPLE)
PEOPLE and First Wave scholar, Truman and Marshall Scholar Deshawn McKinney humbly stated, "The man who you see before you today was and still is a work of progress."
Having grown from a  high school student with potential from Milwaukee's north side into a performing artist, teaching artist, world traveler, speaker, organizer and more during college, McKinney said the PEOPLE program helped him to find himself and believe he has something important to give despite the struggles of his youth.
"Everything that I have accomplished at this university has been for more than myself," McKinney said. "It's bigger than me and the things that we do are bigger than any one person in this room…. So be who you dream about, even if no model for that life exists."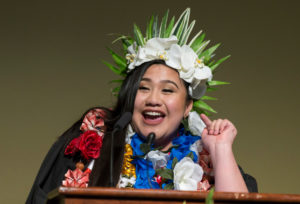 First Wave
First Wave scholar Gretchen Carvajal cited a phrase from her native homeland and language of the Philippines, Makibaka Huwag Matakot, which means 'do not be afraid of the struggle.'  Carvajal's sense of place traces back to her hometown of Santa Rosa where her grandparents' names are engraved on the city's walls.
"When we came here in 2001, I was seven years old, we all had heavy accents, my parents' college diplomas meant little to nothing in America, my sisters had to adjust to this culture in their fragile teen years, and we were the only people we knew in this country," Carvajal said.
At UW-Madison, she rediscovered family in First Wave, within the Sixth Cohort, with campus poet artists and activists, and with her Delta Sigma Theta sorority.
"I am standing here a testament of what all those families taught me," she said. "We are an armada of finesse and the streets that raised us."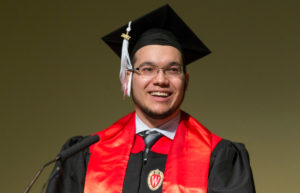 Pathways
Pathways Scholar Jordan Karim reflected on college's tumultuous awakening that jolted him from the naïve world of childhood that was generous, open and carefree into irreversible awareness of human suffering, unexplainable hardship and the personal struggles they fuel.
Laboring under the emotional weight of life changes all around him and eroding academic focus, Karim found essential mentorship in the Pathways staff, L&S academic advisors and the local Latino community.
"I was ready to get back to being me," Karim said. "I refound my purpose and drive.  Pathways provided a space for me to rebuild myself." With the nurturance and mentoring, he survived a difficult emotional time. "Reaching out was the best thing I could have done for myself.  What I've learned over the course of my college years is that difficulties in life are not what define you, but how you go about them reveals who you are."
Karim will take an active role in working toward improving the life challenges that once plagued his consciousness as a volunteer in the Peace Corps in Paraguay.
 Posse
Graduate Chazz Bracey, Posse Los Angeles 11, said that college is just as much about learning outside the classroom is in, especially about perseverance, humility, maturity, leadership and networking.  In the end, learning to have self-confidence was the greatest lesson of all.
"Coming all the way to Wisconsin from a place like Los Angeles, New York, Chicago or D.C., is a difficult adjustment especially for people of color," Bracey said. "Leaving home also comes with the feeling that there is a need to improve yourself and a feeling that you are out of place, especially in the winter time."
Bracey's track of excellence capped by earning a Bachelor's of Science Degree in Biology and a certificate in Environmental Studies at the University of Wisconsin-Madison is a victory over the stereotypes that led one of his former high school teachers to recommend trade school because "college wasn't for everyone."  That comment was not without consequences.
"Being a black man in STEM (science, technology, engineering and mathematics), I questioned whether I belonged here at all," Bracey said of his first days on campus. "But yes, I definitely do!"
In addition to a demanding science major, Bracey has been a University Hospital neurosurgery lab assistant since his freshman year, he has traveled and taught in South Korea, China, Italy, Japan and Amsterdam.
"I have been blessed beyond measure and if I can't say I have done anything else; I've had one hell of a time."
The UW-Madison Division of Diversity, Equity & Educational Achievement Graduates
Class of 2017 Center for Educational Opportunity (CeO) Scholars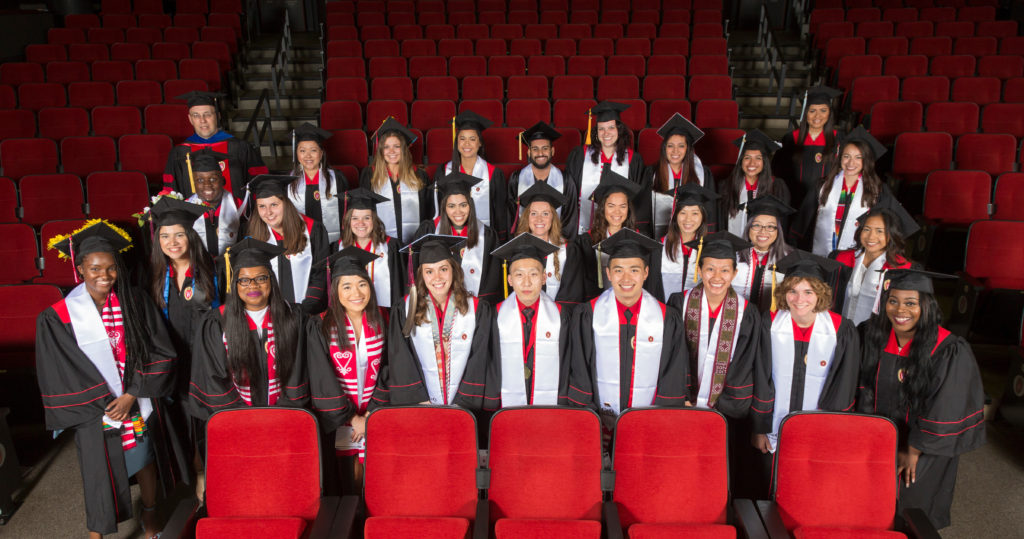 Class of 2017 Chancellor's Scholars
Class of 2017 Powers-Knapp Scholars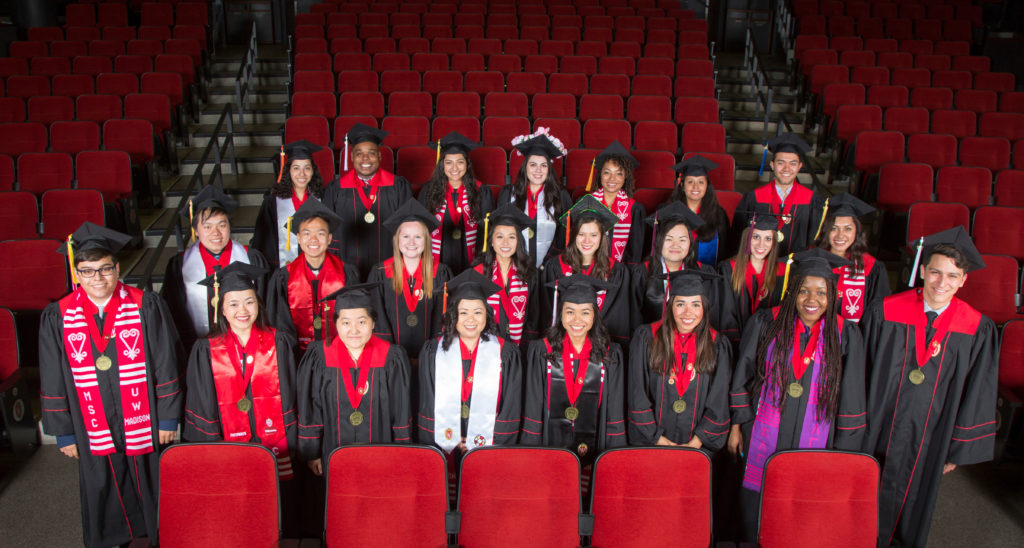 Class of 2017 Precollege Enrichment Opportunity Program for Learning Enrichment (PEOPLE) Scholars
Class of 2017 Posse Scholars
Class of 2017 First Wave Scholars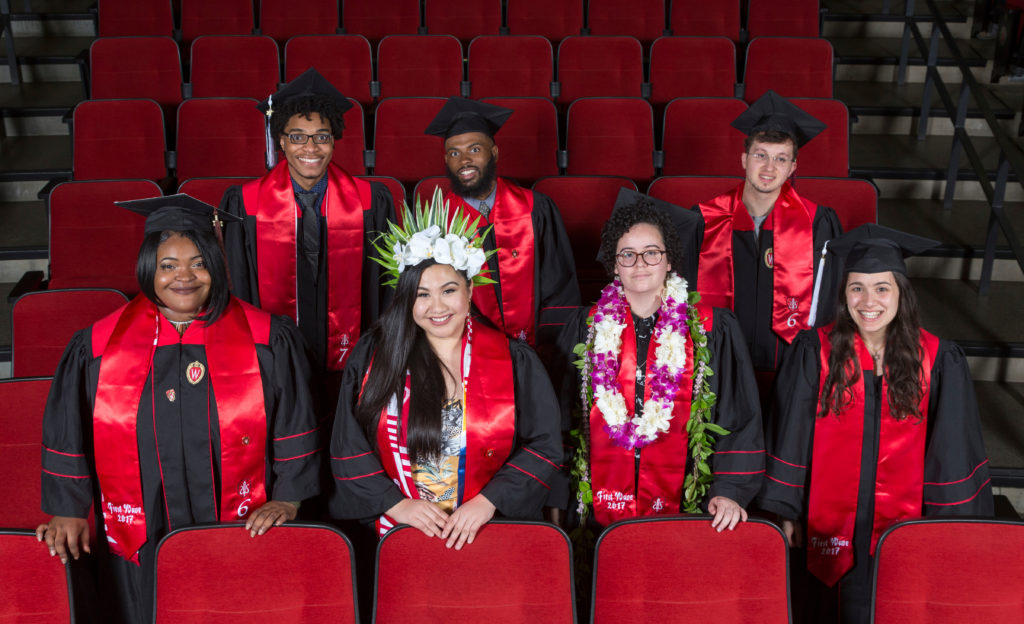 Class of 2017 Pathways Scholars